Tips For Using Content in the Sales Process Successfully
We feel that content is just as important in the sales process as it is in marketing. Content in the sales process is an excellent way to nurture prospects down the funnel to eventually become clients. Sales tactics have changed recently, as thriving companies now favor inbound, consultative, and education-oriented tactics rather than outbound and push-to-close methods.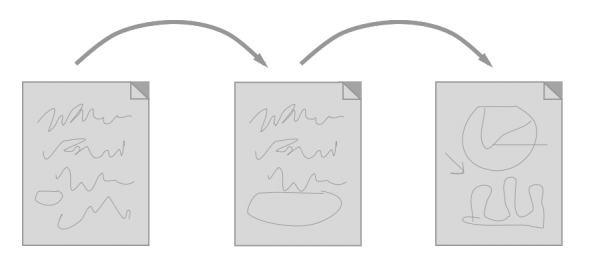 As sales teams evolve the way they sell, content will play an increasingly vital role.
To use content in the sales process, the sales and marketing teams must work together. While salespeople could potentially write content and contribute to content, marketing teams are already equipped to handle content strategy and creation--although collaborative would be ideal.
What's important to understand before we go further is that content must not be "sales-y" nor feature-obsessed. Content must speak to the buyer's needs, aspirations, and value system. A HubSpot study found that buyers feel they have a favorable sales experience when the salesperson listens to their needs (69%), isn't pushy (61%), and provides relevant information (61%). Furthermore, 75% of buyers want marketers to "curb the sales messaging" in their content (Demand Gen Report).
Sales are becoming more buyer-centric, which means the sales team needs to provide the prospect relevant and useful content along the buyer journey. This content serves to ease the prospect down the sales funnel, offering valuable pieces of content along the way.
How to Use Content in the Sales Process
Content in the B2B sales process can be broken down by where the buyer is in their journey. We can organize the overarching marketing to sales journey into three stages: awareness (top of the funnel), consideration (middle-of-the-funnel), and decision (bottom-of-the-funnel). Of course, your sales funnel (at the decision stage) will also be broken down into a series of pipeline steps. Ideally, content plays a role between key meetings to educate and prepare buyers for the next stage.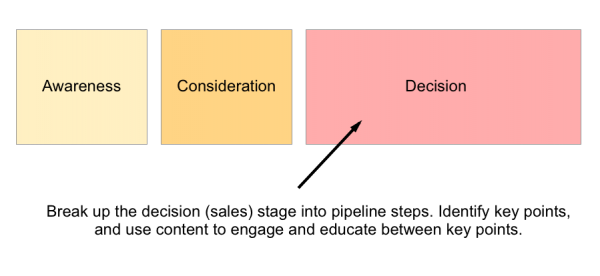 Top-of-the-funnel content (attracting the right prospects)
This is the awareness stage, and the biggest mistake companies make is trying to push their product here or push to demo their product. The buyer just isn't ready! All the prospect knows right now is that they have a problem/opportunity and are trying to better understand it.
Content at this level should address the buyer pain points -- think about what they might be typing into search engines to come up with blog posts, social media posts, infographics, newsletters, and tip sheets. The idea here is that the content will discuss the pain point or challenge but not push your product just yet.
Middle-of-the-funnel content (converting into qualified, sales-ready leads)
As the buyer enters the consideration stage, they will begin to assess and interpret different opportunities that they can commit to solving their problem and harnessing opportunities. Content, at this stage, must focus on value. For instance, 68% of consumers feel more positive about a brand after consuming content from it (iMedia Connection), so personalize the content to where they are in the buying process. Help prospects at this stage better grasp the value that could be unlocked if they invest in solving their problems, as well as the unique value of solving their problems in a specific way.
At this point you can talk about your company, so use content pieces such as methodology guides, white papers, case studies, comparison tools, value proposition models, and specialization-focused demos to 'reveal' the value of your product or service. Other types of content that work well here are educational eBooks, webinars, personalized emails, thought-leadership articles, teaser videos, and ROI calculations. Remember, the key here is offer something valuable to the prospect with each piece of content you send.
Keep in mind, many leads that aren't ready to buy may get recycled back to this stage whereby a strong lead nurturing program will need to provide ongoing engagement, education, and touchpoints.
Bottom-of-the-funnel: decision-stage sales content (accelerating opportunity creation)
82% of buyers viewed at least five pieces of content from the winning vendor (Forrester), so now is not the time to skimp out on content writing.
The goal here is ultimately to win the client, and content can help by making the prospect feel confident in their decision. Give the prospect a friendly nudge using a personalized blog post, company solution piece, video, or personalized demo that walks them through what it's like to use the product or service. The key to each is to present your offering with a focus on buyer-related value, pain points, and aspirations. In this content, speak less about your company and more about your buyer's needs.
Sales content plays an essential role in educating buyers.
Benefits of using content at the decision stage:
Educate prospective buyers
Involve and inspire other leadership or influencers (beyond your point of contact)
Speed up the sales cycle
Explain your value proposition
Educate on differentiators
Provide the technical or functional understanding
Provide evidence to build trust
Inspire
Learn more: The Best Content Types for the Bottom-of-the-Funnel
It's important to measure the impact of content in the sales process. Having an analytics strategy in place that links to your CRM is key to success. Ideally, you would track engagement rates as well as track which prospects received which content.
How to Measure Content in the Sales Process
When measuring content pieces, salespeople, and marketers should stay away from vanity metrics (impressions, clicks, click-through rates, etc.) and focus on these measurements:
Increase lead pool (getting more leads at the top-of-the-funnel)
Marketing or Sales Qualified Leads
Conversion assists
Opportunity creation
Engagement scores (videos, trackable documents, web activity)
Buyer feedback
Sales outcomes
These numbers are essential and can help both the sales and marketing teams alter campaigns if necessary. For example, if a high number of prospects drop off in the middle of the funnel, then perhaps both marketing and sales teams need to revise their content strategy and re-examine whether or not the pieces provide value and are relevant to the prospects. Without measuring how well the content performs, both teams are wasting valuable time creating the content in the first place.
Content sharing process
Sales team members may share content directly or get support from the marketing team to share content. When sales team members share content, they may use different tools. For instance, they may share content directly through their Outlook or Google Enterprise Apps accounts using a HubSpot or Salesforce plugin.
Both closers and sales development teams can use content throughout their section of the buyer lifecycle. In fact, both sides of the sales process SHOULD use great, quality content. Buyers need to understand the value proposition and differentiating factors before finalizing a decision. Without the right level of education, the sale could end in a dry-run or face forboding price pressure.
Tools that will help enable sales content sharing:
Email Templates
Email Sequences
Language snippets
Contact timelines
Contact engagement analytics
Browser email open alerts
Email / Document Open Tracking
Email Scheduling
Live Chat & Call Tracking (especially for training)
Video Meetings with Screen Share
Sales Automation
CRM segmentation & filtering
Drip Campaigns
Social Selling Tools
Tracking Videos
With the sales and marketing teams working together and a clear analytical structure in place, businesses use content as a strategic differentiator and accelerate growth.
Sources
HubSpot Research, Buyers Speak Out: How Sales Needs To Evolve, April 7, 2016.
Demand Gen Report, Exclusive Survey Report: Business Executives' Content Preferences & Consumption Habits, May 8, 2012.
iMediaConnection, 27 marketing myths (that we all believe), November 23, 2013.
Forrester, Death of a (B2B) Salesman, April 14, 2015.