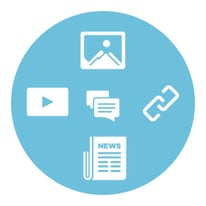 If you're like most companies, your sales team is burned out from working tirelessly to engage prospects, nurture leads, and close as many deals as possible. While your marketing team is doing a great job of generating interest, your sales team is discovering that it's nearly impossible to personally connect with and nurture each and every individual lead. There simply isn't enough time in the day.
That's where educational, high-quality content comes into play. Content can improve your sales process by complementing your sales team's efforts. It can attract and nurture leads on its own in conjunction with marketing automation, so your sales team spends time connecting with only the most engaged prospects with the highest likelihood of making a purchase. This improves the effectiveness and productivity of your sales team, while preventing any leads from slipping through the cracks.
Nurtured leads produce, on average, a 20% increase in sales opportunities versus non-nurtured leads. (DemandGen Report)
With that said, here are four ways to use content to nurture sales and improve your sales process:
1. Continuously attract new leads. Content marketing can ensure that you have a constant flow of new leads. By publishing articles based on relevant keywords that your target market is searching for, you can lead potential customers directly to your company. Once they arrive on your site, they can access free articles designed specifically for them, around topics that are relevant to their interests, industries, pain points, and goals. Once they're engaged with your free blogs, encourage them to enter their email address to download a piece of premium content, like a white paper or webinar. Once you have their email address, you can continue to nurture the lead with your content until they're ready to speak to sales.
Content marketing costs 62% less than traditional marketing and generates about 3 times as many leads -- Demandmetric
2. Nurture leads more efficiently. Let's say a prospect arrives on your site and, although they're not quite ready to buy, they are interested in learning about your company. Rather than having your sales team reach out at this point, your content can provide your leads with the information they need. For example, have them enter their email address and download a document that outlines how your company can meet the needs of their specific industry. Then, send follow-up emails designed to appeal to their unique interests and keep your company on their radar. Once the lead responds to these emails by indicating that they're almost ready to buy (for example by downloading your pricing sheets or free demos) then your sales team can reach out to close the deal.
3. Streamline the sales process. If you're not using content to educate your leads, your team probably has to answer the same questions over and over again on their sales calls. Not only does this exhaust your employees, but it's also completely inefficient. Instead, we recommend creating content that provides detailed answers to the most frequently asked questions your sales team receives. This will save your team valuable time, enhance your company's credibility, and make sure prospects get access to the precise information they need to make a purchasing decision.
For context, please see our article: What is sales enablement?
4. Address and overcome objections. Overcoming sales objections – whether it's price, trust, timing, or something else – is a normal part of the sales process. However, if much of your team's time is spent addressing and overcoming the same objections, you could save substantial time and resources by handling these issues with high-quality content – rather than on sales calls. To get started, we recommend creating documents for each of your buyer personas that are designed to help them overcome the most common sales objections that may be holding them back from making a purchasing decision.
Example of the content marketing mix: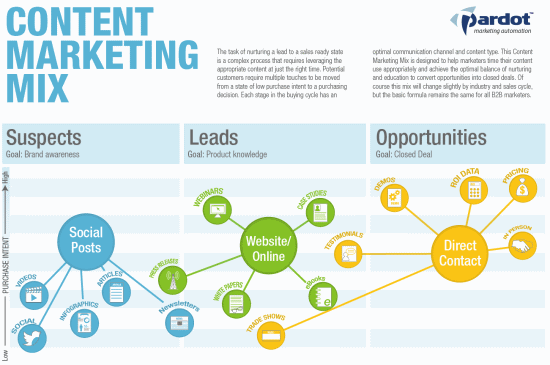 Related content: Does Sales Enablement Work?