Purposefully written content that aligns with buyer needs can drive prospects down the sales funnel, and increase close rates.
Oftentimes, the content sales teams produce is ineffective because it is too pushy and sales-driven. This presents an opportunity for marketing teams to support sales efforts by building a robust, buyer-driven content pipeline. This is crucial because buyers want and need content for B2B sales.
According to HubSpot, 47% of buyers view 3-5 pieces of the company's content before talking with a sales representative. Furthermore, 96% of B2B buyers want content that has input from industry thought leaders. To make buyers happy, however, the content needs to address pain points, be well-written, personalized, provide context, and match their buying stage needs.
A recent study shows that the leading factor that influences the personal viewing experience of marketing content is that it holds the reader's attention.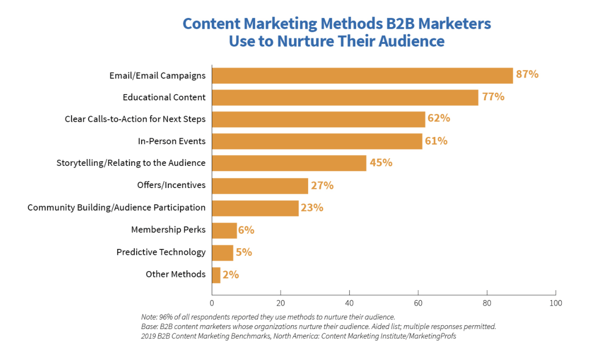 To find the most valuable content, it's important to look at content along the sales funnel. As the prospects are pushed further and further down towards becoming a client, here are the content types that will help nurture them along the way.
47% of buyers view 3-5 pieces of the company's content before talking with a sales representative - HubSpot
Valuable Top-of-the-Funnel B2B Sales Content
Prospects at the top of the funnel are in the awareness stage. At this point, the buyer knows they have a problem, and they are looking for resources on how to solve it. They are looking for high-level educational materials on how to answer their question or meet a need. They may not even fully understand the depth of their problem, and they certainly have not done any comparisons of potential solutions.
Types of content to create include:
Blog posts or infographics that discuss the pain points and challenges of the buyer
White papers that go in-depth about the problem
Social media posts
Opt-in newsletters
Fact sheets, checklists, or tip sheets that discuss the challenge
Since the point is to bring people to your website, all of this content should be keyword-optimized. People are going to research their problem(s), and you want them to land on your page. Content should match your buyer personas or Ideal Customer Profile (ICP) and provide real value to them.
Other types of content that can work at this level are eBooks, webinars, or videos that discuss the pain point or challenge the buyer faces. All content should focus on educating, inspiring, reveal opportunities and not delve too far into the solutions to the problem.
Valuable Middle-of-the-Funnel B2B Sales Content
At this stage, also known as the evaluation stage, the prospect is considering different solutions to solve the problem. Here is when you can showcase why your company is a good fit and why they should ultimately purchase your product or service. Valuable types of content include:
White papers: 78% of B2B buyers request this type of content (Demand Gen Report). White papers can show your company's value and expertise, educating the prospect on your service as well.
Case studies: 73% of B2B buyers request this type of content (Demand Gen Report). The goal of a case study is for the reader to understand how the technology will work and realize whether or not your product is of value to them.
Webinar: 67% of B2B buyers request this type of content (Demand Gen Report). A webinar at this stage can take many forms; it can be a guide discussing how the industry has addressed the problem thus far or even a demo video discussing the problem and your company as the solution.
Other types of content B2B companies should consider creating for this stage include data sheets, thought-leadership content, videos, buying guides, eBooks, portfolio decks, and targeted emails. Content can also play a vital role in sales enablement and sales nurturing, so don't overlook this opportunity as you plan out your content strategy.
Valuable Bottom-of-the-Funnel B2B Sales Content
The bottom-of-the-funnel is often called the purchase or decision stage. The buyer is ready to purchase a solution, but your company may not be the winning contender. This stage is where you want to instill confidence in the buyer and attract them to your organization over the competition. Content is a way to do that since 68% of consumers feel more positive about a brand after consuming content from it (iMedia Connection).
Every single piece of content that goes to the potential client must be highly personalized at this stage. The content needs to be extremely useful for whoever is reading it, so it needs to match their position and technical level, and be relevant to the challenges or pain points they have expressed throughout the funnel. Some content that helps push this prospect to a client includes:
Personalized blogs or articles: Pieces of content dedicated to the buyer's role (i.e., CMO, HR, etc.).
One-on-one demos: Taking the time to either create a demo video for a specific buyer or scheduling a time with them to discuss how their company can use the product or service and how the technological backend will work.
Videos from talented narrators: Personalized videos that describe the company's value and your company's approach to solving buyer pain points.
Producing Quality B2B Sales Content
65% of marketers are still challenged when it comes to understanding which types of content are effective and which types aren't (TopRank Blog). Part of the challenge is working with the sales team to match content to where the buyer is in the buyer's journey. Furthermore, both marketing and sales teams should work together to track the content, noting which pieces push prospects down the funnel. Using both analytics and teamwork, B2B companies can have more successful sales cycles.
Sources
https://www.hubspot.com/marketing-statistics
https://www.demandgenreport.com/industry-topics/content-strategies/2746-b2b-content-preferences-survey-buyers-want-short-visual-mobile-optimized-content.html#.VLfy2S7F_Cc
https://www.imediaconnection.com/articles/ported-articles/red-dot-articles/2013/nov/27-marketing-myths-that-we-all-believe/
https://contentmarketinginstitute.com/2018/10/research-b2b-audience/