We are thrilled to announce that Ian Smith has been promoted to our first Group Account Director (GAD). The Ironpaper GAD plays a crucial role in Ironpaper's growth. As part of the growth team, the GAD workshops solutions and strategizes transformations on their accounts and within the company. The GAD leverages their skills in the marketing and sales space to effectively foster innovative solutions and client growth.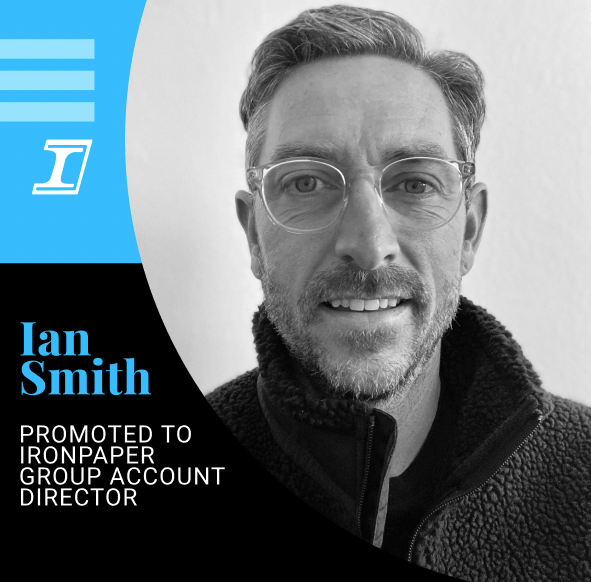 The road to GAD
Ian joined Ironpaper in 2019 to lead our enterprise accounts. His work on Shell Catalyst & Technologies (SC&T) has solidified the client relationship and led to Ironpaper expanding our work within the Shell ecosystem. Ian has participated in the sales process to grow his suite of accounts, communicating the value Ironpaper brings to new clients and exploring new opportunities to achieve measurable growth for their business.
Most importantly, Ian's work with our teams has been truly inspirational. Not only has Ian been able to optimize talent across his accounts, but he has also fostered growth amongst all of his team members. Despite a demanding schedule, he meets with all of his team members for 15- 30 minutes each week to check in on each person's workload or projects and their individual growth within Ironpaper. Ian has promoted mental health efforts at Ironpaper, ensuring his team members feel valued, cared for, and challenged in their work. He is known at Ironpaper for really listening to team members and taking action when needed.
Leadership mentality
When we interviewed Ian earlier this year to find out what traits top marketing directors have in common, he talked about how important an engaging and fun work environment is for keeping his team happy. "I tell everyone on the team, 'Let's make sure that this is enjoyable, that we have fun together, and that we learn from and about each other. If it's not fun, it's all going to fall apart, I can promise you. It might sound silly to say fun is important – why should that be necessary for a professional setting? – but it's a seemingly tiny ingredient that goes a long way'." Ian's dedication to ensuring his team enjoys their work and has opportunities to grow makes him a valued manager and member of the Ironpaper team.
What does the team say?
"Ian is an amazing director when it comes to fostering growth in his team. He has an instinct for what people need to succeed and has a great intuition for giving the kind of support - or the right push - that team members need to grow in the direction they want to go. Ian is a naturally personable leader who makes everyone feel comfortable, including team members and clients. Working with him and learning from him has also made me a better leader because he effortlessly leads by example." - Hannah Emme, Associate Director
"Ian is a joy to work with. When I started working at Ironpaper, I was not on any accounts with him but still had monthly 1-on-1s to pick his brain about my challenges and talk about my overall growth. I eventually worked with him on two enterprise accounts and got to see him in action and how he brought ideas to the account and challenged the team member to think outside the box and grow simultaneously. I can honestly say that if I did not have the 1-on-1s from the beginning and work with him on accounts to see how he works, thinks, and executes; I would not be where I am today at Ironpaper." – Tim Maurizio, Growth Specialist
"I cannot say enough about how much Ian has done for me in the year and a half that I've been at Ironpaper. He's been my director since I started as an account lead, and with his guidance, I've grown from an account lead to a senior account lead to now associate director. His leadership and guidance are hard to come by – he knows exactly how and when to push you so that you can grow in your abilities without ever feeling like you're on your own. He also has an innate ability to guide you in the right direction without looking over your shoulder. I've learned so much being on his team, not just from what he's taught me directly, but from the times that he's trusted me to find the answers myself." – Sam Ward, Associate Director
"When you have a Director who fosters growth in each person on their team, that ultimately benefits the client. Each Ironpaper team member working on the account continually challenges themselves every day and critically seeks the best way to execute a task. I've had the pleasure to work with Ian since he joined the Ironpaper team, way back in a physical office, to today in a remote role, and nothing has changed except we don't get to have vegan cookies from Culture anymore. It is refreshing to have a leader who can help me critically solve the challenges I'm facing in my current role. He'd literally drop everything to help me figure it out and give me the first steps that I needed to start solving it." - Sioban Schmeding, Growth Manager
We are so excited to welcome Ian into his new role at Ironpaper!