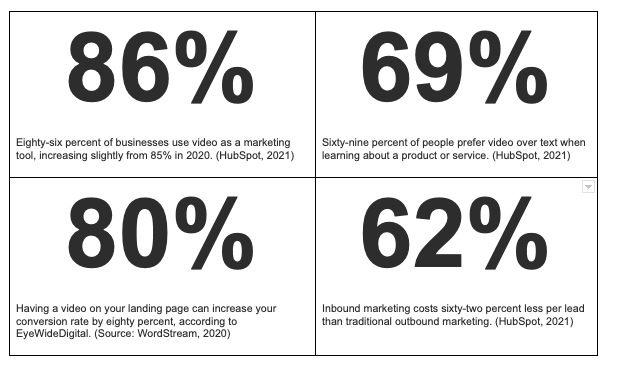 Updated March 2021.
Inbound marketing best practices seem to change constantly. It's essential to follow the data and see where customers and competitors are heading to keep up with trends. Here are thirteen current inbound marketing statistics that highlight this ever-evolving landscape. Video, targeted advertising and selling, contextual marketing, and value-driven content marketing will be more critical than ever.
Video
Having a video on your landing page can increase your conversion rate by 80%, according to EyeWideDigital. (Source: WordStream, 2020)

69% of people prefer video over text when learning about a product or service. (HubSpot, 2021)

86% of businesses use video as a marketing tool, increasing slightly from 85% in 2020. (HubSpot, 2021)

87% of video marketers reported that video gives them a positive ROI. (HubSpot, 2021)

94% of marketers agree that videos have helped increase user understanding of their product or service, with 43% reporting that video has reduced the number of product support calls their company has received. (HubSpot, 2021)
As you might imagine, videos are becoming a more crucial part of your content mix this year. With less opportunity for personal interaction, busier schedules, and less time, video is the solution to these evolving time constraints. Video content doesn't have to be expensive or even a high-tech production. Typically, video content can be as simple as a webinar, a short product demo, or a homemade recorded interview with an industry expert.
Videos are also a great addition to your landing pages. Preferably, use these videos to summarize your product or solution and showcase your value proposition. Be sure to optimize your videos for SEO by carefully choosing keywords for your title and meta tags. This optimization should also extend to include search optimization, as well.
Uploading videos to services like YouTube or Vimeo affords you the ability to expand your advertising reach and scope. Creating short clips of your videos to use in advertising is an excellent way to leverage the Google Ads ecosystem and its growing ad channel. Edit videos to share with specific audience segments. This will increase their relevance, as well as your chances to drive conversions with high-value prospects. Share video ads on YouTube as pre-roll or as suggested/related videos and make them searchable to the right people using optimized keywords.
Content Marketing + SEO
60% of marketers say that inbound (SEO, blog content, etc.) is their highest quality source of leads. (HubSpot, 2021)

39% of purchasers are influenced by a relevant search. (Think With Google)

SEO drives 1000%+ more traffic than organic social media, according to BrightEdge. (Ahrefs, 2021)
As the current stats indicate, many customers rely heavily on online searches to make a B2B purchase decision. Companies that realize that search engine optimization (SEO) is an essential strategy for their B2B company are more successful at capturing their market share and driving lead generation.
As is the case every year, companies should invest in a content cluster strategy and divert from individual keyword targets. Instead, focus on broader thought leadership on relevant topics. Key strategies include publishing new content and optimizing it for search, keeping in mind the ever-growing importance of mobile devices within this search environment.
There are two critical reasons to optimize your website for mobile search traffic:
In today's portable device environment, nearly all of your visitors will expect it

Google will penalize your SEO authority if your optimization does not account for mobile
A mobile-optimized site might include unique content that displays differently on a mobile device. You might, for example, shorten your content to only a critical message and conversion offer for mobile devices.
Technology and Targeting in Advertising
70-80% of users ignore sponsored search results. (Search Engine Land, 2021)

54% of marketers cite "influence pipeline" as their primary ABM metric. (Demand Gen, 2020)

87% of marketers measuring ROI say that account-based marketing, or ABM, outperforms other marketing investments. (ITSMA, 2020)

83% of companies say the main benefit of using ABM is increasing the engagement with their target accounts. (Demand Base, 2021)
Targeted advertising is still the name of the game. While inbound marketing typically encompasses a broader scope, account-based marketing (ABM) is a perfect pairing with inbound. ABM uses premium content to target specific leads or accounts. You can use the same content but adapt it for unique buyers based on their job title, role, industry type, company size, or other segmenting criteria.
With ABM, your campaign targets specific lead groups or buyers across different channels, creating demand generation. It's crucial to identify your target personas, finding messaging that resonates with their pain points and goals, and sharing that content across channels. Digital ABM channels often include paid social networks (LinkedIn), remarketing ad networks (PPC and programmatic), email, blogs, third-party content, and more.
Sales Strategies
Nurtured leads make 47% larger purchases than non-nurtured leads. (The Annuitas Group, 2021)

Inbound practices produce 54% more leads than traditional outbound practices. (HubSpot, 2021)

Inbound marketing costs 62% less per lead than traditional outbound marketing. (HubSpot, 2021)
Interruption marketing or Outbound, where a business focuses on finding customers through advertising (cold calls and emails), is quickly becoming obsolete. It has been for several years, but with the rise of new privacy laws like General Data Protection Regulation (GDPR), businesses must adopt other selling strategies. Strategies mentioned above, i.e., SEO-optimized content, social selling, and ABM campaigns, are a great start. Social selling is also a proven way to engage and nurture leads.
The intertwined strategies of sales enablement and demand generation complement and enhance your marketing efforts. Use insights from your sales team to ideate new content ideas and campaigns for demand generation. For example, do most people in the sales pipeline mention a unique pain point? If so, create content and campaigns that specifically address this issue and provide solutions through education.
Inbound marketing, especially when supplemented with ABM techniques, is an effective methodology for organizations to increase qualified leads and sales. Marketers are relying on inbound tactics and reporting on its effectiveness and relation to an increased ROI. As outbound marketing methods decline in effectiveness, marketers should continue focusing on inbound strategies like content marketing, SEO, and new advertising technology.
Sources
HubSpot, WordStream, The Annuitas Group, Search Engine Land, Demand Base, Google, BrightEdge, Demand Generation; "Marketing Statistics" by HubSpot, 2021 and 2020.
ITSMA and the ABM Leadership Alliance, "Like Fine Wine, ABM Improves with Age," August 2017.