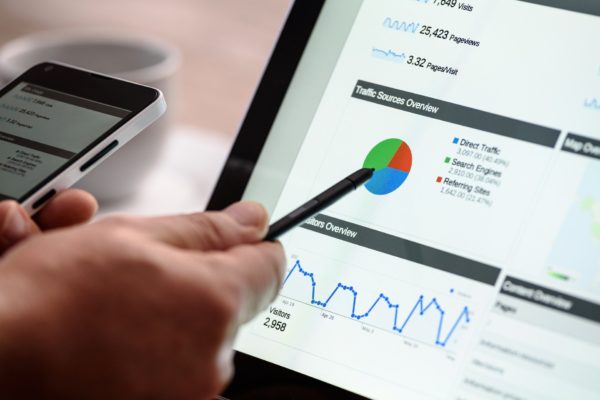 B2B marketers quickly adapted campaign plans in 2020 when the pandemic pushed the entire buyer journey online and changed the way we work. As marketers continue to solve these unique challenges, research has begun forecasting how technology buyers will behave, which gives B2B marketers critical strategic insights. Here's a look at B2B marketing statistics for 2021 and what they mean for marketers.
B2B Tech Buyers in 2021
B2B technology buyers will use the following information sources to make purchasing decisions in 2021.1
Product demos (58%)
Vendor/product website (51%)
User reviews (45%)
Vendor representative (43%)
Free trial/account (41%)
60% of B2B tech buyers in 2021 are millennials.2
Technology buying committees will be more agile in 2021. In 2020, 36% of the buying group of two-to-three people noted a reliance on agility in the purchasing process; in 2021, that number will increase to 40%.3
Buyers spend more time on early-stage buying activities in 2021. Compared to time spent before the pandemic, buyers are investing more time in purchasing decisions.4
33% will increase time researching products
31% will allocate more time for prioritizing selection criteria
33% will spend more time comparing products
34% will invest more time in clearly defining expected ROI
What this means for B2B marketers
B2B technology buyers are skewing younger, which means marketers should revisit how they address this group. In 2021, buyers will want to be more confident in their decisions due to uncertainties from the pandemic. However, spending more time conducting research and comparing products means buyers may elongate deal cycles. B2B marketers can prepare for this by creating content along the sales funnel to convert prospects.
B2B marketers should focus efforts on what influences the purchasing decision. Designing solid follow-up materials for a product demo can keep a prospect interested and serve as an unintrusive touchpoint. They can also take a deep dive into landing pages to determine which convert and which require optimization to capture qualified leads. Lastly, B2B marketing statistics show that teams should continue to produce case studies that accurately reflect campaign performance, provide key metrics, and explain realistic results a new client can expect.
B2B Marketing Statistics: Spending in 2021
57% of B2B organizations across five verticals plan to invest in an ecommerce platform in the next two years.5
B2B digital advertising spending expected to reach $9 billion 2021.6
The B2B trade show market value will hit $8.6 billion, which is an increase from 2020's $5.6 billion but a far reach from 2019's $15.6 billion.7
B2B Tech Spending in 2021
Roughly 30% of all buyers forecast that B2B tech spending will go back to pre-pandemic levels in 2021.8
In 2021, B2B tech buyers plan to increase spending in the following areas:9
Web and video conferencing (64%)
Online collaboration and project management (53%)
Marketing Business intelligence (41%)
Customer support (38%)
Network solutions (33%)
B2B tech buyers plan to decrease spending in the following areas in 2021.10
Other hardware (25%)
Vertical industry (22%)
Professional services (22%)
Routers and switches (22%)
HR (20%)
What this means for B2B marketers
B2B spending on ecommerce platforms and digital advertising come as no surprise for 2021. However, the B2B world needs to prepare itself for another year without in-person trade shows. The buyer journey is now completed virtually, so sales and marketing teams should pinpoint marketing tactics that can have a similar impact in terms of lead generation.
Technology spending forecasts are also not a surprise as B2B tech buyers look to conferencing tools to communicate with prospects and internal teams. Working remotely means more of a need for collaboration platforms and less of a need for "in-person" technology such as routers and certain hardware. B2B marketers should note that because of the pandemic, tech buyers are wary of unnecessary spending. As budgets have been cut across the board, marketers will need to show an ROI on each tactic implemented and prepare to validate efforts with data.
B2B Marketing Statistics: Plans in 2021
41% of B2B leaders noted that selling directly to customers online is a significant business opportunity in 2021.11
77% of tech vendors plan to use product demos and 73% will use the company and product website as marketing tactics in 2021.12
B2B marketers plan to invest in these top five areas in 2021.13
Content creation (70%)
Website enhancements (66%)
Events (digital, in-person, hybrid) (48%)
Content distribution – organic/non-paid (46%)
Social media management/community building (39%)
95% of B2B tech buyers said they are unlikely to respond to non-personalized marketing messages, 93% will not respond to cold calls, and 90% will not respond to automated chatbots in 2021.14
What this means for B2B marketers
These B2B marketing statistics show that marketers seem to be on the right track as they plan to invest in content creation and website enhancements; however, that content should address what tech buyers actually use to make purchasing decisions (product demos, vendor/product website, and user reviews).
Since B2B tech buyers will no longer respond to non-personalized marketing messages, marketers should look to account-based marketing (ABM) to create a more targeted campaign. ABM relies on content that is personalized at scale and will appeal to buyers more than generalized campaigns.
1, 2, 3, 4, 8, 9, 10, 12, 14 TrustRadius, B2B Buying Disconnect: Forecasting Radical Changes in Tech Buying Behavior, 2021.
5, 11 Episerver, B2B Digital Experience Report: A Customer-Centric Pivot in Pivotal Times, 2020.
6 eMarketer, US B2B Digital Advertising 2020, August 13, 2020.
7 PwC, Global Entertainment & Media Outlook 2020–2024, 2020
13 Content Marketing Institute, B2B Content Marketing: Benchmarks, Budgets, and Trends, 2020.
Image by Photo Mix from Pixabay