Based on a Statista report, "Content marketing in the U.S.," B2B and B2C marketers may not know exactly what their buyers are thinking. The company interviewed both marketers and consumers to put together this report dissecting content marketing trends in the United States. Given the results, there are takeaways that B2B content marketers can address to improve their campaigns and target their customer more effectively.
Here are five statistics that explain what buyers really think and what this means for B2B content marketing.
#1: 72% of Buyers Trust Online Content from a Personal Recommendation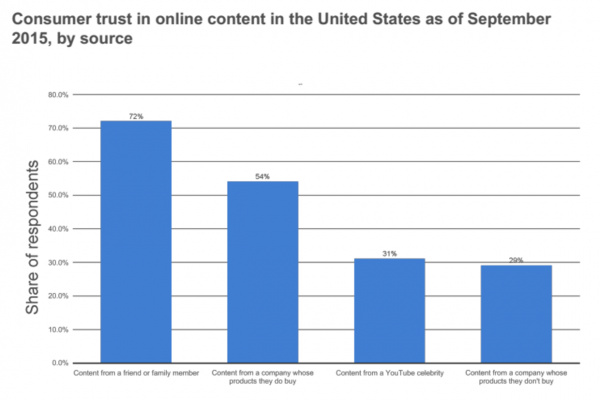 What this means for B2B Content Marketers: Of those surveyed, most people trust content recommended by friends or family. Also, 54% of consumers read content from a company whose products they buy. So what does that mean for B2B marketers trying to capture more leads?
The most important takeaway from this is that all content must be shareable. B2B marketers that create engaging, thoughtful content are more likely to see their content shared across social channels, gaining that level of trust from potential buyers. Content that is dull and focuses too much on the technology is not likely to be shared, and this creates a missed opportunity. B2B content marketers that focus on consumer pain points and remember that at the top of the funnel, individuals are not ready to buy will find more success.
#2: 68% of Consumers Trust Consumer Opinions Online
What this means for B2B Content Marketers: Potential buyers want social proof, which means B2B content marketers should have substantial case studies and testimonials above the fold on the website. 85% of consumers said they read up to 10 reviews before feeling they can trust a business (BrightLocal), so B2B marketers shouldn't make the potential customer dig around for reviews. Instead, by listing them on the website, buyers can find what they want quickly. Furthermore, customer testimonials and case studies are considered the most effective B2B content marketing tactics, identified by 89% and 88%, respectively, of B2B marketers (B2B Content Marketing Report).
#3: 61% of Customers Question if a News Article is Biased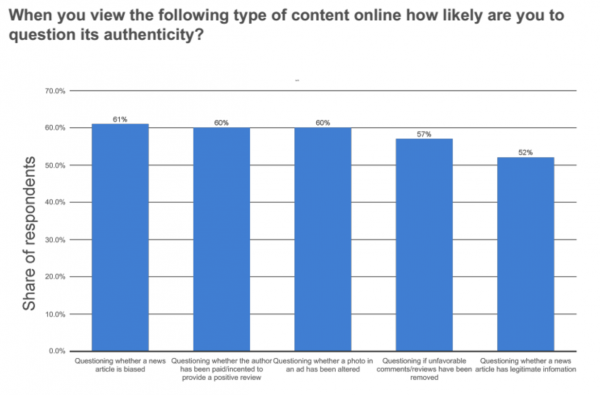 What this means for B2B Content Marketers: Gone are the days when readers simply trust news outlets reporting; now, readers question whether or not they are given the real facts. B2B marketers can tackle this challenge by investing in referral marketing. In fact, 91% of B2B buyers are influenced by word-of-mouth when making their buying decision (Ambassador). Content marketers can utilize tactics such as guest blogging or basic PR to get referrals back to their website and encourage buyers to share their positive experiences with the product.
#4: 80% of Readers Prefer Content that Holds their Attention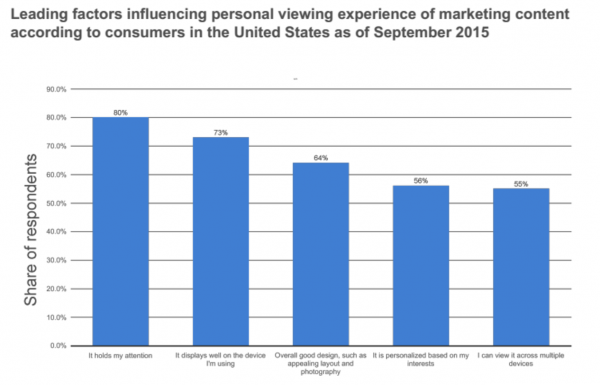 What this means for B2B Content Marketers: B2B content writers must remember that content needs to engage the reader. But how do you engage a reader when the product is dense and complicated? By starting with the consumer pain point.
All B2B technology solves a problem or fills a need for its customers, so by writing about that, B2B content writers can capture the attention of potential clients. Many bloggers make the mistake of explaining the technology upfront, but the leads at the top of the sales funnel aren't quite ready for that information. Instead, discuss the opportunities and value the technology provides and make it personal to the potential buyer. Readers digesting information personalized to their needs are more likely to read on and engage with the content.
#5: 81% of Women Prefer to Engage with Brands on Instagram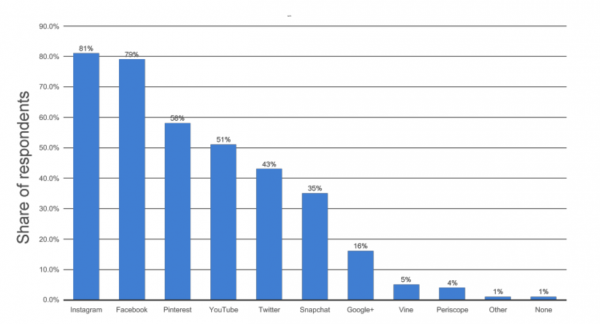 What this means for B2B Content Marketers: This statistic can be daunting for B2B marketers who typically see Instagram as a B2C network. However, if you want to capture the female audience, you should consider using Instagram. B2B content marketers can craft interesting posts using dynamic images that engage their audience about industry trends or certain topics related to the technology. Content marketing in the context of B2B must inspire, educate, engage, and help buyers. Just because the product might be hard to understand doesn't mean B2B content writers can't use creative, engaging posts to talk with their potential clients.
B2B content marketers should keep these statistics in mind when creating a marketing strategy. Also consider (related article), How to Solve the Top 3 B2B Content Marketing Challenges.
Sources
https://www.brightlocal.com/learn/local-consumer-review-survey-2014/
https://www.slideshare.net/hschulze/b2b-content-marketing-trends-2013
https://www.getambassador.com/blog/the-effectiveness-of-b2b-referral-programs