Inbound marketers spend many hours generating content to raise awareness, nurture leads, convert sales, and encourage brand advocacy. Inbound focuses heavily on making content a key ingredient for driving engagement, advocacy, and customer acquisition. For many teams, content management can get out of control or disconnected from a core strategy.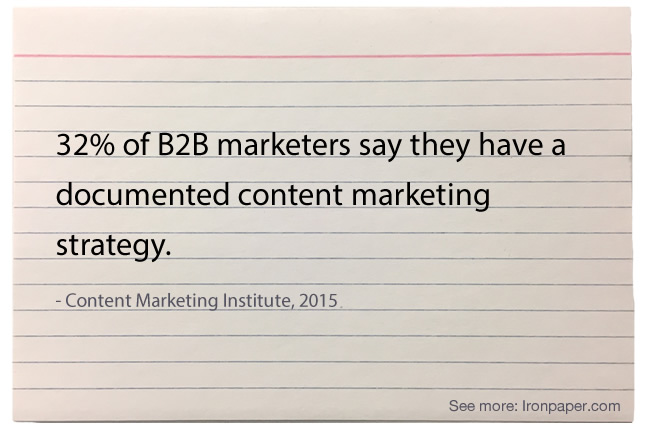 There are several benefits of a content audit to justify reviewing all the existing landing pages, blog posts, white papers, infographics, quizzes and more.
How to Conduct a Conduct Audit
Content challenges are a struggle for many inbound marketers.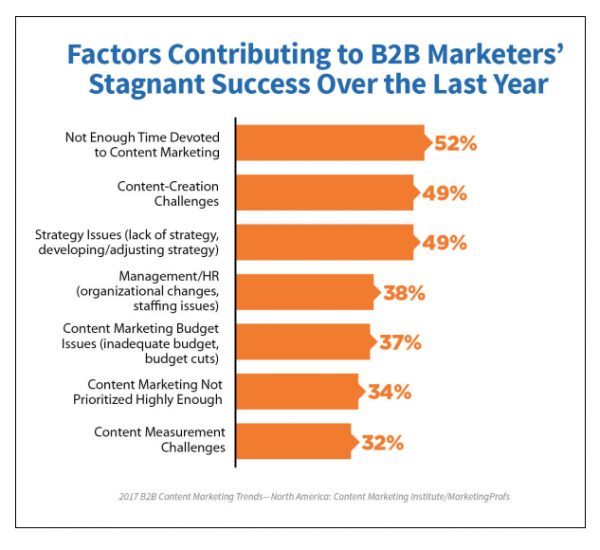 Before addressing the many advantages of a systematic review of all that a brand already has in its content resource library, let's outline the steps to a content audit.
1. Set up a spreadsheet identifying each individual piece of content. Include, at a minimum:
Title
Headline
Content Format or Type
Persona Targeted
Lifecycle
Publication Date
URL
Offer/CTA/Campaign affiliation
2. Add SEO data
Use a web crawler tool to pull the title tags, meta descriptions and more for your URLS. Add this information to the spreadsheet.
3. Incorporate Social data
Gather information about tweets, pins, likes, comments and other social activity related to the content library. Add the data to the spreadsheet.
4. Verify the accuracy of the spreadsheet to be sure that you are analyzing clean data.
5. Look for opportunities. Review your content library to see what worked well — most clicks, shares or views? Identify if you are missing out on interacting with certain lifecycles. See if a certain type of content has more traction. What headlines work best? Is there old content to revisit and repackage? Can blog posts work together in an ebook offering?
6. Keep adding to the spreadsheet. The next audit will be much easier if you add new content to the content resource reference sheet as it's published.
Benefits of a Conduct Audit
Perhaps that sounded overwhelming and left you wondering why you should bother doing that much work? Well, once you've identified what content you have at your disposal, you can begin to benefit from a better understanding of all brand content assets.
#1 An Audit is Data-Driven
The audit provides another tool to generate data and valuable business intelligence. Taking the time to build out a full content audit provides meaningful data insights. You might determine, for instance:
top-performing blog articles by social engagement
top-performing blog articles by organic search
top-performing blog articles by lead generation
top content for assisting lead conversions (conversion assists)
top themes or formats of content driving engagement of lead generation
social engagement patterns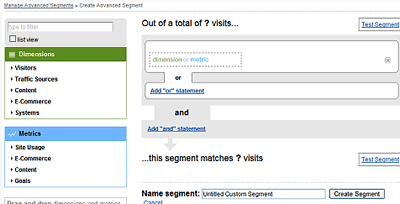 The results of the audit can also help the marketer to benchmark success. Now instead of going with your gut, you can look to internal data to determine what assets bring quality traffic and conversions.
#2 Identify Assets to Leverage
Use the content audit to organize and map your content. Keep in mind that site visitors seldom come looking for a "blog article." They come looking to answer questions "what is marketing automation?" or understand "how to write better how to content." It is the marketer's job to break the content down into manageable categories that trigger audience interest and identify value.
The audit can help you identify topic themes, unique content for different verticals or buyer personas, varied content formats to better package and present content to site visitors. Many blogs, for instance, are structured with the most relevant post on top, yet currency may not be the primary thing your visitor is looking for.
With the audit's insight into content trends, determine what existing assets to move to gated content or make discoverable again with banner callouts or social media posts.
#3 Improve Content Shelf-Life
A content audit identifies buyer persona or customer interaction with each piece you've created. Resurrect content that has been pushed down the blog menu by new posts by tweaking for use in an email campaign. Or pull data from those materials for social media and link to the study to rekindle interest.
You might also improve shelf-life by revisiting the design of older content to ensure that it is optimized for mobile device consumption. Additionally, it can help to go back and embed links to relevant content offers or more current insights in your blogs that continue to generate views and shares.
#4 Put Content in Context
An audit enables you to make content more discoverable to specific buyers, verticals, or lifecycle stages. Easily incorporate relevant calls-to-action as you tweak and repackage content assets to address particular audiences in a personalized way. Context is essential for content marketing to be successful.
Inbound rests on the idea of developing trust and authority with relevance and value. Being able to put forward the right content to the right person at the right time is even easier with the business intelligence gained from a content audit.
#5 Reduce Hours Spent Creating New Content
Now that you have a spreadsheet of several hundred items of content, look to see what themes you can find. Instead of commissioning a brand-new research study, create a new brief bringing results of previous research in a brief with a new focus. Pull several blogs together into an edited ebook. Group together content focused on brand loyalty and set up an email workflow using this older content in a streamlined way for your latest converts.
You've invested resources in brainstorming, researching, building and designing each and every content asset. Don't publish content and let it quickly perish. With a content audit of the entire content resource library, the marketer can better inspire and engage with customers without constantly reinventing the wheel.
Related Reading: Using Content to Nurture Sales Leads
Benefits of a Content Audit Sources
Hoffman, V. (2015, Feb. 19). How to Conduct a Content Audit for More Data-Driven Content Marketing. https://hub.uberflip.com/blog/content-audit
Mueller, H. (2016). How to Increase Your Content's Discoverability. https://0ca36445185fb449d582-f6ffa6baf5dd4144ff990b4132ba0c4d.r41.cf1.rackcdn.com/how-to-increase-your-content-s-discoverability.pdf