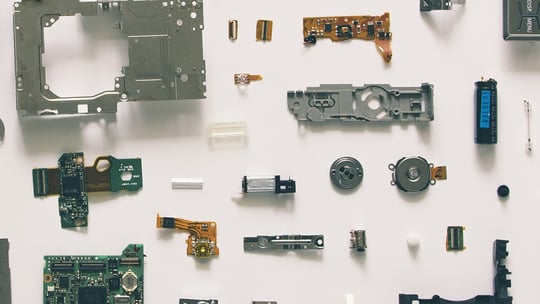 Although manufacturing companies tend to get the majority of their business via loyal customers, word-of-mouth, and partnership deals, it's critical that they don't overlook the importance of online marketing.
At IronPaper, we're seeing an increasing number of manufacturing companies prioritize online marketing as a way to attract new customers and drive sales.
And the really exciting thing is – it's working.
By leveraging content and thought leadership to promote their products and services online, manufacturing companies are succeeding at attracting new prospects, retaining existing customers, and driving sales.

Here's how your manufacturing company can get in on the action:
Create thought leadership.
For your marketing to be effective, visitors must view your company as a leader in the manufacturing industry. They need to see that you bring innovative ideas and trusted expertise to the table.
For a manufacturing company to enhance its reputation as a thought leader, we recommend hosting or sponsoring a webinar; creating a company blog; publishing a white paper that demonstrates industry knowledge or product training; and attending industry events and trade shows.
Leverage keywords, PPC (pay-per-click) ads, and SEO.
A well-honed digital marketing strategy that encompasses keywords, SEO, and PPC ads will ensure that your target market can easily find your company online.
Here's an example of what this looks like in action. Manufacturing companies tend to benefit from targeting customers in specific regions where the company has distributors and locations.
Your company can take advantage of this fact by creating region-specific web pages and driving traffic to them using keywords and PPC ads. That way, when a customer searches for a "cookware manufacturer in New York," they find your company.
Publish written content.
Strong content is the "meat and potatoes" of online marketing and lead generation. A steady stream of content ensures priority in search engine results and enhances your company's position as an industry leader.
When creating written content for the manufacturing industry, aim to demonstrate your company's understanding of your customers' needs, offer helpful solutions, and stand out with authoritative and timely information.
Humanize the brand.
Humanizing your brand is a powerful way to edge out the competition. Customers have seen enough of the cold and corporate manufacturing websites – they want something new. They want value and conversation, and they want to be engaged.
We advise the manufacturing companies we work with to connect with their customers by showcasing their human side. For example, launch a "Meet the Team" campaign and share photos of your company's leaders, along with stories about why they're passionate about manufacturing.
Use virtual tours and videos to market your products.
Virtual tours and marketing videos are fresh and engaging ways to showcase your products.
Consider creating how-to videos, safety videos, and behind-the-scenes videos that show how the products were produced.
We also recommend incorporating client testimonials and case studies to further demonstrate your company's value.
Delight your existing customers.
In addition to attracting new prospects, online marketing is great for customer retention. We recommend creating email campaigns specifically for existing customers. Use these campaigns to offer special product discounts; end-of-the-year gifts; high-level content; and resources that they can use to achieve their goals.
---
Learn more marketing tips for manufacturing companies: