You may be familiar with behavioral targeting for consumer brands — you see it in action every time you search for a product online and see that product "chase" you around the web in different advertising slots. This can make you more likely to buy products by showing you relevant items that are (or were) top of mind for you, especially as you take further actions to show interest.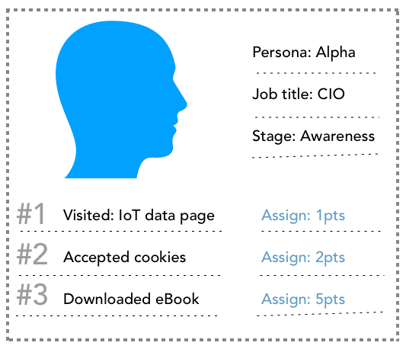 But behavioral targeting is also a B2B marketing strategy, especially for companies who want to grow demand generation and nurture leads. Sure, it's not as simple as buying a product. But you can encourage potential customers to take other actions with your company, such as requesting a demo or downloading a thought leadership piece.
With these behavioral targeting examples, you can become more relevant and stop casting a wide (and ineffective!) net with your advertisements and outreach.
What are some behavioral targeting examples for B2B?
Behavioral targeting is simply using different tactics to tailor your promotions according to behaviors an individual or audience has done, often tracked with digital marketing tools. Trackable behaviors include: visiting website pages, clicking an advertisement, watching a video, submitting a form, reading an email, and more.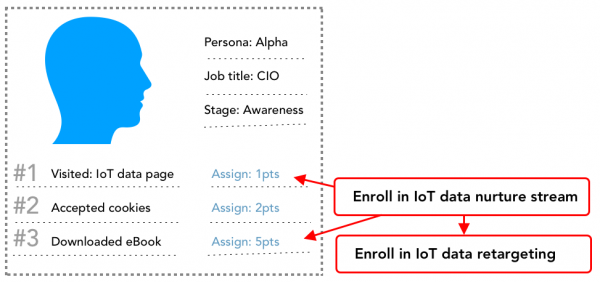 Some behavioral targeting examples include:
Sending display ads across the web to anonymized people who visited your website but did not convert on a form
Creating multiple email nurture drip campaigns, depending on a lead's unique engagement level with your website
Crafting automatic sales outreach emails based on a prospect's online content downloads
Publishing Sponsored Content ads on LinkedIn with related content for target leads who have watched a certain video
As you might have noticed, content marketing is a big part of any successful B2B marketing campaign. By sending content related to what someone's already downloaded, you keep the momentum going and increase your chances of enticing them to click, download, or convert.
Behavioral targeting is also useful throughout the sales funnel. You can 1) increase demand generation by targeting casual website visitors with advertisements across the web. 2) For lead nurturing, you can run behavioral campaigns based on specific interests and actions for more advanced leads, helping to move them from consideration to the decision stage. 3) And importantly, you can inject behavioral marketing into the sales process by sending automated responses when a hot prospect engages, revisits your site, or downloads new decision-stage content.
Read more: Top of Funnel Marketing: Strategies for Acquiring More B2B Leads
How does behavioral marketing work?
Behavioral marketing refers to any campaign that targets users based on their existing behavior. These campaigns usually include targeted emails, targeted videos, or text and graphic advertisements.
Technically, behavioral marketing works in several different ways, but most commonly, marketers use remarketing pixels to track the anonymized online activities of individuals. For example, Facebook and Google Ads offer free remarketing pixels that you can paste into the code of your website, either sitewide or on specific pages. These tags "read" the page traffic to see which individuals visit it. Marketers can use these anonymized lists of people to create audiences for an advertising campaign.
Alternatively, a marketing automation software like HubSpot tracks cookies and web sessions of individuals related to prior activity, creating a picture of different activities they've taken. This information is even more valuable than an anonymized pixel because it's tied to a lead's contact information. That means you can understand their timeline of behavior and engage with these individuals in a custom manner.
Behavioral targeting + remarketing?
Behavioral targeting tactics usually overlap with remarketing. Remarketing is the tactic of marketing to people who have already engaged with your company in some way. Sometimes, this targeting is behavioral — like targeting people who have already visited a particular landing page or downloaded a specific topical content offer. You can think of behavioral targeting as one tactic to be used in the wider strategy of remarketing.
Read more: 5 Remarketing Examples for B2B Companies
Conclusion
Behavioral targeting is a wise strategy for B2B companies who want to see increased lead generation and also lead nurturing throughout their marketing and sales funnel. Content marketing is an important tool, as is having the right technology — whether you choose to use a marketing automation tool or an anonymized remarketing pixel. Ultimately, work to be relevant and test different strategies and behavioral triggers to see what works for your goals.