According to a recent study of membership organizations and social media use, 91% of organizations use Facebook, 88% use LinkedIn, and 86% use Twitter to communicate and engage with current and prospective members. – Kellen Company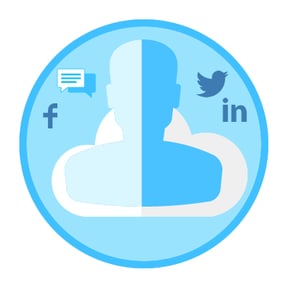 It's well known that companies use social media to broaden their reach, market their products and services, and accomplish branding initiatives. However, as an increasing number of membership organizations also embrace social media, we're seeing that an active presence on Twitter, Facebook, and LinkedIn is extremely beneficial to these entities as well – helping them to thrive, connect, and engage with new and existing members.
With that said, let's take a closer look at the primary benefits social media delivers to membership websites and organizations:
1. Increases organizational awareness. Facebook and Twitter alone reportedly serve 1.5 billion users globally. By engaging with these users and sharing relevant content, photos, and events, you can reach a greater number of prospects and achieve increased awareness for your organization.
2. Attracts new members. Prospective members are intrigued by social media pages that features member interactions, event photos, and interesting and relevant content. This type of dynamic social media presence demonstrates an exciting community that people want to join.
3. Builds relationships with members. In addition to attracting new prospects, social media fosters your relationships with existing members. By engaging in real-time conversations, answering questions, and sharing helpful and relevant content, your organization builds meaningful member connections and encourages long-term loyalty.
4. Inspires action. An active and exciting social media presence inspires people to take action and get involved – whether it's through a donation or a membership. This allows your organization to more efficiently raise support and elicit new member applications.
How to Use Social Media for Membership Organizations and Websites
1. Promote your organization. Your social media presence should act as a social representation of your organization. To that end, we recommend customizing your pages to reflect what you're all about. To begin, make sure your mission statement, guiding principles, and contact information are easily accessible. From there, get new members interested in joining by sharing photos of past events, promotions for future events, and links to donor pages. Make sure prospective members immediately understand the benefits of getting involved with your organization and are inspired to take action. Social media marketing can help to build brand visibility, cause/mission awareness, attract new members and improve retention of existing members.
2. Engage with members. Foster long-term loyalty and build lasting relationships by engaging with your members on a regular basis. For example, tag them in photos, share their content, start conversations, thank them for attending past events, and personally invite them to future events. Not only will this make your members happy, but it will also demonstrate an active and exciting community to prospects.
3. Share interactive content. Maintain member involvement by sharing content that inspires interaction. For example, create a short survey to gather information about your members, gauge their interest in potential activities, and determine the types of events they'd like to attend. In addition to demonstrating that you value your members' opinions, this also ensures that you're meeting their expectations.
4. Share original content. We also recommend sharing original content -- like videos, blogs, and articles -- about topics your members will find interesting or helpful. For example, if your organization caters to attorneys, create content around career development, networking opportunities, and achieving a work-life balance. Attach a call-to-action to each piece of content you share, asking members to sign up for an event, share the content with their friends, or donate to a cause.
5. Encourage fundraising. Social media is a fantastic tool to raise money for an event or cause and build a base of online donations. For each campaign, we recommend creating educational content that explains why you're raising money, lists the benefits, and encourages members to donate. For example, if you're raising funds to build a new facility, explain how this improvement will directly benefit the organization and its members.
SOURCES:
Engaged!, 10 Proven Benefits of Using Social Media to Grow Your Business, https://startengaging.com/top-10-benefits-of-using-social-media-to-grow-your-business/
Kellen Company, Social Media for Associations Status Report 2014, https://www.kellencompany.com/sites/default/files/report_social_media.pdf