B2B companies often ignore or downplay the role of a website in their sales process. Prospects often explore resources and content on brand websites throughout the sales process. We often see prospects returning 3 or 4 times throughout the buying process once they enter the sales pipeline.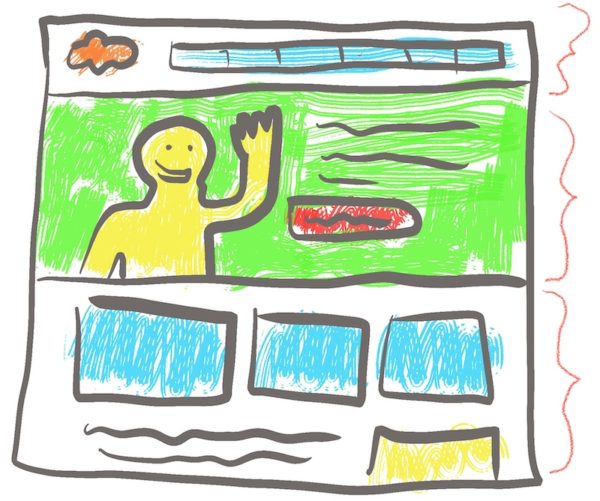 Websites act as a central point for prospects to research a company's products, services, reputation, and validate decisions. That's why you need a website that not only draws people in, but also converts, educates, and nurtures them through the funnel until they're ready to buy.
If you can create an engaging website, you'll not only increase your traffic and leads, you'll also increase advocacy to support and strengthen a purchase decision, as well as increase the likelihood of upsells. To use the web as a sales influencer, you'll need to optimize everything on your website -- from headline copy to product and service descriptions. If the content you currently have isn't compelling, your website won't draw people in or inspire them to become customers. Fortunately, there are three steps you can follow to create website content that attracts and converts.
Step 1: Build a Strong, Buyer-Centric Foundation
Companies that are buyer-centric are 60 percent more profitable than those that aren't1. So, what does it take to put customers at the center of everything you do? First, make sure all your web content begins and ends with your customers' needs and:
Create buyer personas
Use customer-centric messaging to address pain points
Test your site navigation
Buyer Personas or Ideal Customer Profiles
Base your personas on your best current customers and your ideal future customers. Research their demographics, needs, desires, and pain points through client conversations, sales interviews and internet searches.
During your research, pay particular attention to your customers' pain points. These will be the basis for your messaging because they are the words and experiences that resonate most with your potential buyers.
Buyer-Centric Messaging
Most companies base messaging on their products and services, which means the bulk of their website content is about features (like automation tools, cloud services, etc.) even though this doesn't compel prospects to make a purchase. Why? Well, to start with, it doesn't set your business apart because many companies offer the same features. More importantly though, this messaging doesn't address what buyers really want to know: how your product solves their problems.
To create customer-centric messaging, focus on your personas' pain points and translate features into benefits. Instead of just discussing automation tools (or your products), talk about how automation tools save time and improve productivity for your specific audience.
For example, you might rework your messaging to talk about how remote customer service teams (audience) no longer need to spend hours on manual tasks (pain point) and can instead focus on customer interactions that boost retention by 42% (benefit).
Site Navigation Aligned to Core Messaging
None of your customer-centric messaging or persona research matters if visitors can't find the content that's relevant to their needs. That's why it's essential to optimize and test your navigation from the perspective of your buyer personas. Your navigation shouldn't be a standard "home-about-services" approach. Instead, it should highlight what matters most to your buyers--not your internal politics.
Instead of placing pages that are about the company in the main navigation (that's usually "Our Mission" or "Our Team"), create action-oriented pages that are named for the solutions your buyers are looking for. For example, instead of "Services" speak specifically to what you do with something like, "POS Solutions for Retailers."
Create relevant conversion points that make visitors want to engage further, like a tailored, 30-minute product walkthrough or a downloadable solutions overview, rather than providing a wide range of options. The more you understand your buyers and their needs, the more you can simplify your website navigation. This will benefit your business over time because people have a hard time sifting through many options. In fact, a recent study even found that fewer buying choices resulted in a 600 percent increase in sales2.
Related Reading: Defining a Business Strategy for Websites
Step 2. Optimize Your Content to Improve SEO & Conversions
Sometimes it's the little things that have the biggest impact. That's why the next step is to quickly update your existing pages and:
Optimize on-page SEO
Add above-the-fold conversion points
Update meta descriptions
Optimize On-Page SEO
Many business websites use their company name or branded terms as the main header, or H1, on their webpages, but unless you have a nationally-recognized corporation, that doesn't help visitors understand what your company does. It also doesn't have a positive impact on your organic search traffic, because branded H1s don't help SEO.
If you want to improve SEO outcomes, update your H1s to incorporate searchable, key terms. For example, if you offer a specific type of software like "microservices for insurance companies" or "agile project management software for developers," include that in your H1. Not only will search engines read the content as more relevant, your visitors will also understand that you can meet their needs immediately.
Another great SEO tactic is to mix in different iterations of your desired keyword organically, rather than repeating a single phrase. Google (and other search engines) reward content that's informative and easy to read, so keyword stuffing won't help articles climb the ranks. Instead, publish posts that use natural language and connect a variety of related ideas with anchor links that allow readers to explore other concepts.
Add Conversion Points Above-the-Fold
Although it's reported that users typically leave web pages in less than 15 seconds3, another study found that our attention span has actually decreased to just eight seconds — less than that of a goldfish4.
Don't waste the few seconds you have to get visitors' attention by making them scroll down to find their next action. Give them a compelling offer, such as a content download as soon as they enter your site. By giving visitors something to do immediately you'll not only hold their attention, you'll also expand your contact list as they fill out the form to get the download.
Later, as you create more content offers, you'll be able to add different conversion points on different pages based on where a lead is in the buyer's journey.
Update Meta Descriptions on Key Pages
Although webpage meta descriptions don't have SEO value, they can be shown as the preview prospects read before deciding to click into your page from search results. To optimize this area, start by adding compelling meta descriptions to your most important pages, such as your home page and navigation menu pages. Then, gradually go through the rest of your site, including blog posts and landing pages, to make sure all pages have clickable meta descriptions.
Step 3. Create a Long-Term Strategy
Now that your website is set up for immediate success, create a plan that builds momentum over time. A long-term content strategy will include regular publishing and updated content including:
Content clusters
Content that aligns to buyer challenges
Content offers for conversion and nurturing
Putting content into the right context
Content Clusters
Search engines will seek out websites with a wide, comprehensive knowledge on a topic, and prioritize the content with the most authority in their results pages. That's why a "content cluster" SEO strategy is perfect for their evolving algorithms. Instead of optimizing for one particular keyword, with clusters, you organize your website content around core topics, or SEO categories with high search volume, that you want to rank for.
A core topic should include a keyword that is relevant to your personas and your solution. Ideally, you want to orient your content toward high search volume terms, so you can bring in adequate traffic. These core topics, will become your "pillar pages" and should contain 1,000 to 5,000 words of high-quality, educational or sales-driven content. A B2B software company might build a pillar page around the term "enterprise software for logistics teams," for example.
Support pillar pages with "cluster content," such as blog posts that link back to the pillar page. Each piece of cluster content should target a related long-tail keyword and be mapped to a specific stage in the buyer's journey. In this case, our B2B software company could write a consideration-level blog on "How to Evaluate Enterprise Logistics Software."
Related Reading: How to Match Content to Buyer's Journey Stage
Content Offers for Stages of Buyer Education
While content clusters attract visitors to your site, a content offer is a "gated" asset that asks visitors to fill out a form to access premium material. This conversion-focused content typically includes more detailed or action-oriented resources such as eBooks, white papers, case studies, and checklists.
Every content offer you create should speak to prospects at a different stage of the buyer's journey, with a form to match. Buyers at the awareness level who are researching how to solve their problem should be able to quickly download a content offer through a short form that may just include name and email.
Consideration-level content offers on the other hand can have forms that collect more in-depth information like job function and pain points since they're further down in the sales funnel. The additional form fields will then determine whether or not your leads are qualified and helps you nurture them with tailored content as they move down the sales funnel.
Social Media & Paid Promotion
Your website content doesn't exist in a bubble. Raise awareness about your company, its solutions, and the thought leadership you've produced through social media. Start by researching which social networks and paid channels your audience inhabits. Typically, Facebook and Instagram are great for B2C businesses, while LinkedIn, Google search, trade publications can be a better channel for B2B companies. That said, it is always worth testing each channel to see what is best for your specific audience.
To get started, set up a profile on your chosen network and start interacting with others in your space. Share helpful tips, industry news, and links to your website content. Since 70 percent of people learn about a business through its blog5, we recommend sharing your blog content often, and mixing it in with content offers and relevant website pages.
Related Reading: Content Promotion Tips to Save Time and Do Better Marketing
Creating great website content takes a strong, buyer-centric foundation and a combination of quick SEO fixes and long-term planning. Use these steps to get started, but remember that the best website content is consistently updated and optimized for new buyer needs and SEO changes. Stay agile and continue to build up and improve your website over time.
Sources
1 "Wealth Management Digitalization changes client advisory more than ever before." Deloitte, July 2017, https://www2.deloitte.com/content/dam/Deloitte/de/Documents/WM%20Digitalisierung.pdf.
2 Social Triggers. "How to Increase Online Sales by 600%." Social Triggers Blog, 18 January 2011, https://socialtriggers.com/get-online-sales/.
3 Crazy Egg. "The 15 Second Rule: 3 Reasons Why Users Leave a Website." The Daily Egg, 26 Feb. 2019, www.crazyegg.com/blog/why-users-leave-a-website/.
4 McSpadden, Kevin. "You Now Have a Shorter Attention Span Than a Goldfish." Time, 14 May 2015, http://time.com/3858309/attention-spans-goldfish/.
5 "Create a Website." Quicksprout, 19 Jan. 2019, www.quicksprout.com/2013/12/13/why-every-business-should-blog/.
Website Content Updates and Strategy Checklist
Your website is often the most impactful interaction prospects have with your company before talking to a representative because it's the central point they come back to when researching your products, services, and reputation. That's why you need a website that not only draws people in, but also converts and nurtures them down the funnel until they're ready to buy. Use this step-by-step checklist to create great website content that helps you get there.
Step 1. Build a buyer-centric foundation.
Create buyer personas.
Update messaging to be customer-centric.
Simplify your site navigation.
Step 2. Update your website to improve SEO and conversions.
Optimize your H1s with SEO keywords.
Revise website copy to be buyer-centric.
Add conversion points above the fold.
Update metadata and descriptions for website pages.
Step 3. Create a long-term website content and SEO strategy.
Build out content clusters, including pillar pages and supporting content.
Create SEO pages for important keywords.
Offer downloadable content to convert and nurture leads.
Promote your company, products, and your website content on social media.