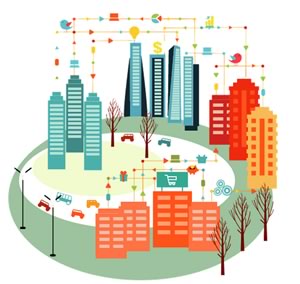 We have arrived at a critical milestone in the evolution of computing. The Internet of Things is just that milestone, which promises to turn everyday objects into smart, connected objects--taking on a new meaning. Telecom companies and communication service providers have a unique opportunity to tell a story during this dramatic shift in computing. Businesses can harness the excitement and possibilities associated with the Internet of Things, but marketing communications must tell a new story.
It is essential for businesses wishing to tap into the Internet of Things era build a content strategy that attracts the right partners, investors, buyers, advocates and existing customers who may play a role in this shift.
Defining a content strategy for the Internet of Things
Your content strategy must include curating and distributing content that engages advocates, browsing trends for the industry and aligns with your enterprise's brand story.

Considerations for an IoT content strategy
Co-create content with existing partners to maximize the exposure, authority and lift of the content.
Create search-accessible content on your brand's website that directly spells out the capabilities with IoT
Create a sales-focused product roadmap outlining future plans with the Internet of Things to help potential customers feel comfortable with your support of the evolving realm of needs
Content built upon industry tradeshows or upcoming events, such as the International Conference on the Internet of Things, IOT Nexus or IEEE Internet of Things
Upcoming product launches for your company that relate to IoT -- could also include new releases of an existing product
Conduct a contest or poll of your existing social followers and release the results in a beautifully packaged report.
Craft a campaign to existing customers outlining your company's capability with the Internet of Things and it's opportunities in the marketplace. Although most customer may know of IoT solutions, many may not know of the possibilities before them.
Core assets to consider in defining a content strategy
Search accessible website content (pages)
Product demos or tours using video or photo slideshows (use social sharing)
Landing pages or microsites dedicated to IoT solutions
Videos (informational, viral or promotional)
Whitepapers
Datasheets or Factsheets
Case studies
Research and reports
Product specifications and definition
Presentations or pitch documents
Pricing guides for specific solutions
Catalogs (great for technical solutions with lots of data points or customization options)
Instructional or training material for existing clients (share with leads and prospects as well -- for trust building)
Advertising
eBooks and other forms of gated content for lead generation
Webinars for existing customers or leads - nurturing and educational content
Online and digital interactive content (apps, interactive graphics and calendars)
Blog content
Social media publishing (defining a full-range of communications via social media for IoT)
Automated messages and emails
Email support for customers: tips, resources, updates (at least quarterly)
Phone, email and outreach scripts
Interactive content and examples
Ideas and topics to consider for an IoT content strategy
How does IoT affect a particular industry or marketplace?
IoT paradigms, architectures, applications and technologies
Cloud vs distributed computing for the IoT of a particular industry
Application of RFID, sensors, actuator technologies in helping to redefine non-connected objects, industries or environments
Regulatory issues for the Internet of Things within a particular industry
Examples
Create topically and visually attractive content for contacts in each stage of your buying process. Don't forget existing customers. The Internet of Things may open up new opportunities with existing customers.

Shown above, four types of content designed for multiple points in the marketing to sales funnel.
See also: Marketing Opportunities for the Internet of Things and Marketing for the Internet of Things