What are the major digital advertising trends today? We've assessed some brand new reports to bring you important trends, tactics, and industry statistics for 2017 and beyond.
Digital Advertising Trends: Overall Spend
Overall, digital advertising thrives as a popular marketing tactic.
Digital advertising spending has increased from 148.7 billion in 2015 to 191.85 billion in 2017, a 29% increase.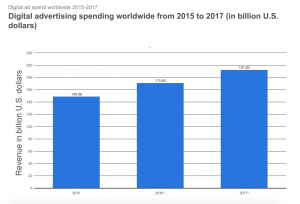 Digital Advertising Trends: Types of Spending
As for types of spending, display ads and paid search continue to be top expenditures. Display ad spend is expected to grow 85% (to $122.1 billion) from 2015-2019. And paid ads will see a 51% increase (to $106 billion) in the same time frame.
Since 2016, paid search has fallen slightly behind display advertising in expenditure. This could possibly be because marketers have become more strategic, targeted, and efficient with their paid search campaigns.
Classified ad spending lags behind with only $19 billion spent in 2017 and $22 billion predicted in 2019.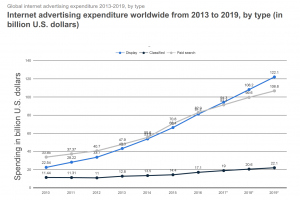 Across several media types in this study, the growth rate has dropped. This includes display ads (12.4 to 9.6%), online video (41.2 to 32.8%), social media (35.3 to 28.7%) and paid search (12.3 to 11.6%).
Again, this may be because such tactics have saturated the digital marketing world, and adoption is slowing down. Or, marketers may be educating themselves with these tactics — therefore spending more efficiently.
Digital advertising is catching up as the most popular ad format. It is significantly higher than radio, newspaper, and consumer magazine advertising, yet TV ads still dominate.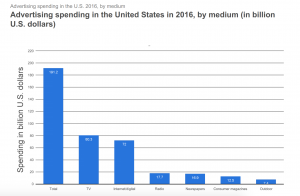 Digital Advertising Trends: Consumer Trust in Ad Types
From 2007 to 2015, some major shifts in public perception of ads should make digital advertisers take notice.
Consumers continue to trust recommendations from people they know as a top "advertising" method, although this has fallen in significance from 92% in 2011 to 83% in 2015.
Branded websites are seen as more trustworthy than ever: 70% of consumers trust them in 2015, compared to 58% in 2011.
TV ads are now more trusted, too — 66% in 2015 compared to 47% in 2011.
Branded sponsorships are also gaining in the public perception, trusted by 61% of consumers in 2015 compared to 47% in 2011.
"Emails I signed up for," interestingly, inspire only 56% of recipients in 2015, although this number has increased from 47% in 2011.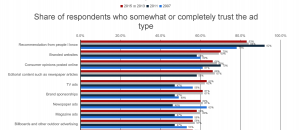 Digital Advertising Trends: Revenue Forecasts
Digital advertising's outlook is promising for 2017 and beyond. Although, interestingly, mobile ad revenue will presumably grow at a greater, more sustained rate than desktop advertising. So the need to develop mobile strategies is more critical than ever:
Mobile will see $71,456 million in revenue by 2021
Desktop will see $44,621 million in revenue by 2021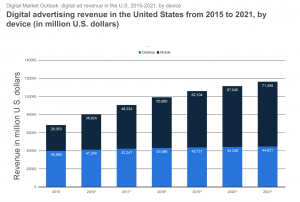 As always, marketers who stay ahead of digital marketing trends will be successful in the years to come.
---
Sources
Statista, "Digital advertising in the U.S. Dossier" May 2017