The software development market is competitive. Many organizations use sales development teams to attempt to hit their numbers. For most organizations, outbound lead generation isn't sustainable, and it often has diminishing returns if organizations get labeled as spammers.
To sustainably grow your lead generation efforts, your organization should strongly consider advancing its B2B digital marketing capabilities and building a solid inbound pipeline.
Your ideal customers search for solutions, answers, tips, and education online. Software development companies must develop compelling content to improve their search presence, create helpful content, and build visibility.
This post will show you the interlinking steps for a software marketing strategy that generates B2B leads for your product.
A CMO's Guide to B2B Lead Generation [Free eBook PDF]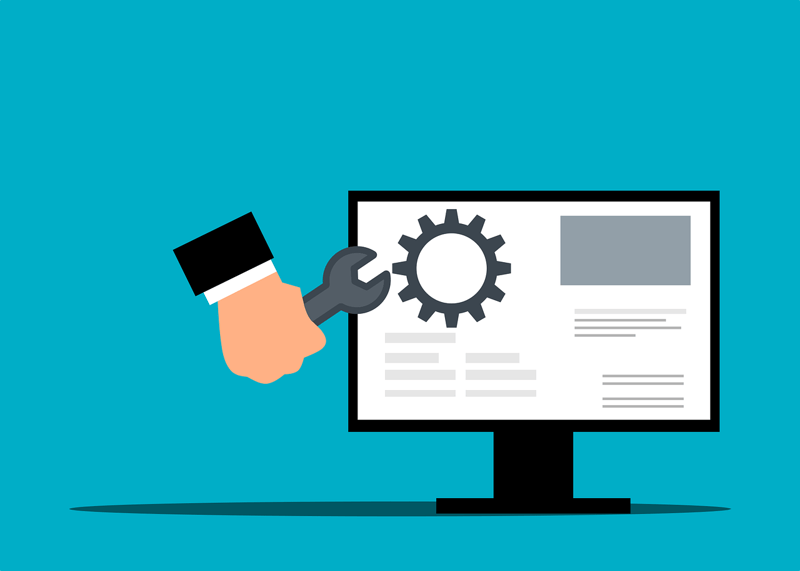 1. Create Cornerstone Content
Cornerstone content pages are landing pages for SEO that focus on core keywords. For example, if a core function of your business is point-of-sale software for small businesses, your cornerstone page may be "POS Software for Small Business," a Google keyword target. This page will capture leads who search for that term. And search engine, or organic, leads are precious.
Six in 10 B2B marketers say SEO and organic traffic generate more leads than any other marketing strategy they use. ¹ Notably, SEO leads have a 14.6% close rate. In contrast, outbound leads (such as direct mail or print advertising) have a 1.7% close rate. ²
Include "contact forms" to encourage visitor engagement on your cornerstone pages. Add content offers like a white page or ebook in exchange for the visitor's information.
Utilize conversion forms to generate leads. Ideally, you will use content offers instead of "contact us" to generate interest.
One primary goal for your online marketing is to rank highly for these cornerstone pages. First, you can prioritize these pages for Google by making them your website navigation pages instead of "About us" or "Products," which don't carry much search engine value.
Second, you should publish supplementary content that links back to cornerstone content — we'll explain this tactic next.
Related article: How to Create a High-Ranking Technology Content Marketing Strategy
2. Frequently Publish Supplementary Content
Posting continual blog posts that link to your cornerstone content helps bring search engine authority to your cornerstone content — which means more leads.
Companies with blogging had 434% more indexed pages, and companies with more indexed pages got far more leads.³
Blogs can use longer-tail keywords related to your cornerstone that discuss buyer questions, pain points, and industry concerns. This content should not simply talk about your product but provide unique insights into your industry.
The image to the right shows how your blog topics might link to your cornerstone content, encouraging conversions site-wide. This is a solid SEO strategy for building authority.
Another type of content could be third-party articles written by an executive at your firm. These articles should always link to your cornerstone content and discuss the industry instead of being purely promotional.
According to Google, 71% of B2B researchers start their research with a generic search, which means only publishing branded content is not the best way forward.⁴
Researchers want to read about the industry and all of their options before diving into a company, so having third-party outlets publish content under your brand's name is vital.
Related article: Content Marketing Strategy for Software Companies
3. Create a Social Media Strategy
Next, you can push the reach of your content by frequently posting on social media channels. Use these platforms to promote your blog posts and cornerstone content pages. You can also engage with others in your industry by sharing their posts.
If you struggle to post regularly, schedule posts ahead of time with a social scheduling tool like HubSpot Social Media Management Software or HootSuite.
Identify key influencers in your software industry and see which hashtags they use and the content they share.
Depending on the industry target for your product, use hashtags to enter different user groups on Twitter. For example, if your software is in the analytics world, then #datamining, #bigdata, and even #data would be good hashtags to promote your content with.
Finally, encourage your employees to share your content and post on social media to gain initial traction. For example, they can help answer troubling development questions using #answer on Twitter to help other programmers.
By spending as little as six hours per week, 66% of marketers see lead generation benefits with social media.⁵
4. Use Paid Ads
Next, amplify your message with an all-reaching demand strategy: Paid advertising. Paid social media ads prompted nearly 75% of Gen Z and 48% of millennials to buy a product in 2021. ⁶
Start small to gain valuable insights into your paid advertising:
Identify your target audience (possibly with AdWords and several social media ad platforms)
Drive visitors to a cornerstone content page with a custom URL link, so you can track how many visitors came from your ad campaign.
Test different variations
Utilize a small budget until you've identified what works
Analyze your result: How many qualified leads did we generate?
Then, continue iterating over time. This will ensure you're not overspending on unqualified leads or bad campaigns.
Consider which platforms your target audience is using - and don't discount any right off the bat. In 2020, Facebook alone accounted for 25% of all digital ad spending versus Google (28.9%), Amazon (10.3%), and other social media platforms combined (35.6%).⁷
Related article: Digital Advertising Trends and Forecasts to Watch This Year
5. Boost Your Website Conversion Rate
Conversion rate refers to the percentage of visitors who take the desired action on your site, such as:
Filling out a web form
Signing up for a service or event
Purchasing a product
A 1% increase in conversion rate can result in nearly a doubling of customers and leads ⁸ — a feat that 78% of companies have not achieved. ⁹
But there are many ways to optimize a website to increase the number of conversions, including:
Add calls-to-action (CTAs) on every page to drive users to conversion pages.
Keep calls-to-action above the fold (on the top of the page before a downward scroll is necessary)
Tailor your CTAs to the page's content — sales-focused calls-to-action on a sales page, etc.
Use testimonials, reviews, and case studies to provide social proof on your landing pages.
Use customer-focused content to build trust with visitors. Highlight the value proposition for your product.
Display demos and videos which can inspire the user to take action.
Use conversion goals, funnels, and A/B tests to test different messaging and designs for your CTAs.
Most importantly, consider your website an ongoing project, not a one-and-done event. You will see the most success from your website if you stay close to the analytics and continually optimize it.
6. Develop a Lead Nurturing Strategy
Once a company generates leads, it must nurture these prospects into customers. A nurturing strategy that fails to optimize multiple steps and touchpoints of the sales funnel can lead to lost leads.
Lead nurturing can increase sales by 50%, and prospects with sufficient information tend to have a lower cost — around 33% lower.¹⁰
Use different content offers to nurture leads through the sales funnel.
Key nurturing strategies must:
Have sales and marketing collaborate to identify the pain points and hesitations along the buyer's journey.
Address these identified concerns through targeted content like personalized emails or blogs.
Leverage marketing automation to route the prospect's contact information directly to sales once they engage with content.
Use a CRM like Hubspot, which allows you to automate lead scoring based on different lead qualities.
Target leads with relevant content at each stage of the sales process.
7. Use Professional Networking Platforms to Your Advantage
Networking on professional social platforms can give your company a competitive edge in the B2B market. Marketing professionals can easily connect with decision-makers on LinkedIn, the world's largest professional network.
89% of B2B marketers use it for lead generation, and 62% say it generates twice the leads of other popular social channels.¹¹
Here are just a few ways you can use LinkedIn for lead generation:
Use your company page to promote content highlighting your expertise or showcasing solutions.
Join groups to network with other professionals in your industry or niche.
Offer gated content or engaging posts like polls to build trust and engagement among your target audience.
8. Plan Webinars that Appeal to Your Target Audience
Don't like the impersonal nature of cold calling?
You can host webinars to connect with decision-makers in your industry and develop relationships built on more than just asking for an appointment. According to GoTo Webinar, 73% of B2B marketers and sales leaders say a webinar is an excellent way to generate the best leads.¹²
Webinars allow SaaS companies to showcase a live demonstration of their product or service. Plus, they can address their prospects' questions, comments, and concerns.
SaaS companies can use webinars to:
Provide information about industry trends and best practices
Share expert knowledge that helps your target audience solve their problems
Collect contact information through the registration form
Record the webinar as a future gated content
9. Give Your Lead Generation a Big Boost with Video Marketing
Google's study of B2B buyers found that 70% watch marketing videos during the buyer's journey.¹³ Since they're flexible, easy to digest, and inspire action, videos can make the most impact at the top of the funnel.
Video marketing offers many ways to promote your software:
Showcase features and benefits with explainer videos.
Create promotional videos that highlight new features and updates.
Illustrate your company's culture or team members' personalities so viewers can connect.
Buyer-focused messaging is key to lead generation efforts
No matter what industry you're in or which of these strategies you decide to implement, buyer-focused messaging should be at the core of all of your marketing efforts. It allows you to engage, build relationships with, and convert your ideal customers by demonstrating the outcomes they can expect as your customers.
---
Sources
1Entrepreneur, The Secret to Super Successful SEO, May 25, 2021
2Search Engine Journal, Inbound vs. Outbound Marketing – What's Best?, November 26, 2016
3Optinmonster, Ultimate List of Blogging Statistics and Facts (Updated for 2022), April 22, 2022
4Think With Google, The Changing Face of B2B Marketing, March 2015
5Optinmonster, Ultimate List of Blogging Statistics and Facts (Updated for 2022), April 22, 2022
6Statista, Share of U.S. consumers influenced by social media ads 2021, by age, Jan 25, 2022
7Sprout Social, 41 of the most important social media marketing statistics for 2022, March 22, 2022
8HubSpot, Conversion Rate Optimization (CRO): 8 Ways To Get Started,"April 27, 2022
9Econsultancy, Conversion Rate Optimization Report 2017,"October 201
10Marketo, What is lead nurturing?
11HootSuite, Social Selling: What it is, Why You Should Care and How to Do It Right, May 26, 2021
12GoTo, 10 Webinar Benchmarks Every Marketer Should Know - GoToWebinar" April 4, 2019
13Think With Google, The Changing Face of B2B Marketing, March 2015