Building a cadence of publishing with a company blog is only half the battle.
Writing and posting quality content is important, but getting people to see the content and then convert is even more critical to a blog's success. This element of blogging can be tricky, especially because it's frustrating when the blog content hits the right bar of quality but no one converts.
The power of blogging is well established. Businesses that published 16+ blog posts per month got about 4.5X more leads than companies that published 0-4 monthly posts (HubSpot). But what is the trick to getting blog readers to convert? When reviewing your analytics, if you see that your blog isn't bringing in leads, then this post can help fix that problem. By identifying how to improve a blog's conversion rate, companies will be better positioned for growth, thought leadership, and scaling up marketing efforts.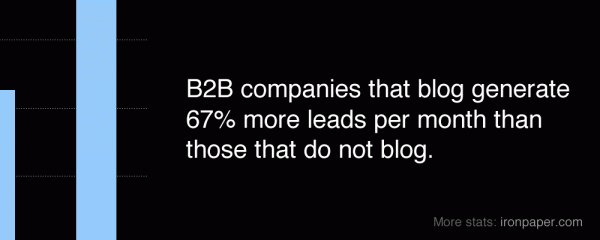 Understanding What's a Blog Conversion
First, it's important to know what you want a conversion to be and what conversions are possible. For example, do you want the reader to digest the content and subscribe to a newsletter? Is this blog content for leads that could become sales? Are you trying to upsell existing clients? A strong blog conversion strategy is a critical component of content marketing.
By focusing on what the goal of the content is, you'll have an easier time optimizing the posts to increase the conversion rate.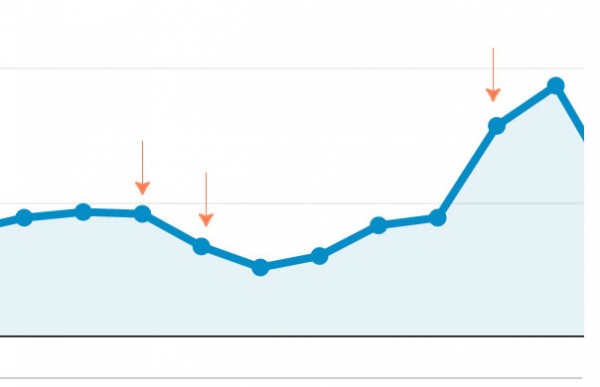 Top blog conversion goals worth considering:
Reconverting old/cold leads
Acquiring new leads (top of the funnel)
Progressive profiling (collecting more info) on your existing lead pool using content offers from the blog
Building a subscriber base
Nurturing sales leads and identifying new opportunities
Mastering the Call to Action
Improving a blog's conversion rate means you should focus a lot of attention on the call to action (CTA). And don't forget to include a CTA, because 90% of visitors who read your headline also read your CTA copy (Unbounce). Brands and businesses must focus on conversion rate optimization.
Here are some tips that will help make users click more.
CTAs must match the content. An essential element of a quality CTA is that it matches the content. If the blog is informative, how-to, and non-promotional, then a CTA should not encourage the reader to buy your product or service. Instead, you'll want to push them along down the sales funnel by offering them related content in the form of a white paper, infographic, another blog on the topic, or a link to a page on your website that is relevant.
Readers want a personalized experience, so make sure CTAs match where they are on the buyer journey. Plus, according to HubSpot, personalized CTAs convert 42% more visitors into leads than untargeted CTAs.
Test a conversion form. Some blogs have a box at the bottom where you enter your name, email, and phone number (or a combination of contact information). This information is then sent to the sales or marketing team, depending, on further nurturing. Try testing out this type of CTA to find out if the content is compelling enough for readers to leave their personal information. Test out new conversion form ideas on your blog. Try different placements, types, questions, and offers for forms on the blog. Measure the impact of these tests.
Content offers perform well. Instead of just a form, you can also try offering more content related to the topic. Many bloggers do this by asking for an email addressing and offering a white paper download or a more in-depth piece article.
Put a CTA in your top bar. Instead of waiting until the bottom of the text, test out putting the CTA at the top bar. Compare how many readers click that CTA box versus one at the bottom to understand which converts better.
Try a slide-in CTA. This type of CTA slides onto the screen when the reader almost reaches the bottom of the content. Readers like this because it's not very intrusive and they can either convert or click off the CTA and continue reading.
Use a lightbox pop-up. This type of CTA comes up on the screen, and the rest of the content is darkened, making the CTA "pop" even more. Lightbox pop-ups always get a lot of attention and usually include an interest-based offer for the reader.
Map blog content to critical areas of the buyer's journey. Companies need to both understand and create content to improve the buyer's journey. Spend time building helpful, educational, inspirational, and relevant content that responds to buyer needs. Consider building a clear map of needs and content for each buyer journey stage.
Here are other examples of How to Improve Lead Nurturing Results
Testing and Retesting
To really improve a blog's conversion rate, then you must test and test and test. Trying out different types of CTAs can help, but also try writing about niche content. See if your audience responds to more targeted content on specific topics not overly covered online. This can be a great way to find a more niche audience that converts.
Having a blog is great, but using the blog to convert leads is even better. Make sure to use analytics, tools like HubSpot, heat maps, etc. to find out where readers click. Always pay close attention to CTAs that go unclicked as well to discover elements that may be unappealing to readers. After, you'll be able to revise conversion methods to gain more leads.
Sources:
HubSpot: https://www.hubspot.com/marketing-statistics
Unbounce: https://unbounce.com/landing-pages/threats-to-your-conversion-rate/
HubSpot: https://blog.hubspot.com/marketing/personalized-calls-to-action-convert-better-data