The Internet of Things (IoT) is growing at a rapid pace; Intel predicts 200 billion devices will be connected by 2020.
Furthermore, the opportunities that comes with IoT are vast. And companies across the globe are investing in this new technology to reap financial benefits and improve efficiencies. By using "smart" technology, B2B businesses will improve legacy systems, increase productivity, and automate processes with data.
In our Internet of Things market analysis, we'll take a look at the effect IoT is having on different industries, the financial impacts, and buyer concerns.
Buyer Concerns and Expectations for IoT
40% of respondents have concerns about data privacy in regards to the adoption of IoT (Statista).
Additionally, the biggest challenge slowing IoT adoption — according to 55.6% of respondents — is understanding the technology (Statista).
Moreover, 87% of buyers haven't heard of the term "The Internet of Things" (Accenture).
And as for industry expectations, 87% of IT executives expect IoT to perform well or better than expected (Statista).
For buyers, companies in the IoT stack must focus on helping them understand the technology better: its risks, interoperability concerns, and especially its potential value-add.
But while the consumer-facing benefits of IoT are simple — a more efficient home energy system, an "assistant" that facilitates personal tasks and preferences — the B2B benefits are deeper investments with longer-term returns. So it's important that Internet of Things marketing messages specify the IoT values and benefits for B2B companies. And value is especially important to relay to both industry executives and technical buyers tasked with signing off on IoT solutions.
Now, let's take a look at which industries stand to benefit the most from IoT.
IoT Impact by Industry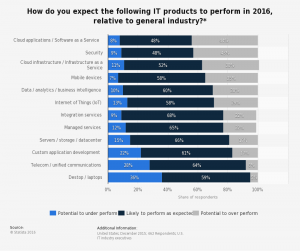 ACT forecasts a connected healthcare market worth $117 billion by 2020.
Additionally, 60% of global manufacturers will use data and analytics recorded from connected devices to analyze processes and identify optimization possibilities (IDC and SAP).
IoT can give a 15% productivity increase in delivery and supply chain performance (IDC and SAP).
Furthermore, machine-to-machine (M2M) connections will grow to 27 billion by 2024 (up from 5 billion in 2015 (Machina Research).
By using connected sensors for street lights, cities can reduce energy costs by 70%-80% (Cisco).
The impact IoT can have on industries such as manufacturing and healthcare is incredible. And IoT can make manual processes automatic and improve information sharing between machines as well as between humans. So the big question many businesses and speculators ask is: How much is this all worth?
What is IoT Worth?
GE believes that the "Industrial Internet," which is their term for IoT, will add $10 to $15 trillion to global GDP in the next 20 years.
Similarly, the McKinsey Global Institute predicts that IoT will have a total economic impact of up to $11 trillion by 2025.
Specifically, CISCO believes the IoT could generate $4.6 trillion over the next ten years for the public sector and $14.4 trillion for the private sector.
The pressure sensor market alone is expected to increase from $1.5 billion in 2014 to over $1.9 billion in 2019.
So there's no question that IoT is valuable, as companies and public-sphere organizations invest in devices, software, and services. But how will B2B businesses spend resources on IoT?
Market Analysis of B2B Investment in IoT
94% of businesses have seen a return on their IoT investments (CSG International).
Furthermore, Business Insider predicts that by 2021, the total business spending on IoT will reach $6 trillion.
Companies that invest in IoT now are seeing a great return. And it looks like that spending will not slow down anytime soon. So as spending is increasing, what will happen to the future of IoT?
Future Trends of IoT
Only 0.06% of "things" that could be connected to the IoT have been integrated into the stack — AKA, only 10 billion things out of the 1.5 trillion that exist globally are currently connected (Link-Labs).
However, 90% of cars are estimated to be connected to the Internet by 2020 (up from 10% in 2012) (Link-Labs).
Furthermore, Sparklabs predicts that products such as sensors, connected manufacturing machines, and workspace management applications will grow from 2.5 billion connections in 2017 to 5.4 billion devices in 2020.
In conclusion, IoT will change the way we do things in a personal and business setting. And the potential savings and earnings are high. Therefore, many organizations are trying to tap into the power of IoT. As more connectivity comes, more innovation is sure to follow.
---