The internet of things is already upon us. To be convinced of this, all one has to do is visit an Apple Store and browse the connected home section to see IoT permutations made for consumer play. The internet of things is simultaneously hyper-local and global, and its implications for business are real, tangible, and happening with quickness.
We collected a few stats (below) that we believe are relevant considerations for 2015. We should note that the predictions for IoT market growth keep changing (typically increasing), and a contributing factor for the ever-changing predictions certainly shows a landscape of opportunity that is in continuous discovery.
Internet of Things Market Statistics -- Relevancy For 2015
IoE Creates $19 Trillion of Value at Stake for Companies and Industries -- Cisco
This prediction was originally $14.4 trillion but was later revised (increased) Cisco to $19 trillion for a report in the World Economic Forum, titled, Are you ready for the Internet of everything? We revised the original number for the prediction in the quote above based on John Chambers' latest prediction.
Global Internet of Things (IoT) Market, which is expected to grow at a CAGR of 31.72 percent from 2014-2019. -- TechNavio
For context, the TechNavio report (Feb 2015) highlights the impact of an increasing number of smart-connected devices. The number of connected devices will grow to exceed 17 billion in the next 5 years.
Connected devices and machine-to-machine connections are becoming increasingly challenging to maintain, manage, monitor, and secure, which shows both the risks and opportunities for enterprises, MSPs, OEMs, and carriers.
Gartner estimates that IoT product and service suppliers will generate incremental revenue exceeding $300 billion in 2020.
Between 2013 and 2022, $14.4 trillion of value (net profit) will be"up for grabs" for enterprises globally — driven by IoE -- Cisco
"Industrial Internet" has the potential to add $10 to $15 trillion to global GDP over the next 20 years -- GE
By 2020, more than 5 billion people will be connected, not to mention 50 billion things. --World Economic Forum
By equipping street lights with sensors and connecting them to the network, cities can dim lights to save energy, only bringing them to full capacity when the sensors detect motion. This can reduce energy costs by 70-80%. -- John Chambers, Cisco
Below, a graph presented by Business Insider's John Greennough in an article, THE INTERNET OF EVERYTHING: 2015 [SLIDE DECK], revealing a prediction for the internet of things market expansion through 2019.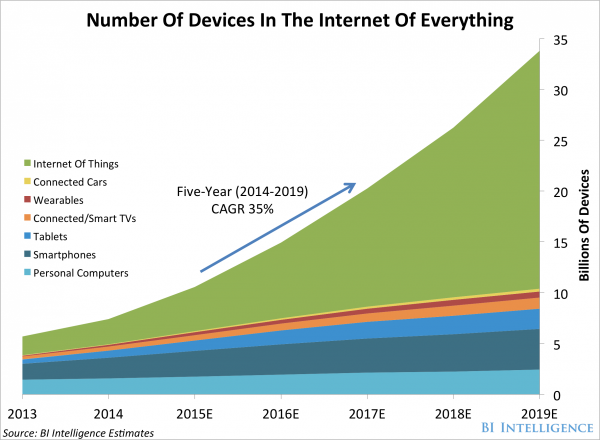 See also from Ironpaper: Marketing Opportunities for the Internet of Things
Barcelona estimates that the Internet of Everything has created 47,000 jobs over the past seven years. -- Cisco
GE estimates that convergence of machines, data and analytics will become a $200 billion global industry over the next three years.
Acquity Group (Accenture Interactive): More than two thirds of consumers plan to buy connected technology for their homes by 2019, and nearly half say the same for wearable technology. -- Business Insider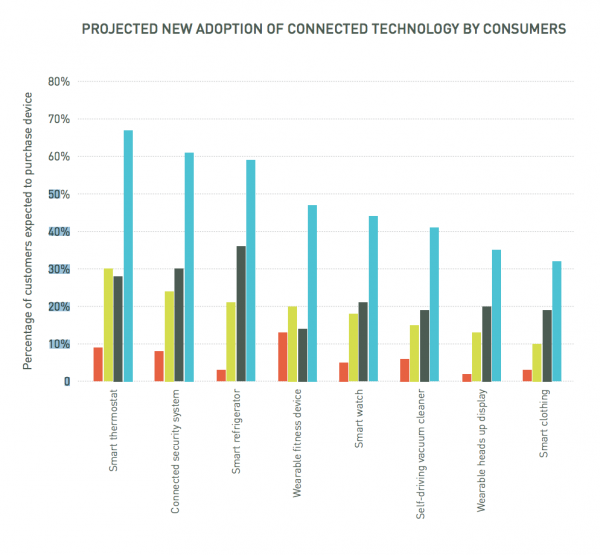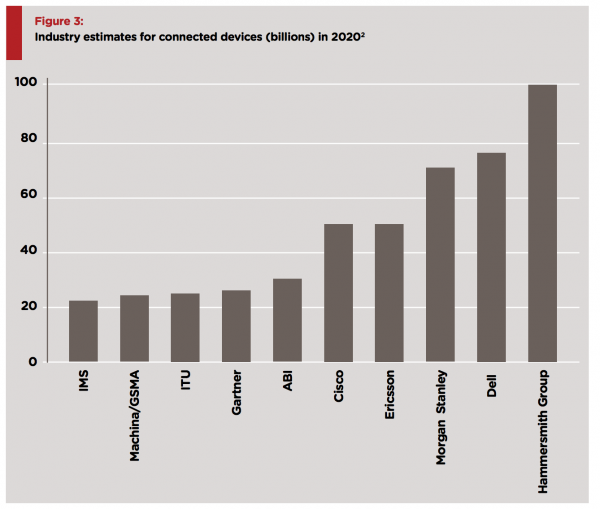 Today, there are about 14 billion objects connected to the Internet.1 Industry analysts estimate the number of connected devices could be anywhere from 20 billion to 100 billion by 2020. -- A report by the UK Government
Within the next five years, more than 90% of all IoT data will be hosted on service provider platforms as cloud computing reduces the complexity of supporting IoT "Data Blending" -- IDC
Within three years, 50% of IT networks will transition from having excess capacity to handle the additional IoT devices to being network constrained with nearly 10% of sites being overwhelmed. -- IDC
By 2017, 90% of datacenter and enterprise systems management will rapidly adopt new business models to manage non-traditional infrastructure and BYOD device categories. -- IDC
SOURCES:
Cisco, 2011 IBSG Report (PDF)
World Economic Forum, By John Chambers, Jan 15 2014, https://agenda.weforum.org/2014/01/are-you-ready-for-the-internet-of-everything/
Gartner, Gartner Says the Internet of Things Will Transform the Data Center, https://www.gartner.com/newsroom/id/2684616 - STAMFORD, Conn., March 19, 2014
TechNavio, February 2015, Global Internet of Things (IOT) Market 2015-2019
BI Intelligence, Business Insider, John Greennough, THE INTERNET OF EVERYTHING: 2015 [SLIDE DECK] - https://www.businessinsider.com/internet-of-everything-2015-bi-2014-12
GE, GE Reports - Analyze This: The Industrial Internet by the Numbers & Outcomes October 7, 2013, https://www.gereports.com/post/74545267912/analyze-this-the-industrial-internet-by-the
GE, The Future of Big Data: Beyond the Internet of Things, https://www.gereports.com/post/107450962595/the-future-of-big-data-beyond-the-internet-of
Acquity Group (Accenture Interactive) - The Internet of Things: The Future of Consumer Adoption, ACQUITY GROUP'S 2014 INTERNET OF THINGS STUDY
UK Government, The Internet of Things: making the most of the Second Digital Revolution -- A report by the UK Government Chief Scientific Adviser, Sir Mark Walport - https://www.gov.uk/government/uploads/system/uploads/attachment_data/file/389315/14-1230-internet-of-things-review.pdf
International Data Corporation (IDC), IoT Market Forecast: Worldwide IoT Predictions for 2015, https://iotinternetofthingsconference.com/2014/12/07/iot-market-forecast-worldwide-iot-predictions-for-2015/
Like what you read? Read more from Ironpaper about the IoT: Defining a content strategy for the Internet of Things