The global cognitive computing market is expected to reach $12.5 billion in 2019, up from 2.5 billion in 2014, at a CAGR of 38%. — Research and Markets
Cognitive computing is another way of describing machine learning, an area of computer science which sees machines recognizing patterns and learning new material — without being explicitly programmed by a human. As more businesses identify benefits of cognitive computing, the machine learning market is growing.
Possible applications of machine learning are vast and varied.
Examples of machine learning applications include:
A security startup using machine learning to spot patterns and catch cyber criminals
A farmer using machine learning to sort cucumbers
A machine learning-based modeling scheme that generates 3D models of residential buildings from photographs
A predictive tool that optimizes social media for online publishing
An AI app that collects data from social account and conference registrations to help people network at events
A platform that processes customer queries and responds in natural language drawing on what it has learned from email, surveys, and social media.
A survey from 451 Research outlines future initiatives that will impact the growth, use of, and quality of data under management, which is a critical component of machine learning and AI. Additionally, the report defined use cases that enterprises consider for employing machine learning.
Machine learning use cases in US enterprises: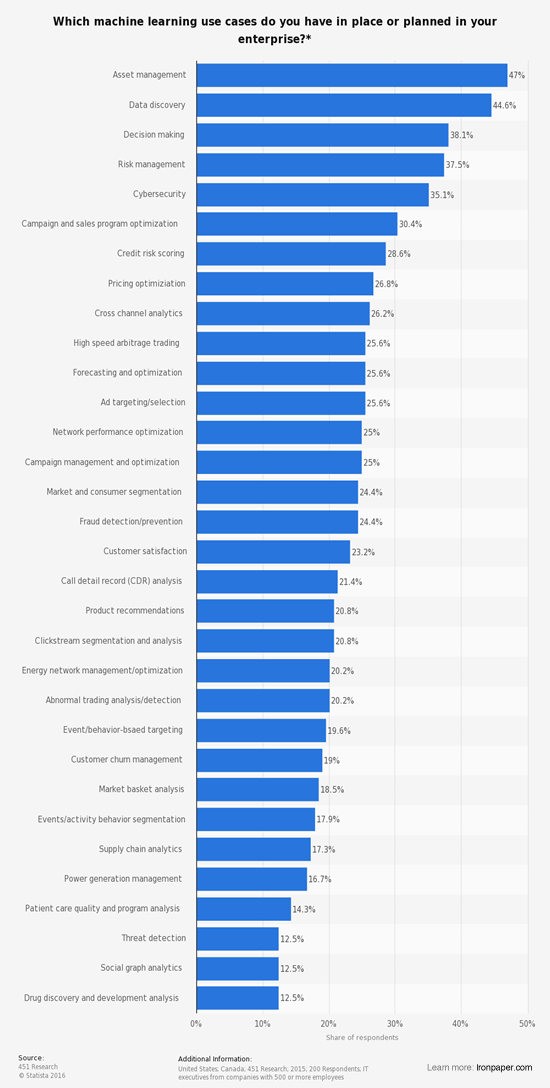 Siemens labels machine learning "a major trend today" crediting the "availability of powerful computing, growing data volumes, and the progress being made in the development of smart algorithms."

Industries investing in AI and machine learning:
The top industries focusing on applying machine learning, include Internet of Things (IoT), professional/scientific/technical services (non-computer related), manufacturing, telecommunications and utilities/energy, according to a report by Forbes in June 2016.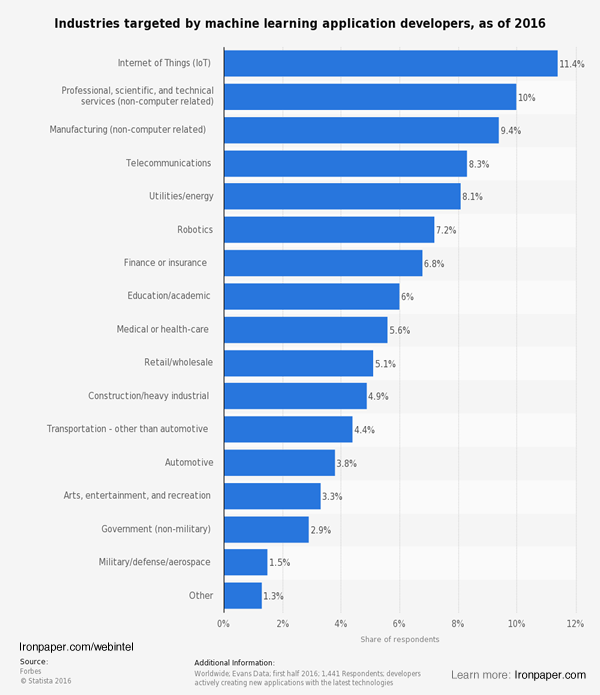 Why Machine Learning Matters
Machine learning is able to handle huge volumes of data, accelerating end-user access to the insights. With cognitive computing, the business can also see improved productivity and streamlined operations. IT teams, too, enjoy seeing some of the more mundane tasks automated so that resources can be directed instead to technology innovation and business growth.
The cognitive computing market size is expected to surpass 12 billion by 2022. — Grand View Research
While the two research studies cited thus far both hover around 12 billion predictions, only Tractica comes in lower — predicting $11.1 billion machine learning market revenue by 2024. Otherwise, Allied Market Research expects machine learning to generate revenue of 13.7% billion by 2020. International Data Corporation forecasts the cognitive systems market will soar to more than $31 billion in 2019.
IBM is even more bullish. The company behind the popularly known Watson (Jeopardy champion and currently on TV chatting with the likes of Stephen King), forecasts a $2 trillion opportunity in the machine learning market over the next decade. IBM chief executive Ginni Rometty reportedly observed, "It's not stealing from anything, but creating new value."
Other findings from the market research:
North America currently accounts for the highest market share for machine learning, closely followed by Europe.
The Asia-Pacific region, though, is expected to emerge as a lucrative market.
Natural language processing accounted for over 40% of the total market revenue in 2014.
Automated reasoning technology is expected to grow at the fastest CAGR — 37% during 2015 - 2020.
Top sectors adopting this technology are healthcare, retail, banking and finance.
Banking is the vertical spending the most on cognitive systems with nearly a 20% share worldwide
Gartner predicts that at least 10 percent of potentially life-threatening activities will be performed by smart systems by 2024.
"Advanced analytics is becoming increasingly pervasive as a strategic component of doing business across all industries." — Dan Magresto, IIA Director of Research
There are still years to go before the machine learning market prognostications will be proven true or not. Nevertheless, the enthusiasm is evidence of the continued awareness of the power of machine learning to drive industry success and business ROI.
Sources
Allied Market Research. (n.d.). Cognitive Computing Market is Expected to Reach $13.7 Billion, Globally, by 2020. https://www.alliedmarketresearch.com/press-release/cognitive-computing-market-is-expected-to-reach-137-billion-globally-by-2020-allied-market-research.html
Darrow, B. (2016, February 25), Through Machine Learning, IBM Braintrust see Better Days Ahead. https://fortune.com/2016/02/25/ibm-sees-better-days-ahead/
Forbes, Internet of Things, Machine Learning & Robotics Are High Priorities For Developers In 2016
Grand View Research. (n.d.). Cognitive Computing Market Analysis, Market Size, Application Analysis, Regional Outlook, Competitive Strategies, and Forecasts, 2015 To 2022. https://www.grandviewresearch.com/industry-analysis/cognitive-computing-market
International Data Corporation. (2016, March 8). Worldwide Spending on Cognitive Systems Forecast to Soar to More Than $31 Billion in 2019, According to a New IDC Spending Guide. https://www.idc.com/getdoc.jsp?containerId=prUS41072216
International Institute for Analytics (IIA). (2016, March 24). Commissioned Research from IIA Shows Year-over-Year Advanced Analytics Adoption Rates Rapidly Rising. https://www.prweb.com/releases/2016/03/prweb13290087.htm
Research and Markets. (2015, April). Cognitive Computing Market by Technology, by Deployment Model & by Regions - Global Forecast to 2019. https://www.researchandmarkets.com/reports/3197188/cognitive-computing-market-by-technology-by.pdf
Siemens. (2014, October 1). Facts and Forecasts: Boom for Learning Systems. https://www.siemens.com/innovation/en/home/pictures-of-the-future/digitalization-and-software/artificial-intelligence-facts-and-forecasts.html
Tractica. (2015, Q2). Artificial Intelligence for Enterprise Applications. https://www.tractica.com/research/artificial-intelligence-for-enterprise-applications/