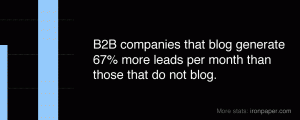 A blog strategy puts a ton of work on your marketing team. You need to write (and edit!) constant articles, find or create visualizations, research trends, and analyze results — not to mention promote your work. So it makes sense that you want return on your blog.
Thankfully, a blog can be an amazing tool for B2B lead generation. But we see many businesses miss some major best practices and therefore shortchange the ROI they could be getting with content. Here are six easy ways to improve the power of your B2B blog.
Include a call-to-action in the text
HubSpot generated between 47-93% of their leads per each blog post with an in-text call-to-action.
As visitors read your blog, you want them to be thinking about next steps to act on the information they're absorbing. So calls-to-action are extremely important to provide that next step — especially in the body of the text.
I'm not talking a "Contact ABC company today," or "Get a quote," or "Learn more." Why? Because these ideas are 1. vague and 2. irrelevant to a blog reader.
A much better CTA would be "Download the free white paper on X," especially in a blog post about X. To come up with a better call-to-action idea, try to understand your blog reader's intention.
According to Unbounce, "More than 90% of visitors who read your headline also read your CTA copy."
If the blog reader searched your blog post via a keyword, or clicked it in their social news feed, they're probably just looking for information. And that keyword can also be a hint for what they'd like to do next.
More than likely, they're trying to understand something better. So as a natural progression, you should deliver them more educational content — not jump the gun with a sales message. Instead, create and advertise content offers that are too good to ignore. For HubSpot, this in-text blog strategy increased lead generation by 121%.
Place more calls-to-action at the bottom and/or sidebar
You've got real estate in the sidebar and at the bottom of your blog (depending on your layout). So use it for lead generation!
Repetition is a useful strategy. So repeat your in-text call-to-action in additional but different ways. For example, if you used a text CTA in your blog post, use a custom graphic or button near the bottom.
All of your calls-to-action should lead to a form where visitors can fill out information to grab the offer — becoming a lead.
One study suggests that users prefer to learn about the offer before clicking a CTA — and placing a CTA above the fold decreased conversions by 17%. – Neil Patel
Create a web of internal links
Not many leads will convert immediately on the first post they read. But if they get drawn into another page and another... they may eventually find something so compelling that they finally act. We see this pattern often with B2B leads.
This underscores why it is so important to 1) have plenty of helpful content available and 2) create a web of internal links in your blog strategy.
Specifically, use many different tactics to link between your blog posts and to other high-converting pages. In your own blog strategy, you can:
Select anchor text and create a hyperlink to related posts
Create a "related post" pull-out, which you can incorporate in different spots
Include a "topic cloud" in your sidebar, which shows blog categories to explore
Design "previous" and "next" buttons at the end of your post, for easy browsing
Link to a featured post in a module that shows up after more scrolling
Use your header and footer for navigation to important web pages
Or, better yet, all of the above.
Not only will you entice readers with additional things to read, but you'll also improve your link structure and SEO.
Utilize keywords, both explicit and semantic
When you struggle to come up with ideas for your blog strategy, it's time to do keyword research. Use a tool like Ubersuggest, Moz, or even Google's related searches to find topics that your buyers might be searching.

Then, make sure to run keywords in a tool like HubSpot or Agency Analytics to check that the search volume is actually substantial each month.
Now that you have a list of keywords, make sure you're using them naturally in your blog post ideas. It's becoming less important (and even hurtful) to follow the "one keyword per article" approach. So, instead, use natural variations of the keyword in your post.
"93% of B2B buying processes begin with an online search." – Pinpoint Market Research and Anderson Jones PR
For example, if my keyword was "Internet of Things statistics," I might use that keyword in the first paragraph of my post. But then, I would use semantic keywords like "IoT stats" and "IoT trends and projections" in my article copy.
This strategy helps Google see your site as authoritative over time for topics you frequently cover. Then, your blog posts will rank better, earning you more organic leads, who are often highly qualified.
Use metadata and microdata for better ranking
Why is SEO optimization so important for your blog strategy? Because of this fact:
SEO leads have a 14.6% close rate, while outbound leads (such as direct mail or print advertising) have a 1.7% close rate. – imFORZA
While that number could differ slightly for your organization, it makes sense. People searching online are looking for something specific, so they're more likely to convert when you provide them that thing.
To get a leg up on your competition, use metadata and microdata for every blog post.
That is, include information about what your post is about in your slug, headers, meta description, social media source code tags, and image alt text. (Ask your developer for assistance if you need it.) This will help searchers select your post if it's the right fit. And more relevant readers means better lead conversion on your CTAs.
Try out smart content
Smart content is a tool provided by marketing automation platforms, like the HubSpot CMS. You can basically show custom content or calls-to-action based on a visitor's job title, sales funnel stage, or other characteristic.
This blog strategy makes your content incredibly relevant. You could create a custom intro depending on someone's specific industry, for example, or show a call-to-action that changes after they've already indicated a specific pain point.
It's also incredibly easy to set up. Just select the rich text box or CTA to edit (in HubSpot), set your criteria, and fill in the alternate content.
Voila: You have a relevant blog post that appeals to and converts B2B leads at a higher rate.
Tip: You may not need to do this for every blog post, but try creating a smart text box and CTA for a high-traffic blog post, to test out if it increases conversions.
Related Reading: Growth Hacking Strategies for B2B Tech Companies
---
Sources
blog.hubspot.com/marketing/blog-anchor-text-call-to-action-study
slideshare.net/JenniferJonesMitchell/social-media-stats-for-b2b-lead-generation
imFORZA. https://www.imforza.com/blog/8-seo-stats-that-are-hard-to-ignore/