In a year-ending roundup of SEO trends, strategist Gianluca Fiorelli stated "Mobile search is all search." Observing Google is shifting to mobile-first indexing, he noted, "after 18 years of prioritizing desktop, now we have to prioritize mobile." This blog addresses the increasing importance of mobile for marketing.
Mobile Dominance
The first position on Google search results on mobile has a 31.35% clickthrough rate. -- Advanced Web Ranking
B2C marketers, in particular, must recognize the necessity of mobile marketing. According to Deloitte, U.S. consumers look at their mobile devices over 8 billion times a day in the aggregate.
Worldwide, mobile data traffic is expected to increase more than 8X from 2015 to 2020, per Cisco.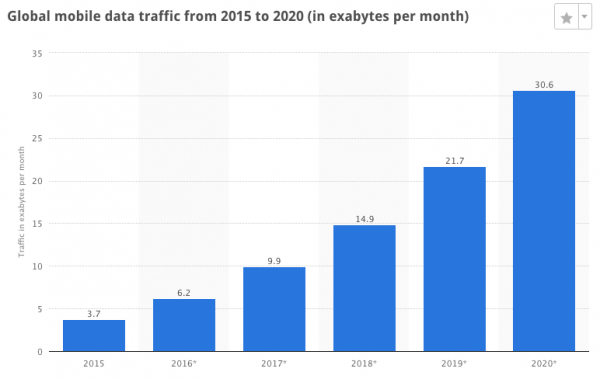 Further, Google's consumer barometer demonstrates the surge of mobile usage in the past four years — at least in the U.S. The percentage of people using a smartphone has jumped from 44% in 2012 to 72% in 2016. At the same time, computer usage has remained relatively static with slight increases and decreases since 2012 ranging between 69% and 75%.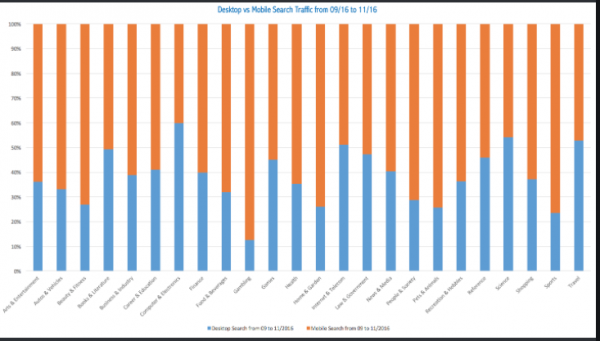 An interesting aspect of Fiorelli's desktop versus mobile chart is the evidence that mobile is bringing more traffic to websites in 20 out of 24 industry niches. Yet, this is not the case in computers & electronics, Internet & telecom, science, and travel.
Desktop remains the most-used device for product research, per another Fiorelli chart: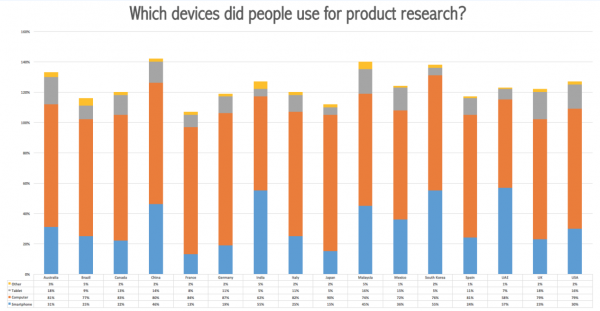 Yet, businesses have to be ready to engage with prospects on every digital platform. Today, 26% of consumers are beginning to search for goods, services, and companies within mobile applications, according to Marketo. Thinking this trend is only a B2C one would be a big miscalculation for B2Bs; after all, that same mobile consumer may be the person with purchasing power at their work.
So, where does this leave the B2B marketer? Marketing with a mind to mobile-first indexing.
Related reading: The Digital Landscape is Changing How we Market and Sell
Mobile Marketing Priorities
57% of mobile users think poorly of businesses that don't have mobile-friendly websites — Marketo
Design for Mobile
The number of smartphones globally is expected to increase 13.1% between 2015 and 2020. At the same time, tablet devices will jump 22.6% with data usage for both at 50% (tablet) or 54.3% (smartphone), per Cisco. Thus, designing for mobile is critical for marketing.
When a site is designed to be mobile responsive, it meets the company's mobile and desktop needs without requiring additional resources. A single site automatically adapting to mobile or desktop device usage creates a more positive experience for users. Plus, the organization can better target those site visitors based on typical device behaviors. For example, organizations might offer a web form for desktop lead inquiries, while on mobile, users might encounter a highlighted click-to-call action instead.
Related reading: iOS Mobile Market Stats — Understanding the Apple Audience
Consider Mobile UX
Without a mobile responsive site, your organization can lose out on a fast growing audience. After all, according to Google, if users have a positive interaction with a business' mobile site they are 67% more likely to convert.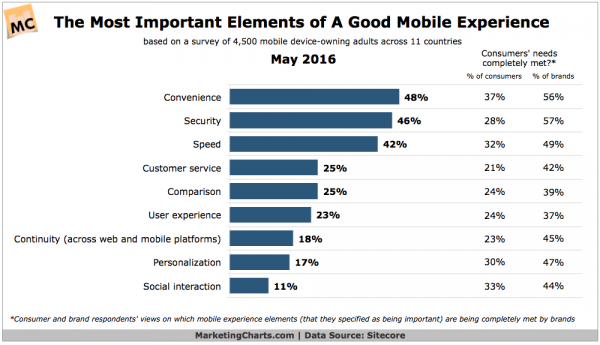 Adapting messaging to the device ensures a relevant and fluid experience. Nevertheless, there is more to it than scaling visuals and speeding up load times for mobile use. Navigation is another important aspect of mobile user experiences. When the marketing scales to fit any device, the user doesn't have to do additional work (such as scrolling or zooming) to find what they are looking for. This not only makes users happier, but can help boost conversions.
Prepare for Voice Search
By 2020, voice- and image-based searches are expected to make up at least 50% of searches as more people embrace the virtual assistant technology on phones and tablets. Voice search queries will be more personal, descriptive, and specific. Questions will take precedence. In fact, Google has seen a 61% year-over-year increase in question phrases. For marketers, this could be a good thing as the question query can make it easier to predict searcher intent and help us tailor content accordingly.
Related reading: How will voice search impact SEO?
The shift to mobile is also seeing reverberations in mobile commerce. The National Retail Federation predicted one quarter of shoppers would use mobile devices to make their purchases. While the NRF is consumer-focused, mobile commerce is a growing playing field for B2B solutions and service providers too. We'll discuss mcommerce trends for 2017 in a future blog.
Explore Ironpaper services: Mobile App Design and Development
Sources
Advanced Web Ranking, CTR study: 2015, https://www.advancedwebranking.com
Cisco. (2016, February. Cisco Visual Networking Index: Global Mobile 2016. www.cisco.com
Deloitte. (n.d.). Global mobile consumer survey: US edition. https://www2.deloitte.com/us/en/pages/technology-media-and-telecommunications/articles/global-mobile-consumer-survey-us-edition.html
Fiorelli, G. (2016, December 19). SEO and Digital Trends in 2017. https://moz.com/blog/seo-and-digital-trends-in-2017
Marketo. (2015). Digital Marketing 101: Key Tools for Engagement Marketing.
National Retail Federation. (2016, November). Holiday 2016. https://nrf.com/resources/consumer-data/holiday-headquarters