Home automation is no longer the stuff of science fiction. Instead, we see Alec Baldwin on TV planning a party with the help of Alexa, while the latest iOS update for iPhones offered a default smart home app. Certainly smart home market size trends and projections suggest this is no passing fad. Ubiquitous home automation via IoT and M2M is our future.
What are IoT and M2M?
Before getting into the Smart Home statistics, let's first sort out what we mean by IoT and M2M.
IoT is the moniker for the Internet of Things which interconnects "things" and autonomously exchanges or shares data that is captured by sensors. These "things" may be machines, parts of machines, meters, sensors, retail goods, or wearables. Using sensors, they gather data from previously "dumb" hardware or processes.
The IoT requires Machine-to-Machine (M2M) communication; this is data communication among devices without the need for human interaction. This can be communication between devices and a server or device-to-device, either directly or over a network.
Machina Research predicts the IoT market will be worth US$4.3 trillion in 2024. Meanwhile, M2M's devices, installation, connectivity, and services are predicted to be worth approximately US$2.5 trillion by the end of 2024.
"4 billion consumer facing 'things' are predicted to be connected to the internet worldwide in 2016, up from 3 billion in 2015." — Deloitte
What is a Smart Home?
A Smart Home uses technology to provide home owners with greater comfort, convenience, and security as well as energy efficiency — even when no one is at home. Smart Home residences can include any number of "smart" appliances, lighting, heating, air conditioning, TVs, computers, entertainment audio & video systems, security, and camera systems.
What makes them "smart?" These devices or systems not only communicate with one another. Also, via their Internet connections, they can be controlled remotely, can report their own maintenance needs, and can drive greater efficiency in resource usage.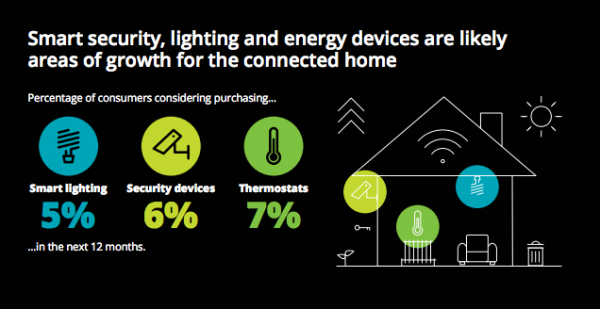 While a Smart Home sounds super cool, there are still barriers to connected product purchases. Some 48% of respondents in a Deloitte UK study identified price as a prohibitive factor. Plus, 26% think the technology still has to evolve.
Perhaps you already have some smart devices in your home. The living room has seen a boom in connected smart TVs (28% of shoppers own one), and wireless speakers are also popular. More consumers, too, are wearing IoT fitness devices.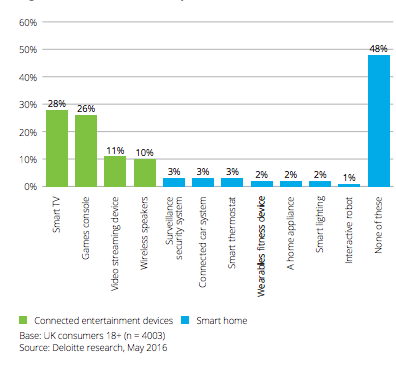 Smart Home Market Size
The Smart Home global automation market had a value of 4.4 billion US dollars in 2013. Transparency Market Research predicts that it will grow to 21 billion US dollars in 2020.
Further, the revenue of the Smart Homes market worldwide is forecast to grow from 20.38 billion US dollars in 2014 to 58.58 billion US dollars in 2020.
North America will make up a major proportion of that market, according to Berg Insight.

Berg Insight further expects the number of Smart Home systems in North America to grow from 13.07 million in 2015, to 20.26 million in 2016, and 31.4 million in 2017.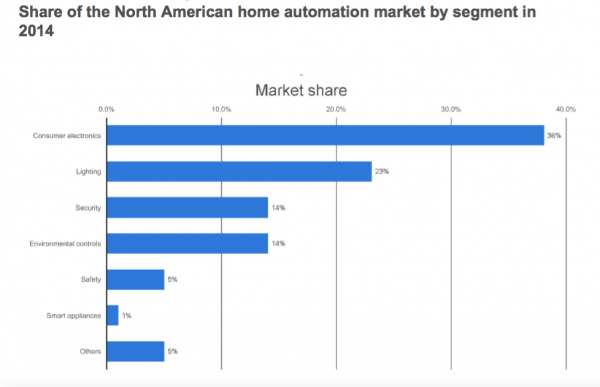 Smart Home Market Drivers
Energy management will be a major driver of Smart Home household penetration. Worldwide, this is already a significant source of revenue. In the United States in 2015, energy management smart home revenue was nearly $600 million US dollars.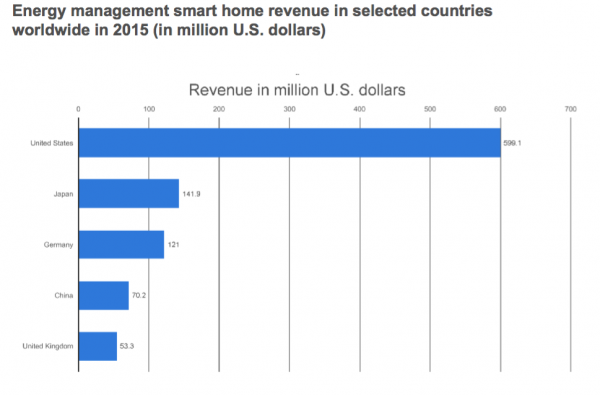 Security devices are also expected to drive Smart Home market growth. Business Insider predicts 709 million IoT security devices will ship in 2019.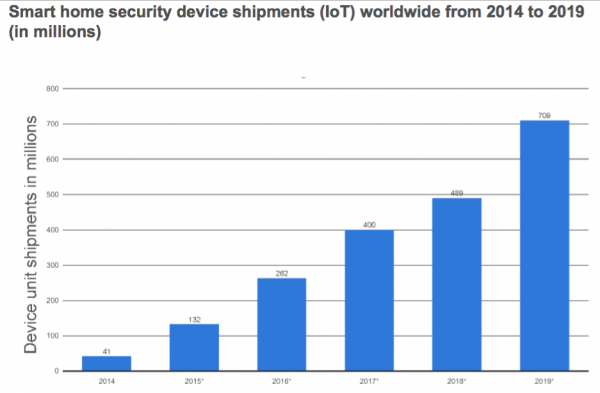 Smart Homes will also make it easier for the ill or elderly to stay in their own homes or in assisted living situations longer.
The smart home market still faces challenges, though. Deloitte has already pointed out three barriers. Further, the majority of consumers – 70 percent – do not plan to buy any connected devices in the coming 12 months. Brands and retailers have hard work ahead of them.

Related reading:
The Importance of Defining a Value Proposition for the Internet of Things
Defining a Content Strategy for the Internet of Things
Smart Home Market Size Sources:
Deloitte. (2016, July). Switch on the Connected Home: The Deloitte Consumer Review. https://www2.deloitte.com/content/dam/Deloitte/uk/Documents/consumer-business/deloitte-uk-consumer-review-16.pdf
Machina Research. (2015, April). Forecasting the Internet of Things revenue opportunity. https://machinaresearch.com/report/forecasting-the-internet-of-things-revenue-opportunity/
Smart home — Statista Dossier. (2016, February). https://www.statista.com/study/27165/smart-homes-statista-dossier/