Dark social channels may have more of an influence on your prospective buyers that you might imagine. These traditionally hidden spots carry great influence and sometimes live in the gaps of what marketing and social analytics tools are able to track. Dark social channels are forms of social sharing that cannot be tracked by traditional marketing and analytics tools, and these "dark social channels" include sharing links in emails, instant messages, comments on third-party sites and website forum posts.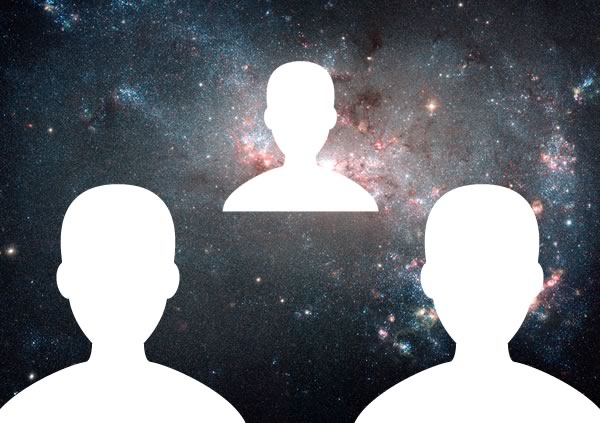 84% of people share content online globally. - Radium One
The dark channels have great numbers
According to a survey by Radium One, 84% of global online consumers (aged 16 and older) report sharing content online--however about one-third state they do so exclusively via dark social channels.
32% of people who share content online will only share via Dark Social - Radium One
Dark social channels present a major problem for businesses attempting to understand the value of their Inbound marketing and content efforts in terms of ROI and attribution.
Examples of dark social channels
Email sharing: Links in emails
Forum comments
Small or niche social community websites
Shortened URLs (bit.ly or gog.ly for example)
Website or video comments
SMS / Instant Messages
Invisible Referrers
Private digital communication (Whisper.sh, Facebook chat or SnapChat)
What do people share on dark social channels?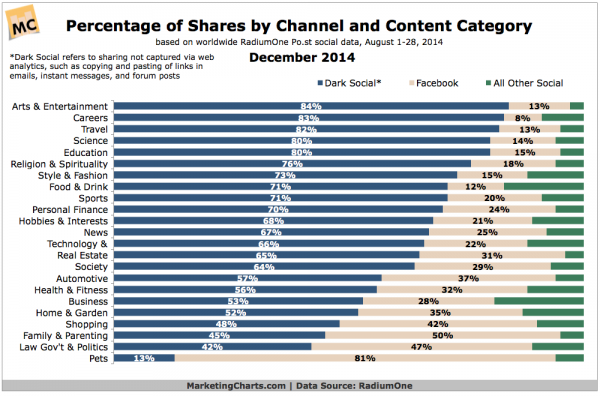 Percentage of dark social sharing by market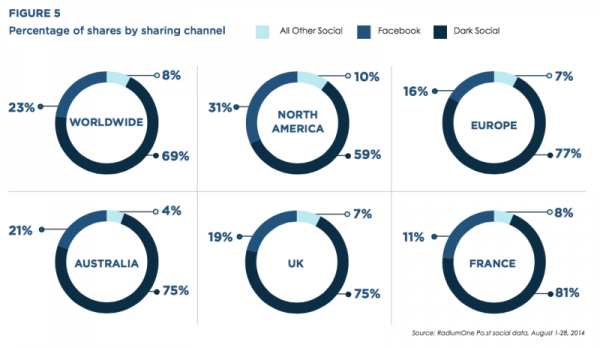 Value of dark social channels
Social sharing is a cross-channel activity. Much activity can occur in these hidden outlets.
Dark social can reveal the preferred engagement platform of your users.
36% of Dark Social sharing takes place on mobile devices globally.
Referrals from dark social channels may represent an endorsement or opinion about a brand -- acting as a referral method.
Dark social activity can shed light on who your audience is and what they think of your brand--aiding in the development of personas for marketing.
Measuring the activity in dark social channels can help brands development an understanding of real-time consumer interest and intent.
Better targeting capabilities: Dark social channels are a large and accurate data source on customer or lead behavior -- perfect for targeting interested audiences.
Many dark social sharing channels have less competition from a marketing perspective than traditional social channels such as Facebook or Twitter.
Clickbacks from dark social channels
SOURCE:
Radium One, The Light and Dark of Social Sharing, https://info.radiumone.com/Activate-112414-DarkSocial.html
About the Radium One research:
The research includes data from an October 2014 online social sharing survey of 9,027 consumers globally conducted by Tpoll. Then, data and analysis is provided for one full month of global and regional Po.st sharing data across 900 million monthly online unique users.