"In a crowded market, having a website that simply serves as a brochure is no longer competitive." — 2016 Small Business Marketing Trends Report
Defining the market
There were 320 million Internet users in North America as of June 2016. When those users are looking to buy or research, websites often give them their first impression for brands. In planning a new website or refining a web presence consider these web design statistics for 2017.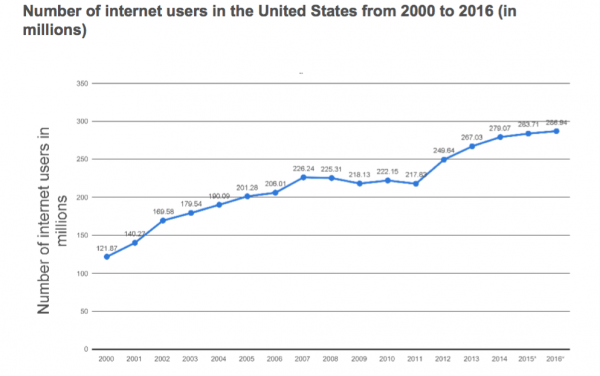 China leads the world with 721,43 million Internet users, with India second with 462,12 million users.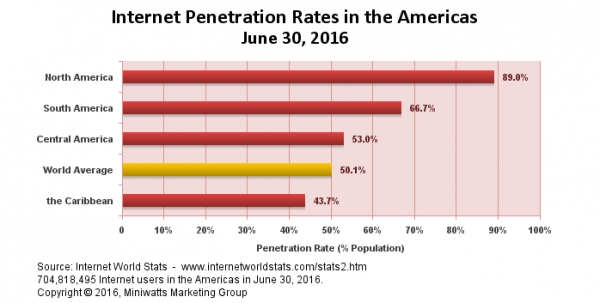 No wonder 57.7% of small and medium-sized business owners intended to invest in a new/improved website: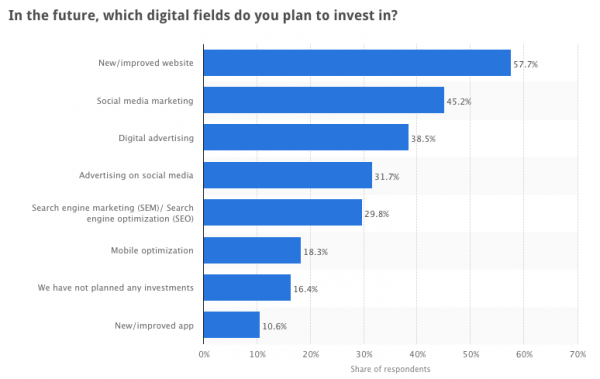 Companies need to monitor their website performance and optimize for customer experience. Tactics include:
ensuring complete visitor privacy
speeding up web page load and responsiveness
executing website testing
improving visitor retargeting
Website Interaction Stats
Websites are an education, inspiration, and trust-building tool that directly impacts sales. Focusing on User Experience (UX) is critical.
"Just one second of added page load speed can see sales drop by 27%." — Soasta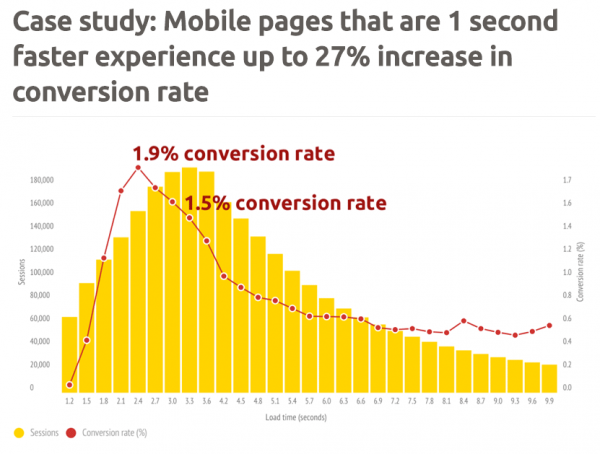 "On average, 83% of global consumers report they multiscreen, using 2.23 devices at the same time." — Adobe
Regardless of device, users care about page load speed.
"Pages that loaded in 2.4 seconds enjoyed the peak mobile conversation rate of 1.9%." in a Soasta study.
At least average connection speeds are increasing.
"Average connection speed increased 14% year-over-year in Q2 2016 to 6.1 Mbps." — Akamai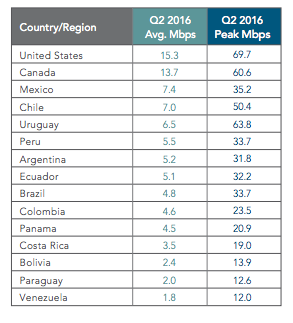 "Pages that loaded in 2.4 seconds experienced a 12.8% bounce rate, while those that loaded in 3.3 seconds had a bounce rate of 20%." — Soasta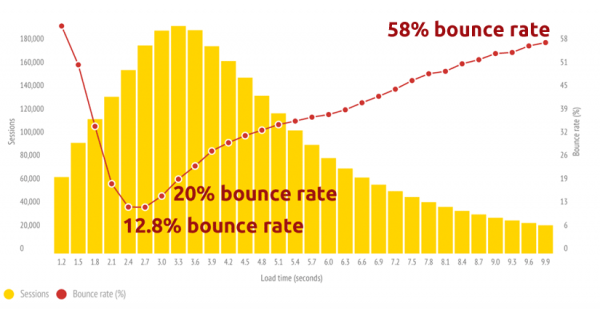 Personalization matters. Optimizely saw a 113% jump in visits to its solutions page and 117% increase in clicks on secondary CTAs by personalizing its homepage.
Mobile Website Statistics
In the United States, 210.9 million users were accessing the Internet on mobile phones. This is predicted to grow to 270.5 million by 2021. The number of smartphone users, in particular, is increasing.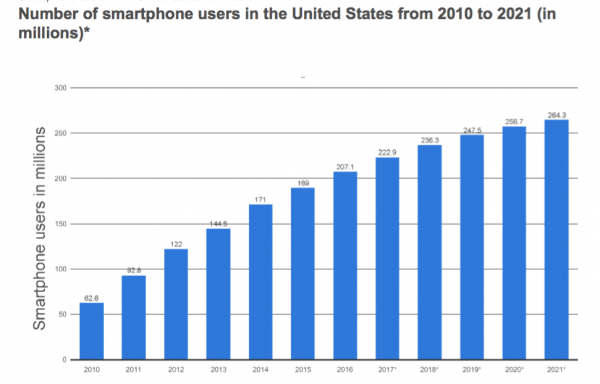 As of August 2016, researching products was the fifth most popular smartphone activity weekly at 47% (behind access Internet, take photos/videos, receive SMS/text alerts, and look up directions).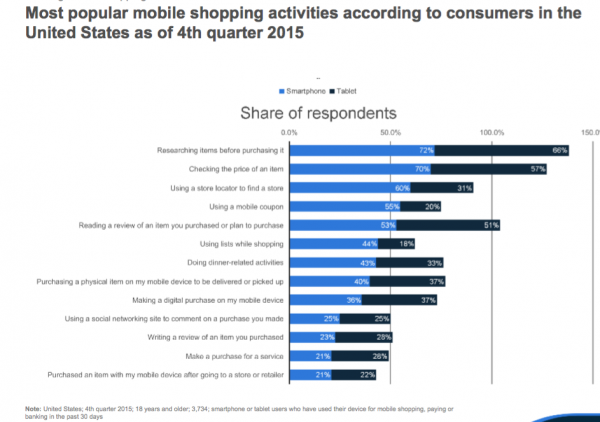 In 2014, marketers offered Chief Marketer several reasons their websites were not optimized for mobile:
no budget for mobile optimization (44%)
mobile users not a primary target (24%)
no one has taken charge of optimization (21%)
other (17%)
too hard to run both main and mobile sites (13%)
not enough reesources (13%)
other mobile tasks are higher priority (5%)
Then, in a 2015 round-up of web design statistics we cited an Akamai finding that only 11.8% of the top 100 sites analyzed was using responsive web design. Yet overlooking optimizing a web site for mobile today represents an even bigger misstep.
"Nearly 8 in 10 of consumers would stop engaging with content that doesn't display well on their device." — Adobe
Sure, that stat was related to consumers, but the B2B audience is made up of consumers at work.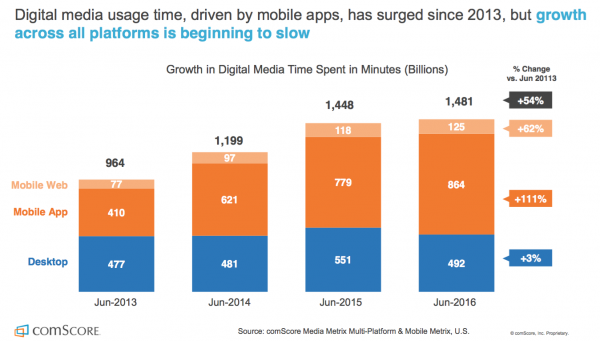 One challenge is developing sites that convert mobile visitors. In fact, mobile commerce monetization is "significantly lagging" in the context of time spent on mobile devices, per comScore.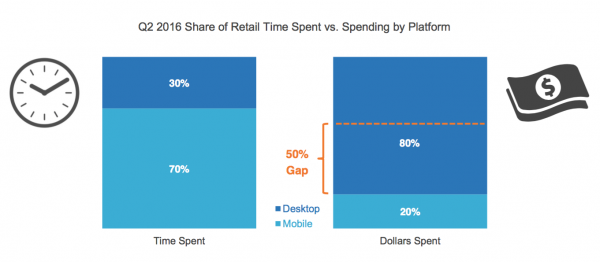 Examining sources of friction, comScore found: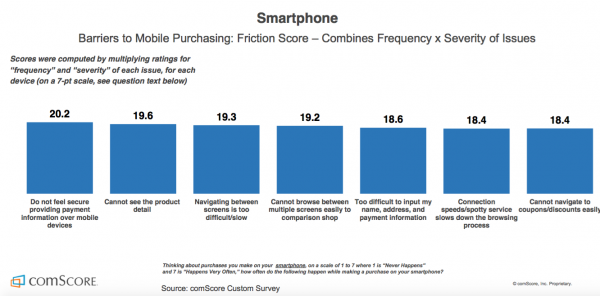 While these results may be skewed to consumers, the B2B marketer, too, can learn from these challenges. For instance, ease of navigation is an obvious priority.
Another comScore finding is that mobile purchase incidence jumped 46% for users of a 5.25 inch screen versus a 4.25 screen, also supports the need for clean, crisp web design. Mobile users need to be easily engage and interact with the site regardless of screen size.
Web Design Tips for 2017
Design is critical, still.
"59% of consumers globally would rather engage with content that's beautifully designed as opposed to simply designed —even when short on time."— Adobe
These web design statistics for 2017 suggests several tips. Among them:
Prioritize user experience — particularly for mobile.
Bigger is better — images, copy, buttons, menus should all be made to be seen and easily accessible.
Use visuals — photo, animation, video — paired with personalized and relevant copy that aligns with your specific personas or ideal buyer profiles.
Give users big picture overview of site (even on a small screen) - don't make them guess what your site is about or whether it serves their needs.
Design for differentiated sections and eye-catching transitions to help user navigate and reward them based on their engagement levels, interests or the site depth into which they explore.
Cue visitor to hierarchies using typography (size and font). Yes, people still scan.
Create custom visuals and iconography that speaks directly to brand story and personality. Avoid arbitrary media and iconography. Again, keep it relevant.
Make websites load fast. Users don't want to wait.
Mobile is increasing in importance. Consider dynamic personalization based on device type.
These statistics suggest several changing site visitor priorities. Yet ultimately, it's clear an effective website design makes it easy for users to complete their goal quickly and effortlessly. Additionally, websites are an education, inspiration, and trust-building tool that directly impacts sales.
Web design statistics for 2017 sources
Adobe. (2015, December). The State of Content: Rules of Engagement for 2016. https://www.adobe.com/content/dam/Adobe/en/news-room/pdfs/201512/state-of-content-report.pdf
Akamai's State of the Internet. (2016). https://www.akamai.com/us/en/multimedia/documents/state-of-the-internet/akamai-state-of-the-internet-q2-2016-connectivity-infographic.pdf
Chief Marketer. (2014). Mobile Marketing Survey 2014. https://www.statista.com/statistics/247076/reasons-for-not-optimizing-websites-for-mobile-in-the-us/
Everts, T. (2015, September 1). Case Study: Mobile pages that are 1 second faster experience up to 27% increase in conversion rate. https://www.soasta.com/blog/mobile-web-performance-monitoring-conversion-rate/
Fulgoni, G. (2016, October). How Mobile is Transforming The Digital Commerce Landscape. https://www.comscore.com/Insights/Presentations-and-Whitepapers/2016/How-Mobile-is-Transforming-the-Digital-Commerce-Landscape
Internet usage in the United States. (2016, October). https://www.statista.com/study/24290/internet-usage-in-the-united-states-statista-dossier/
MAAN Infoweb Solutions. (2016, October 15). 15 Web Design Trends of 2016. https://www.slideshare.net/maansoftwares/15-web-design-trends-of-2016-maan-softwares
Mobile internet usage in the United States. (2016, October). https://www.statista.com/study/38170/mobile-internet-usage-in-the-united-states-statista-dossier/
Ritchie, J. (2016, July 21). Don't Start Website personalization without these best practices. https://blog.optimizely.com/2016/07/21/website-personalization-case-studies/
Statista. (2016, October). SME Digitilzation 2016. https://www.statista.com/statistics/622817/us-sme-owners-on-planned-investment-in-digital/
2016 Small Business Marketing Trends Report. (2015, December). https://www.leadpages.net/small-business-marketing