The 20% of your customer base that are loyal customers drive an additional 80% of business. — Gartner
With all the attention paid to lead generation and sales nurturing, it is easy to lose sight of customer retention. The B2B marketer can't afford to overlook the importance of fostering brand loyalty and developing brand evangelists. When asking "why is customer retention important" there are many factors to consider.

Losing a customer represents many things. These include:
Reduced sales and revenue
Losing upsell opportunities -- It's often easier to sell to an existing customer than a new one
Lost feedback and no opportunity to improve
Negative impact on employee morale and/or confidence if the customer account was a significant one
Giving an opportunity to a competitor
Distraction from other important business needs
Analytics and customer data points
Loss of customer can also mark the beginning of a poor brand reputation, especially in these days of social media spreading communications at a lightning pace.
A customer who has a poor experience will tell an average of 16 other people. — Retail Customer Experience
Of course, a certain level of attrition is to be expected in business. However, with the cost of acquiring new customers at 5 times that of retaining an existing one, it makes sense to expend effort on customer retention too.
What Can Marketers & Customer Support Teams Do?
At the end of the inbound marketing spectrum sits the word Delight. Ignoring the need to delight the converted B2B buyer on a continuing basis undermines the time and effort put into attracting leads, converting prospects, and closing sales.
47% of customers would take their business to a competitor within a day of experiencing poor customer service. — 24/7
Some customer support can be handled through automated communications or marketing-driven efforts, whereas other customer support needs require more manual attention. Examples of tools and processes to support customers:
Direct, human interaction
Chat and phone support
Customer marketing programs
Information portals and resource aras
Automated emails, workflows and education content
Web content
An optimized and user-friendly website
Ticketing system
Self help guides
Education content
Social media and forums
Incentives and rewards
Proactive, preventative communications and actions
A report from Deloitte, below, highlights attributes that communications must aspire to when supporting customers. Accuracy of information, ease of interaction and resolution during the first contact were vital elements in delivering customer happiness.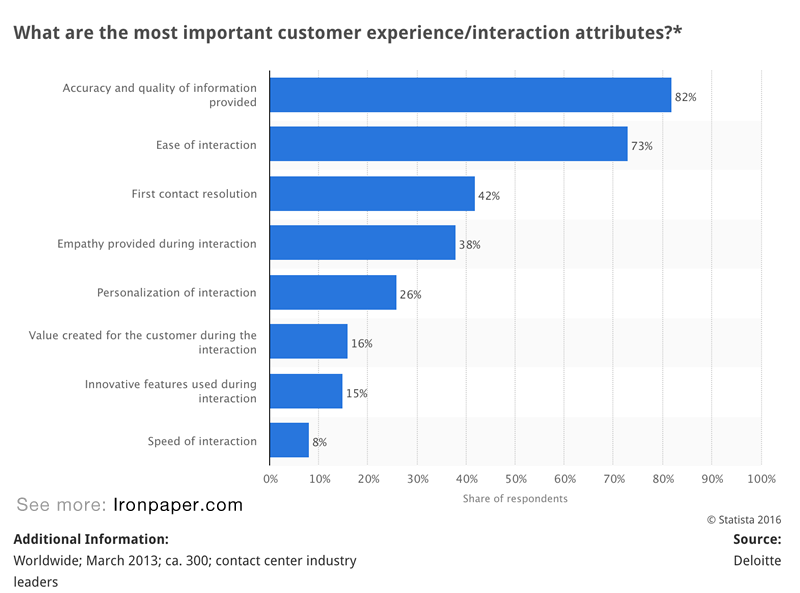 Below, a chart of leading customer marketing metrics according to B2B marketers, complied from a report by MediaPost; Website (Influitive). According to the report, 44 percent of B2B marketers used renewal rate or churn to verify the effectiveness of their customer marketing efforts. Although the report is the end of 2014, it holds relevance still.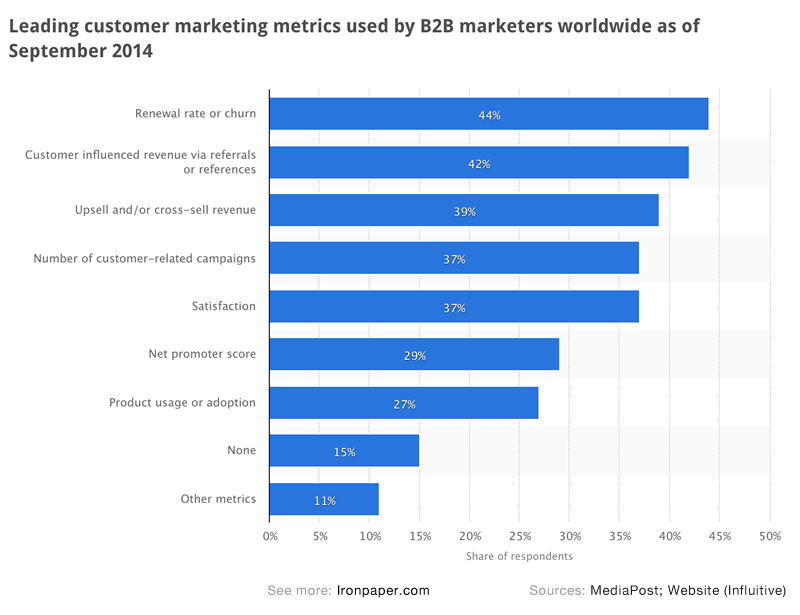 Educate Customers
Try to deliver more educational experiences for your customers. Prevent your emails and communications from merely being transactional. Take time to build education into your customer exchanges--helping them better understand the value, next steps, vision and direction of your solutions.
Personalize Experiences
Research and learn about the customer to better shape experiences tailored to that population. Digging into their preferences and buyer history can inspire content and promotions that reward loyalty more specifically.
At the same time, this research can help bolster buyer persona development and may drive greater understanding of the overall customer journey. Considering the top challenge for digital marketers in Experian's 2016 Digital Marketer study was "knowing our customers' needs, wants and attitudes," this kind of legwork can help develop a deeper customer view.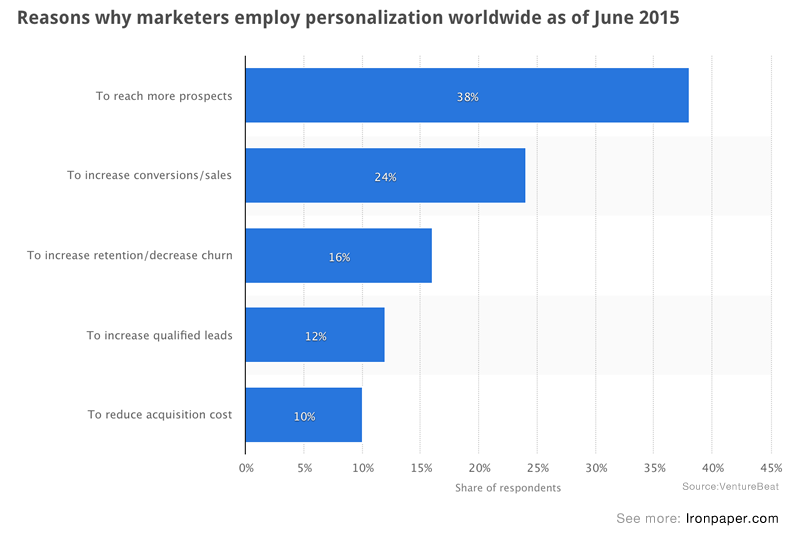 Cultivate Brand Loyalty
Instead of seeing customer conversion to a sale as a one-night stand — out of mind once the need is met — focus on long-term relationship building. This can be encouraged with post-purchase communications such as informational emails, targeted follow-ups after the purchase, or promotional and event communications using marketing automation or social selling techniques.
Offering loyalty rewards or referral credits can foster brand evangelists as well. For instance, a point of sale Software as a Service firm might offer a month free to existing customers who refer new customers to the platform.
68% of customers will not go back to a provider once they defect. — Accenture
Social Sharing and Support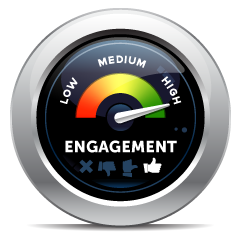 Tying rewards and loyalty promotions to following the brand's social channels can help grow the company's social presence. Drawing attention to informed, authoritative content and offering social-exclusive deals to brand followers will also give customers a reason to keep returning.
For B2B firms, sharing useful and educational content goes a long way. Also consider using social media to build awareness and visibility to knowledge centers, certification programs, tools and informative content.
Learn from Mistakes
Figuring out what went wrong can require an investment of time and research. Avoiding this expense is obviously preferable. Yet, if the customer does defect, it can inspire a renewed focus on internal processes and marketing strategy to prevent future losses.
$1.6 trillion is the estimated cost of customers switching due to poor service in the U.S. — Accenture
Customer engagement isn't an issue only in the B2C sector. B2B marketers, too, can do their part to help business clients keep their customers content.
Sources:
24/7 Customer Engagement Index. (2016). Customer Engagement Index 2016. https://info.247-inc.com/WS-NA-CE-Index-WS.html
Accenture Strategy. (2016). Digital Disconnect in Customer Engagement. https://www.accenture.com/us-en/insight-digital-disconnect-customer-engagement
Charlton, G. (2015, July 3). 21 Ways Online Retailers Can Improve Customer Retention Rates. https://econsultancy.com/blog/11051-21-ways-online-retailers-can-improve-customer-retention-rates
Experian. (2016). The 2016 Digital Marketer. https://www.experian.com/marketing-services/digital-marketer-report.html
Jones, I. (n.d.). The Real Cost of Losing Customers. https://www.thinksales.co.za/the-real-cost-of-losing-customers
Pedersen, A. (2015, April 21). The True Cost of Losing A Customer. https://www.linkedin.com/pulse/true-cost-losing-customer-aaron-pedersen