While B2B companies typically have a good sense of their target market, they often struggle to get in front of the right prospects via marketing channels. A common mistake is pushing out a company-centric message to a generalized audience with the hope that a qualified lead pool finds its way to the website, product, or service. Account-based marketing (ABM) corrects this mistake by targeting a specific audience through curated content across marketing channels.
This strategy works well in the B2B world because it focuses on attracting a smaller quantity of leads who are more likely to convert. Therefore, businesses don't waste time or resources on leads unlikely to become clients. It also aligns the sales and marketing teams for success and focuses on personalization, which B2B buyers want.
ABM is data-driven and highly targeted, with multiple stakeholders taking part in campaigns. Sales, marketing, and customer service all work together to deliver personalized experiences continuously. LinkedIn found that over half of B2B marketers use account-based marketing, and more than 80% will boost their ABM budget next year. For B2B businesses that have not focused on ABM, now is the time.
ABM for B2B: It works
According to ITSMA, 84% of companies that use an ABM strategy say it offers higher ROI than other campaigns. Per Forrester, 62% of marketers noted they could measure a positive impact since adopting ABM.
The reason behind ABM's success lies in focusing on the target. This way of marketing understands the buyer's pain points and curates content that addresses these concerns. Content across paid media, advertising, email, and owned media all raise awareness and educate prospects instead of going right for the hard sell. The buyer is still at the top of the sales funnel so they are not ready for sales tactics. At this stage, the prospect is learning about their problem and potential solutions. ABM content, therefore, focuses on the buyer's needs and educates effectively.
B2B marketing tactics that push out company-centric messages or overly technical explanations of the product tend to fail. The prospect is searching for information about their problem; they are not searching for a solution (or they may not even understand what kind of solution is necessary).
Marketing content mistakes
Another reason why B2B marketers should focus on account-based marketing is current tactics are not necessarily working. Content Marketing Institute's annual B2B marketing survey asked respondents which content types are the highest performing when trying to build brand awareness, secure leads, nurture leads, and convert leads. B2B marketers noted that "blogs and short articles" are the top-performing content type for building brand awareness, and "emailing marketing" took the top spot for nurturing leads. The issue is that these marketers noted "in-person events" as the highest performing content type for both securing leads and converting leads.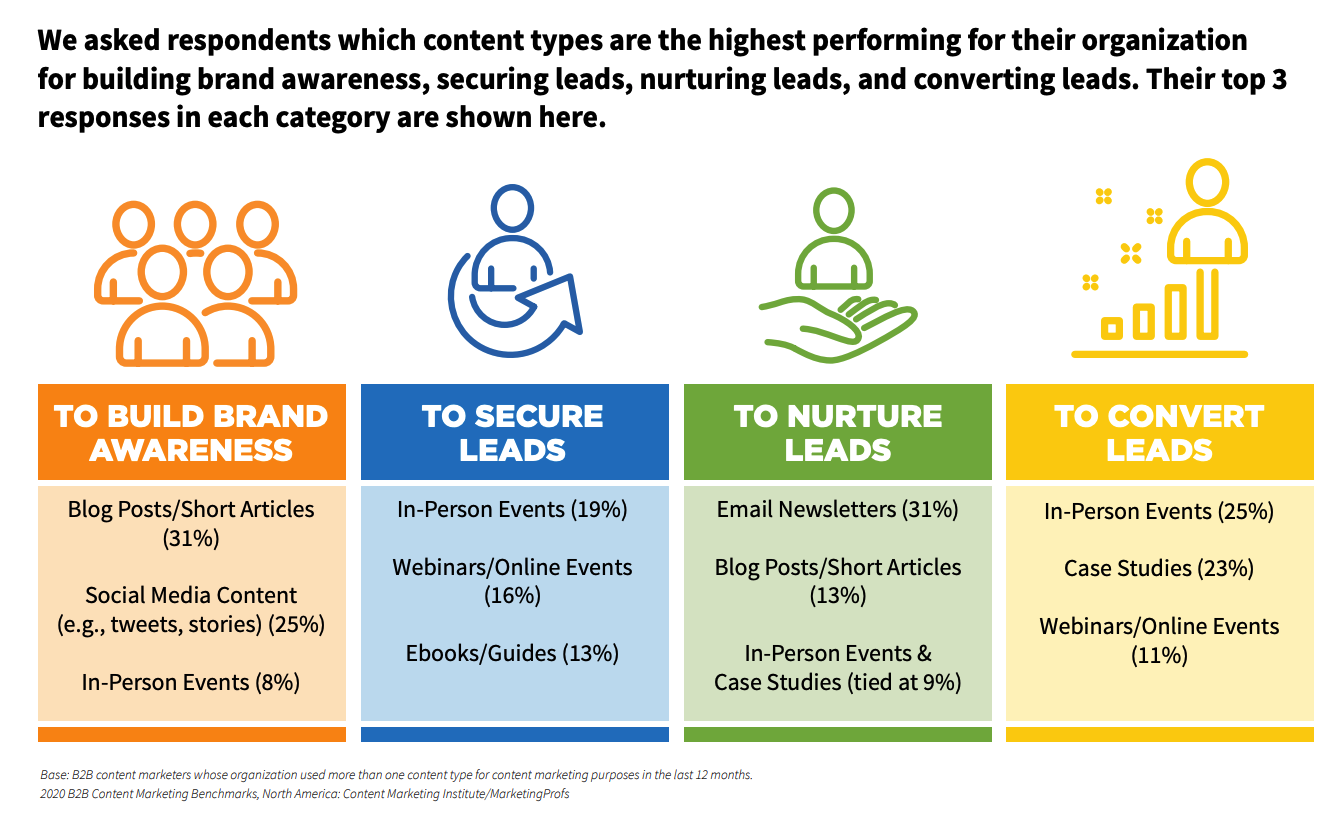 Source: Content Marketing Institute/MarketingProfs
These results are problematic because business have canceled in-person events due to COVID-19 restrictions. The responses also suggest that content isn't being used correctly or perhaps at all in the sales funnel. Virtual trade shows have fallen short. A Tradeshow Logic survey found that participants overwhelmingly unsatisfied with the remote format: 67% noted virtual trade shows failed to meet expectations in terms of networking, and 63% of participants were dissatisfied with their ability to promote new products. With in-person events still on hold, marketers that rely on this strategy may find themselves falling short of goals.
ABM uses content in a more impactful, measurable way. The sales and marketing teams work together, targeting high-value prospects through a personalized approach. With insights from the sales team, marketers can create personalized content along the sales funnel to keep leads converting. Of course, there are many smart account-based marketing tactics for B2B companies, but content plays a crucial role.
Account-based marketing investment on the rise
Per LinkedIn, ABM budgets are currently a little over one-third (36%) of digital marketing and advertising spend and are growing 9% annually. Forrester found an evident rise in ABM strategy. In 2018, 43% of marketers called their ABM strategy "established," and by 2019, that number jumped to 55%.
More businesses are looking to account-based marketing to drive real growth internally. According to Forrester's research, marketers strongly agreed that personalized content (56%) and advanced data management (43%) are keys to ABM's success. However, creating personalized content based on an Ideal Customer Profile (ICP) and navigating advanced data management is a challenge for global marketers. To tackle these obstacles, an account-based marketing mindset should guide all components of a B2B company's marketing program. There needs to be a tight alignment between content topics, lead nurturing programs, acquisition campaigns, lead reporting, lead qualification, advertising, email engagement, and the lead handoff to sales. More significantly, there should be a feedback loop between the marketing team and sales team. This way each team gains new insight and understanding. ABM is an alignment between these two teams.
Sources
LinkedIn, Introducing the B2B Jumpstart to Account-Based Marketing Guide, October 17, 2019.
ITSMA, Fueling the Account-Based Marketing Fire, Apr 8, 2016.
Forrester, ABM Maturity Corresponds To Better Revenue Results, September 9, 2019.
Content Marketing Institute/MarketingProfs, 2020 B2B Content Marketing Benchmarks, North America.
Tradeshow Logic, Redefining Value for Today's Exhibitors and Sponsors: Volume 2 Virtual Event Satisfaction, September 2020.