By Lauren Lyons, Senior Analyst and Research Writer
Lead generation is vital to creating sustainable growth, and it's where many marketers spend a large portion of their yearly budget. An Ironpaper survey found that marketers still encounter many challenges in this area, notably: understanding buyer motivations, re-engaging inactive leads, and using content effectively.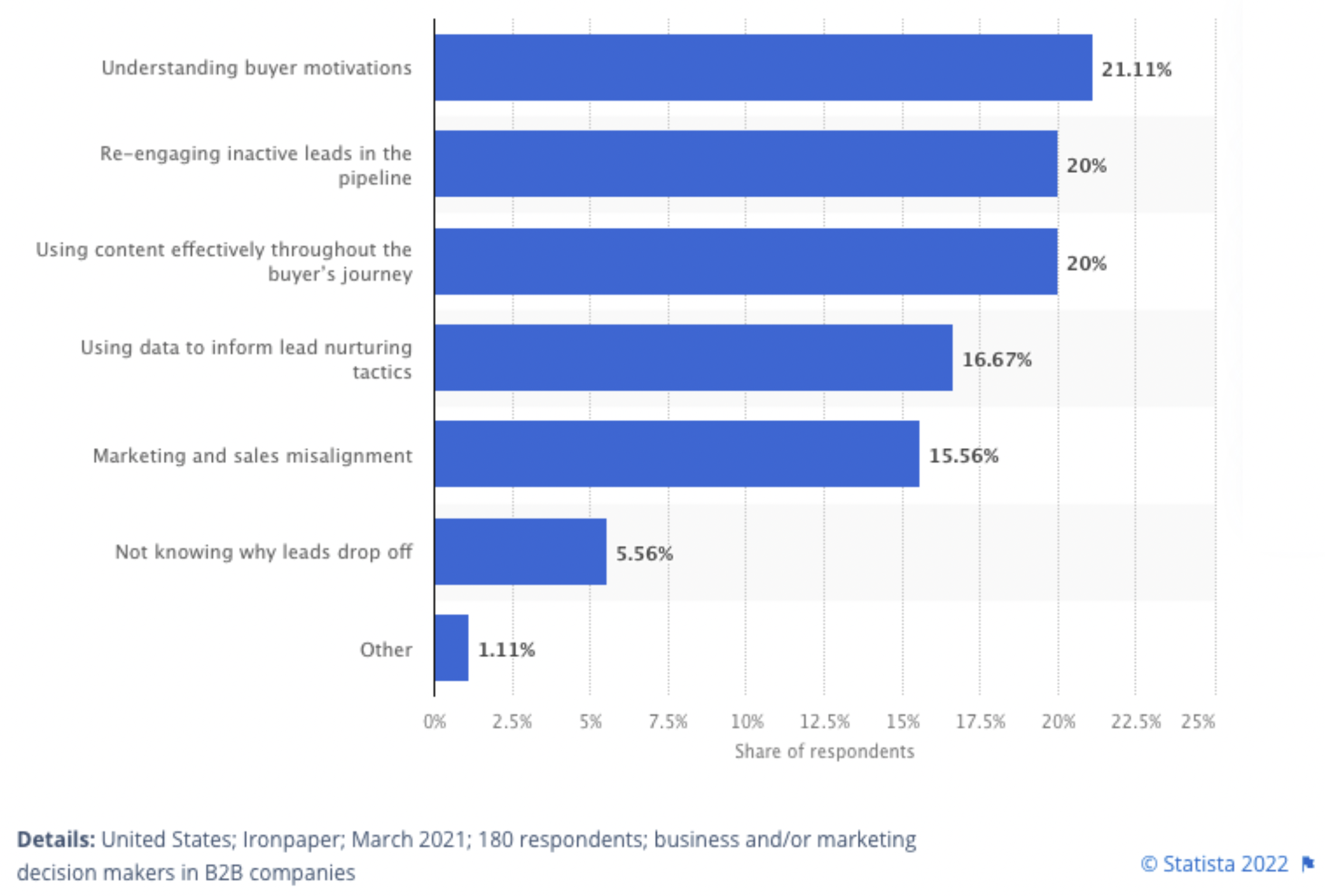 Understand buyer motivations
Changes in buyers' needs have been accelerated by the pandemic, supply chain issues, an impending recession, and other market forces, causing B2B marketers to question set assumptions. B2B marketers already grapple with a long sales cycle, so coupled with changing market forces, many marketers are at a loss when identifying true buyer motivations.
Without a sound understanding of buyer needs, it's nearly impossible to re-engage inactive leads or create effective content, making the second and third lead nurturing challenges closely tied to the first. Ironpaper data suggests that the majority of B2B marketers understand why leads drop off, but the real challenge is solving that problem. The solution can be unlocked by understanding buyer motivations.
Businesses have been shifting marketing and sales activities online, so over the last decade companies have been forced to re-evaluate how they engage with their customers. B2B marketers and sales teams had to make quick changes due to the pandemic, and continuing geopolitical and fiscal events are still a major concern for many businesses. Marketers and salespeople must remain aware of these market shifts and how to tailor messaging to potential customers' needs and pain points.
A good place to start is with the sales team. These individuals are on the frontline of understanding buyer motivations. Marketers that tap into the insights on the sales side can gain access to buyer behavior, questions, and concerns. A CRM enhances this process if there is a bidirectional sync with lead data.
Use content effectively
In addition to their needs changing, buyers are spending more time researching purchases. For longer B2B sales cycles, developing a long-term relationship with leads is essential to converting them into customers. Successful teams stay on top of these changing needs and have a deeper understanding of building proper lead qualification processes, incorporating lead generation techniques and lead forms, and utilizing effective follow-ups.
The right content and messaging throughout the sales process is critical to keeping leads engaged and moving through the funnel. Websites must speak to the needs of the buyers' industry and demonstrate expertise in their area.
Marketers can build trust with buyers by understanding buyer pain points and creating targeted, engaging content for every stage of the buyer journey. Ultimately, content should help build trust and show credibility. The goal is not to simply increase the amount of content but to increase the quality and relevance of that content.
Buyers report that it's important for sales representatives to demonstrate strong knowledge of their needs and challenges, and that is the key to effectively using content.
Re-engage inactive leads
This third challenge of re-engaging inactive leads is somewhat resolved by solving challenges one and two. Teams that have a strong understanding of their buyer and what content can effectively engage them can get back in front of leads that have gone cold. Without taking those first two steps, re-engaging inactive leads will be extremely challenging.
Of course, re-engagement action may not mean sending more emails or content. Marketers and salespeople often employ additional tactics to get in front of targeted prospects. However, messaging and buyer understanding still remain guiding principles to this endeavor.