By Chantel Hall, Marketing Content Specialist
With the digital marketing revolution in full swing, there are more tools available to marketers than any team could need. When there's seemingly a tool for every little task and activity, it's hard to know where to invest your budget and what tools will help your team create sustainable growth.
In this article, we'll give you tips on how to evaluate whether a new marketing tool is worth the investment.
How does it fit into your customer journey?
Before you can successfully implement any marketing tool, you need to understand where it fits within your customer's journey, not just the individual actions it will help your team accomplish. You need to understand how it will help you connect with and nurture leads in your target audience. If you don't understand your buyer's journey, no amount of spending on marketing tools will create the sustainable growth you're looking for.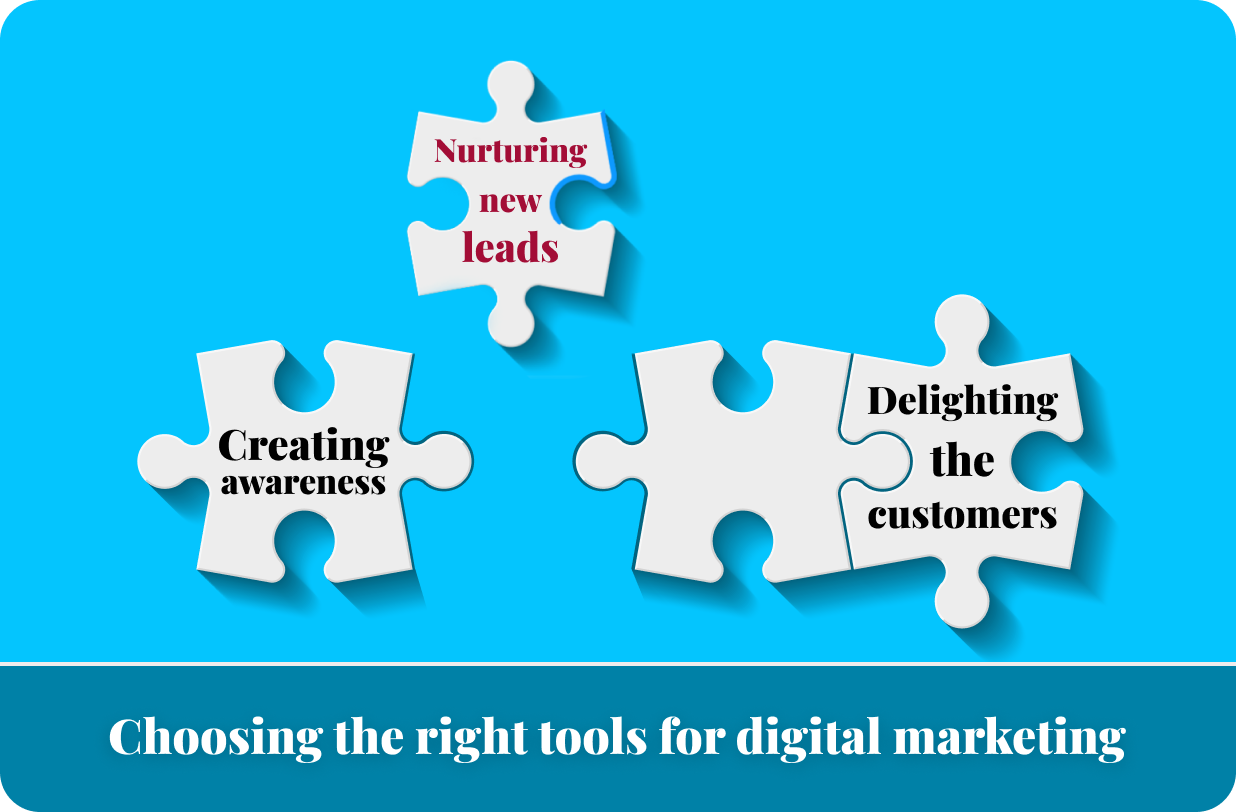 As an example, consider a tool that every digital marketing team should have in place: a robust CRM with analytical capabilities. In B2B marketing, we know that buyers respond well to personalization (one study found that 97% of marketers reported a lift in business results because of personalization1). A CRM collects data about each lead so that marketers and salespeople can see what content they've interacted with, how they first found their way to your website, and what topics they're interested in. Your team can use this data to personalize every interaction with them and build a relationship between them and your company.
Any tool you implement should have that kind of concrete, measurable effect on your buyer's journey. If you don't know where a potential tool will help you push leads down the sales funnel, it may not be worth the investment.
What value will the tool provide for customers and internal teams?
Along with considering where the potential tool fits in your customer journey, you need to understand what value the tool will create for your customers and your sales and marketing teams. There are countless marketing tools available today that most marketing teams could find some use for, but that doesn't mean they'll provide value to your team. Don't focus on features or specific activities a tool will help your team carry out — focus on outcomes to determine whether a tool will enhance your buyer's journey.
Additionally, a tool that only has one or two features you're interested in likely won't be a good investment unless it addresses a large need related to your buyer's journey. Look for tools your marketing team can fully utilize to ensure you're getting the best ROI.
Building on the CRM example in the last section, let's consider another critical tools for marketing and sales: a marketing automation tool. There are many marketing automation tools out there that allow marketers to automate emails, build fully automated campaigns, and get alerts when a qualified lead comes in. When evaluating an automation tool, however, you need to understand whether the specific features included will be valuable to your customers and internal teams.
Is the tool so complex that your one-person marketing team won't find it useful? Does it integrate with your CRM, ensuring that your marketing and sales teams have access to the same data? Will it allow you to automate interactions on the channels your leads actually use? Determining whether the features and the solution itself will create valuable outcomes will help you evaluate whether the tool will create the value you're looking for.
How will you implement the tool successfully?
Change management is crucial to successfully implementing a new tool, and it requires you to plan ahead and understand what you, your team, and your company will have to do to make implementation successful. Adopting new technologies successfully requires cultural management as well as technical management; employees who don't see the value in a tool, don't think they should have to change how they're doing things, or are resistant to change in general can ultimately affect the success of a new tool.
You need to have an implementation plan in place, a plan for training current and new employees, and a process for ensuring the tool is being used correctly. You may even find that some existing processes need to be adjusted to implement a new tool.
You should also consider whether you're purchasing this technology to enhance your ability to connect with and convert leads or if you're hoping it will fix a process or performance issue. Adding a new tool and new processes on top of an existing process that's not working won't have a positive outcome. Be realistic about what you want to accomplish and determine what processes would need to be fixed before implementing it.
For example, if your website is ranking poorly because your marketing team hasn't developed an SEO strategy and doesn't do keyword research before writing content, a new keyword and SEO research tool isn't going to fix the underlying problem. Before purchasing a new tool, you need to address the root issue of your underperforming SEO efforts: a lack of planning and research. Once that process has been fixed, you can empower them with new tools to help them carry out their SEO and keyword strategy.
Choose marketing tools that support your buyer's journey
There's no one "right" combination of tools for every single B2B seller, but using the tips we've provided here, you can evaluate tools you're interested in and determine whether they will help you team create a better buyer's journey.
Sources:
1CMS Wire, Why the Time Is Right for Personalization, May 29, 2020