Thoughtful alignment of sales and marketing drives higher customer retention and increased sales.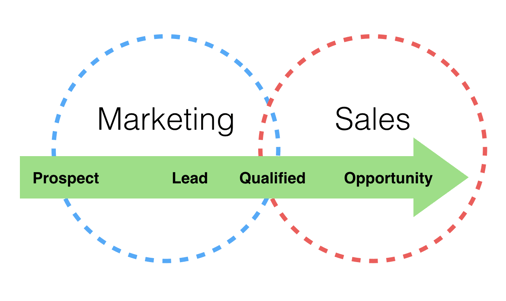 "Alignment between Marketing and Sales is potentially the largest opportunity for improving business performance today. When marketing and sales teams unite around a single revenue cycle, they dramatically improve marketing ROI, sales productivity, and, most importantly, top-line growth." — Marketo
Alignment can mean many things, including developing common definitions, sharing goals and metrics, lead management, lead nurturing efforts, lead evaluation, and employing streamlined processes. Implementing the right customer relationship management (CRM) software can improve an organization's marketing to sales alignment. A CRM lets companies manage and analyze customer interactions throughout the lifecycle to enhance relationships, convert leads, nurture sales, and assist in customer retention.
How, though, does a CRM help align marketing and sales? Here are just a few alignment opportunities:
Improved Communication.
Wasteful meetings and excessive emails are two of the main distractors for marketers, according to Workfront's State of Marketing Work Management 2015 report. Further, for 2 in 5 marketers, lack of communication or miscommunication is the most common source of inter-departmental conflict.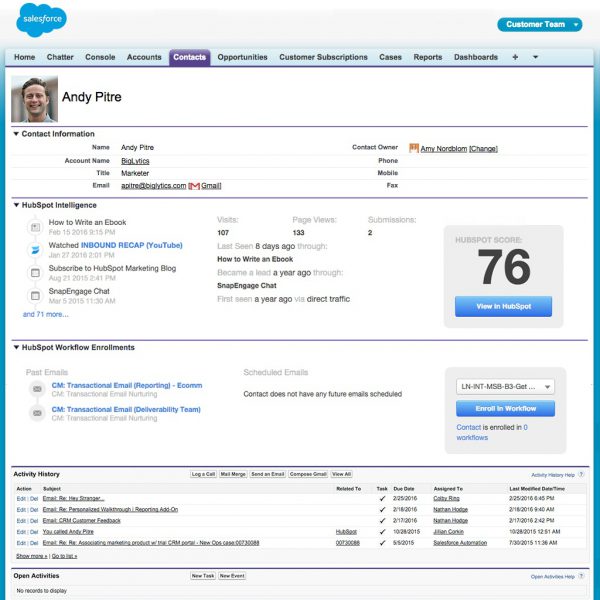 With shared work management software, both marketing and sales can enjoy greater efficiency. A CRM helps managers generate focused tracking reports and extensive contact records. The CRM software can also help the business better track what marketing or sales outreach tactics are most effective.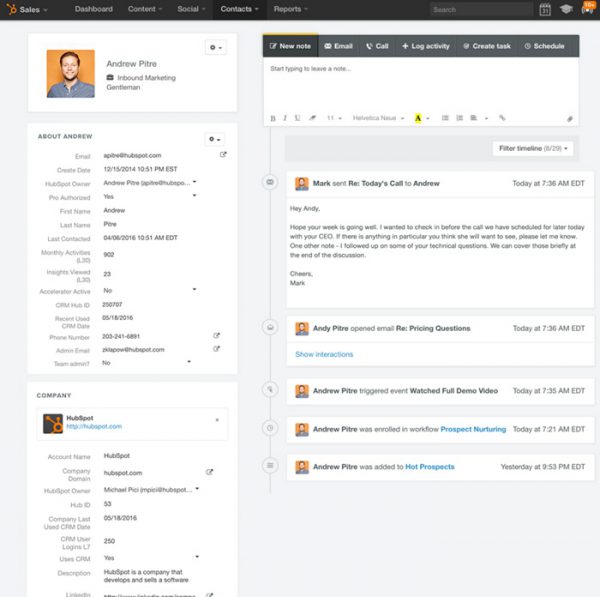 Deeper Insights.
When a CRM software is shared, both marketing and sales enjoy access to all of the lead's contact information. Plus, CRM software also populates the lead contact profile with added information that can be useful to both — such as company background, competitors, and interaction with the brand.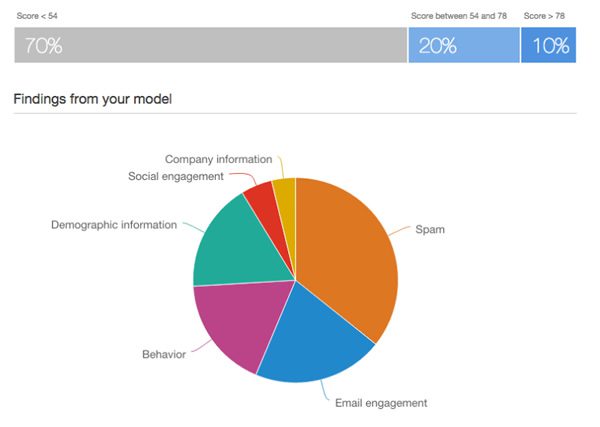 Shared Goals and Expectations.
With sales and marketing collaborating together to define the lead generation, sales nurturing and scoring strategies, successful organizations create bridges between strictly differentiated departments. Instead of working for different goals with unclear expectations of one another, the teams can begin to work together to generate ideas, reduce bottlenecks and inform the business's understanding of its customer base.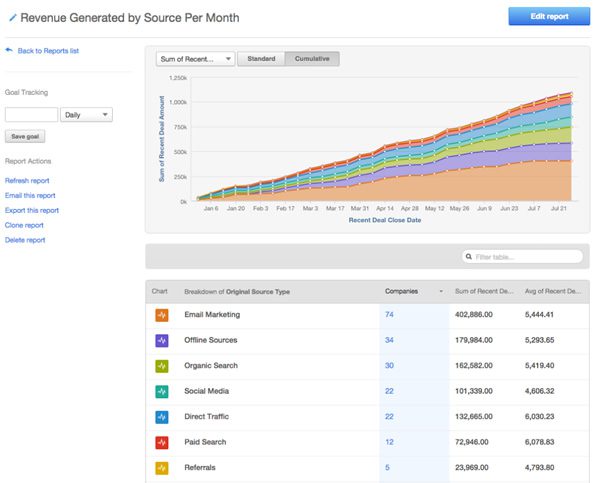 Avoid Duplicated Efforts.
With the automation benefits of a CRM software, both marketing and sales see the same picture of where each visitor, prospect, marketing, or sales qualified lead stands in the buyer's journey. This helps marketing tailor content efforts while enabling sales to better focus outreach to interested customers.
A CRM can increase lead-to-sales conversion rates and help sales teams to close deals and spot new opportunities. Driven by real-time data and a streamlined process, the business that employs a CRM to align its sales and marketing teams will prove more agile and effective.
"Most companies spend 30-40% of their revenue on Sales and Marketing. If these two sides of the same coin coordinate activities and better align themselves, they can optimize what their company spends on them." — Marketo
Nurture Leads to Opportunities.
Once a lead is acquired, there may be additional steps taken before handoff to a sales team. Sales teams are often frustrated with receiving leads that have not been nurtured or vetted. By connecting marketing automation software to a company's CRM system, leads can be assessed, nurtured, and segmented.
79% of marketing leads never convert into sales. Lack of lead nurturing is the common cause of this poor performance. - MarketingSherpa
Improve Lead Quality.
Savvy digital marketers that focus on lead generation will use marketing automation, progressive profiling, and lead scoring to improve their data gathering and assessment efforts. Without doing so, sales teams may perceive leads to be of lower quality, and leads may fall through the cracks. Marketing and sales enablement teams need to improve data gather efforts by updating web forms, chat tools, and lead enrichment efforts to get better insights on leads.
"61% of B2B marketers send all leads directly to Sales; however, only 27% of those leads will be qualified." -- MarketingSherpa
Gain Upsell Opportunities and Increase Deal Sizes.
A CRM can help give sales teams more data that can be useful in evaluating, pitching, and supporting sales leads. As a lead first enters the CRM, there may be little useful information about their interests, pain points, challenges, goals, company size, and their buying authority. However, with the use of marketing automation, leads may progressively provide more information about themselves and their interests over time. This data can be used throughout the sales process.
By improving the data that can be acquired on a lead, both marketing and sales teams will be able to make better decisions with the leads in their system. Useful data points may include the company's yearly revenue, role/title of the contact, pain points, solutions and interests, and decision-making stage.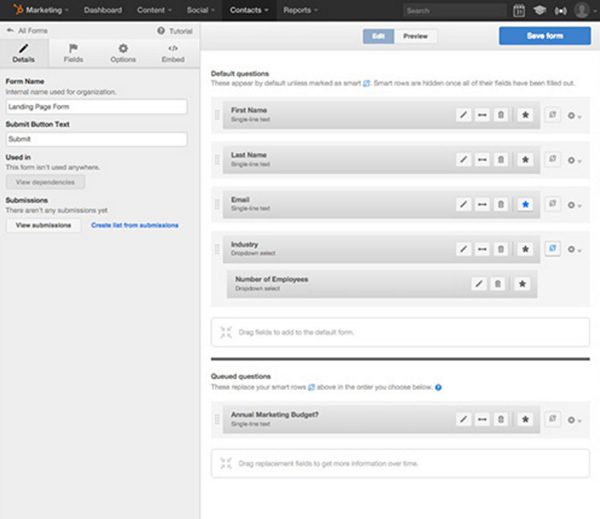 Strategy and Prospecting
We use the Hubspot CRM, which comes loaded with tools to help bridge the gap between marketing and sales--leading to improved lead quality, better nurturing efforts, and streamlined management of leads.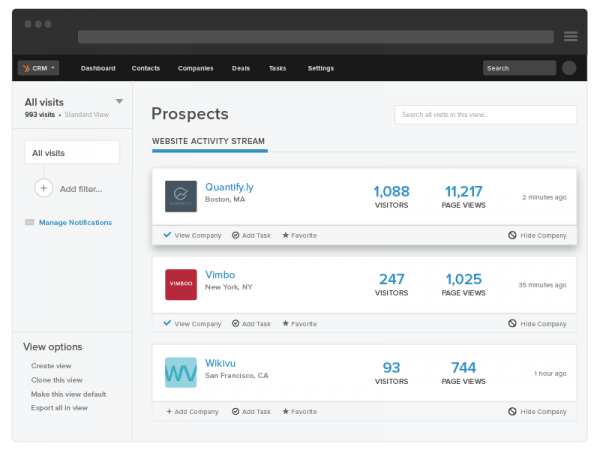 Sharing insights between marketing teams and sales teams can lead to improved targeting. If marketing efforts were better informed by sales interactions, then marketers could use those insights to target the right buyers with the right value proposition. Additionally, there are tools and techniques to help the integration with marketing and sales. CRMs play a vital role in bridging the gap between marketing and sales.
The right CRM can help align marketing with sales to produce the following benefits:
Improve lead quality
Increase overall deal values
Identify the best leads worth additional attention
Improve upsell opportunities
Improve lead generation results
Build a more streamlined and efficient process
Set shared expectations and foster better communication
Source:
Marketo. (n.d.). Marketing and Sales Alignment. https://www.marketo.com/marketing-and-sales-alignment/
Workfront. (n.d.). The State of Marketing Work Management 2015
https://www.workfront.com/enterprise/resource/infographic/marketing-work-2015/
Marketing Sherpa, https://www.marketingsherpa.com