Content builds long-term value for marketing and lead generation; it's essentially the "meat and potatoes" of marketing.
Just because your brand focuses on B2B transactions doesn't mean your content should be dry and over-saturated with tech lingo. Buyers and prospects researching B2B companies appreciate a break from dismal and stuffy content. There is no topic so boring as to warrant boring content.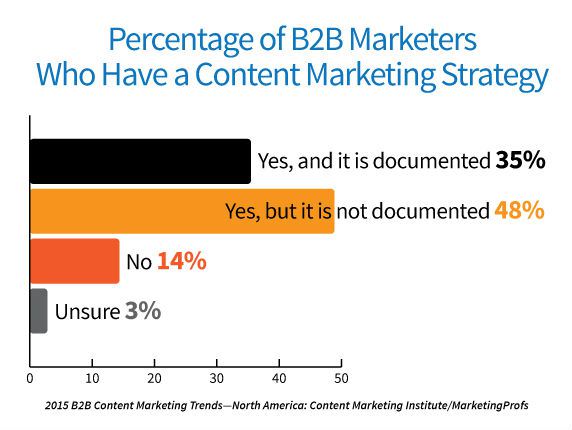 How to transform your content - B2B content marketing tips
Develop a unique voice. Your content strategy must start with your own unique voice and tone, which can be applied on an individual basis or across the company. Do not impose an unnatural voice (like an overly personal voice) on writers that can't match it. The voice should be natural and comfortable for the writer... and yes a blog can showcase the voices of numerous writers.
Focus on the concerns of your audience and not the features of your product. By transforming the perspective of your content, you will create better engagement and interest in your content offering. Discuss the opportunities a solution can help achieve, rather than outlining the capabilities of a solution. This will help your audience better identify with the solution--putting it in their terms.
Provide visuals, data and context. TLDR does not help your marketing effort. Back up your narrative with context and visuals. Use information graphics, illustrations, charts or other parenthetical snippets to help make your content more digestible.
Exclusivity. Provide exclusive information and premium that your audience won't find elsewhere.
Build relationships as you create content. Interviews, polls and surveys are great ways to build relationships and enrich the perspectives fueling your content.
Measure interest. Use web analytics to measure how users discover and interact with your content. Do users share content on social channels, and if so, which channels do they share the content? How do people discover your content from search engines? What phrases and terms do they use? These metrics can help you design and iterate your content offering to increase engagement an relevance.
Design and package content using appropriate formats. Does your content strategy include multiple content formats and packages appropriate to each stage of the buying lifecycle? Content can be useful to attract users to discover your company, as well as help nurture a final sale. Using content for sales nurturing is especially important for B2B marketing.
Document your content marketing strategy so as to achieve alignment across departments and over time. Create a simple set of instructions and guidelines to gently aid future content creation efforts.
Create a publishing schedule. Content marketing is more effective when there is a clear schedule for publishing. This is especially true for blogging. Maintaining a publishing schedule helps bring Google to your website with regularity and keeps reading exploring your blog--incrementally building interest and awareness.
Promoting your content with the right channels. Social media marketing can be especially effective for building a loyal following and promoting newly created content for enterprises. Other forms of promotion include advertising in print, display and remarketing ads, promoted posts, promoted tweets and third-party publishing (PR).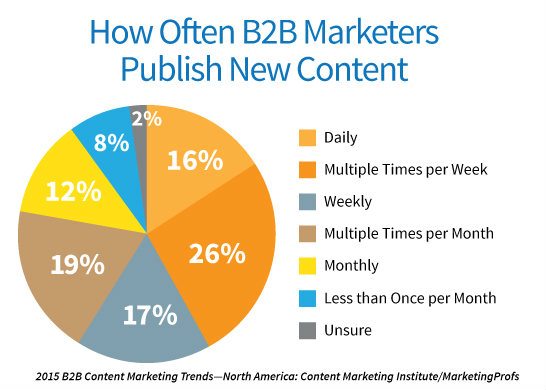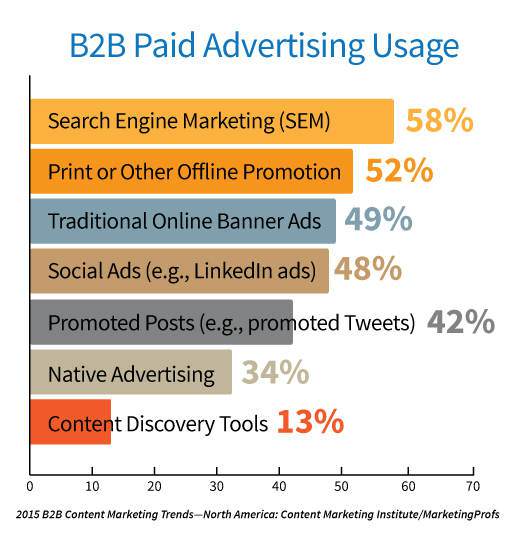 Design and package content using appropriate formats

There are numerous possibilities for content formats--each format having unique appeal with prospects and leads. Content formats include: whitepapers, case studies, eBooks, video, webinars and recorded webinars, emails, microsites, podcasts, blog content, factsheets, datasheets, reports and interactive web applications.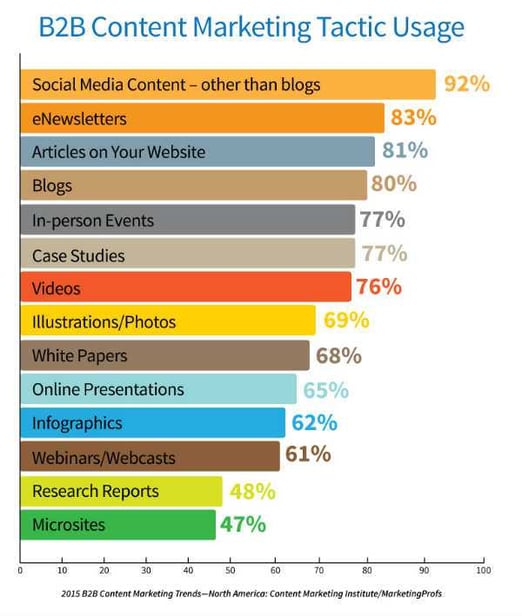 Reasons for using content marketing
Increase sales
Lead generation
Retain customers
Build or reposition your brand
Ability to integrate marketing channels
Nurture subscribers into leads - lifecycle marketing
Scale marketing efforts using content within an automation program
Engage customers long term
The content marketing mix
The needs and interests of your audience will evolve as they progress through the marketing to sales funnel. The following illustration outlines content used appropriately at each stage of the buyer lifecycle.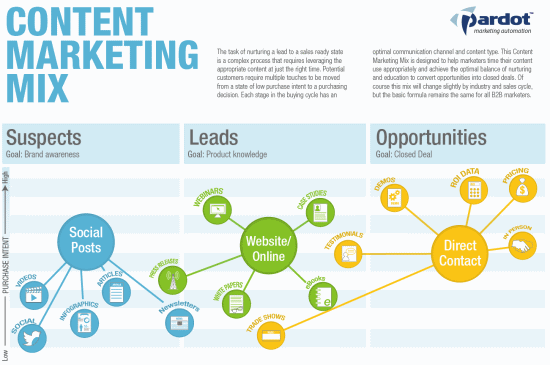 Further reading: value of dark social channels for marketing, Defining a content strategy for the Internet of Things