B2B marketing statistics and trends illustrate the global B2B marketing industry is still going strong. It's predicted to grow annually through 2018. Digital, in particular, will continue to garner attention with a 12.9% compound annual growth rate (CAGR), per PwC.
B2B Marketing Budgets
In 2014 Advertising Age reported on the share of B2B budgets going to digital marketing. Some 90% of the research respondents spent 8% or more on digital.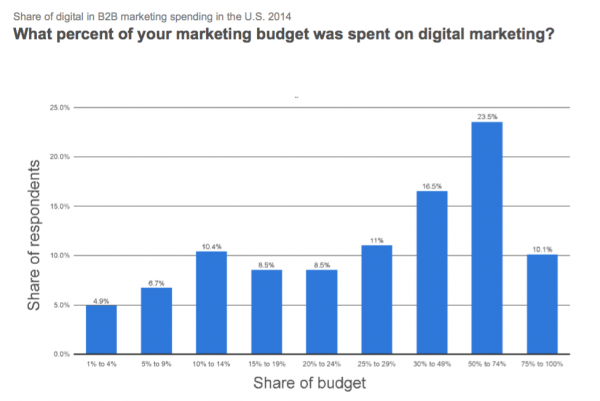 Nevertheless, in-person trade shows, conferences, and events continued to take the largest share (14%) of the North American B2B marketing budget in 2015. Digital advertising came second with a 10% allocation, per Forrester Research.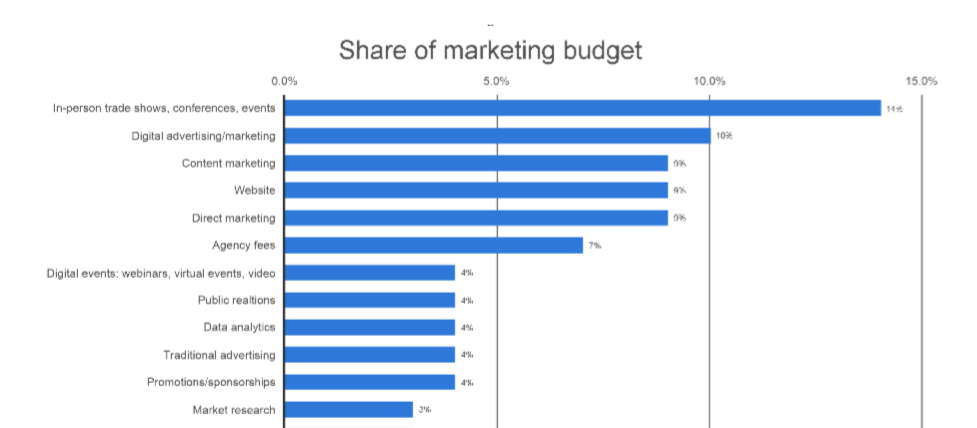 51% of B2B marketers expected to see a budget increase in the Content Marketing Institute and MarketingProf's 2016 study. Even 57% of those who are ineffective at content marketing planned to increase their budgets.


What activities would that marketing budget address? As of September 2014, the top priorities were:
customer and/or user group events (61%)
customer testimonial program (54%)
online customer community (54%)
cross-sell and/or up-sell campaigns (50%)
customer advocacy program (48%)
customer referral program (46%)
66% of B2B marketers use search engine marketing to promote and distribute content — 2016 B2B Content Marketing Trends
B2B marketing software solutions
B2B marketing is heavily reliant on data and ROI analysis. B2B marketers are using a range of software solutions to track progress, make better decisions and show impact. These include e-mail marketing, customer relationship management (CRM), marketing automation, business intelligence, social media monitoring, referral marketing, and pay-per-click.
The CRM industry is one area benefiting. According to Advertising Age and Markets and Markets, CRM industry revenue will reach 24.22 billion US dollars by 2018.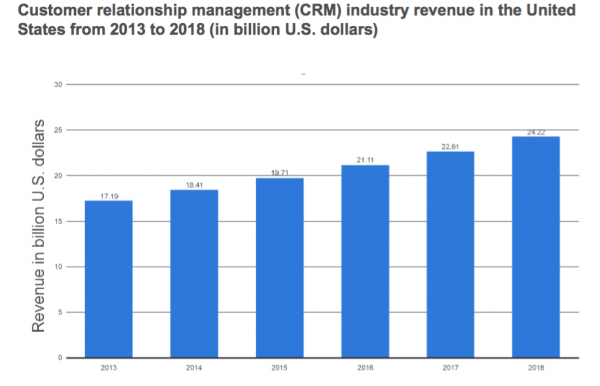 Meanwhile, the top 5 marketing-allocation platforms identified by Advertising Age in a 2013 report were:
Hubspot
Marketo
Oracle Eloqua
Salesforce Pardot
Act-On
According to Ascend2, lead nurturing is the most valuable feature of marketing automation systems. Lead scoring was only seventh on the listing: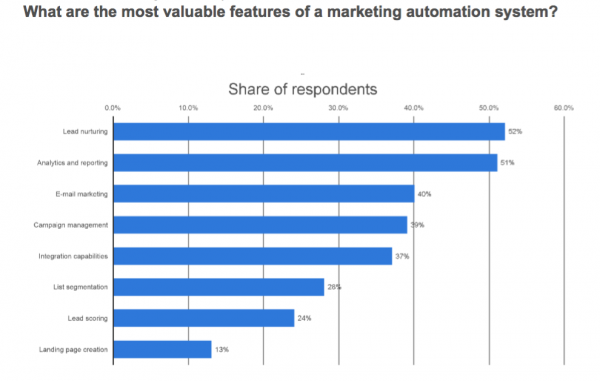 This is an interesting finding considering the high ranking of sales and lead nurturing as goals for content marketing in the CMI and MarketingProfs research.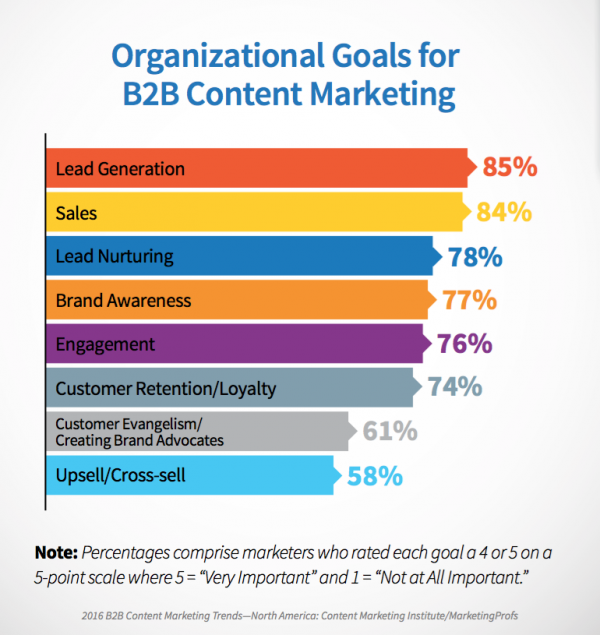 "94% of B2B organizations use LinkedIn to distribute content." — 2016 B2B Content Marketing Trends
B2B Marketing Effectiveness
Regardless of what software solutions are in play, B2B marketers identified e-mail as the leading marketing channel. As the leading channel influencing revenue growth among 31% of webmarketing123's 600 digital marketer survey respondents, e-mail outpaced SEO (16%), paid search (12%), and social media and display (both 4%).
Digital marketers can agree, though, on the keys to content marketing effectiveness, with audience relevance as the top choice among 90% of B2B marketing leaders in a Regalix study.
No wonder then that producing engaging content was the largest B2B marketing challenge among those surveyed by CMI and Marketing Profs.
"Just 56% of B2B organizations verify valid business leads before they are passed to sales." — Marketing Sherpa
"The most important strategic goals of a marketing automation strategy are increasing lead generation (61%), lead nurturing (57%) and sales revenue (47%)." – Ascend2.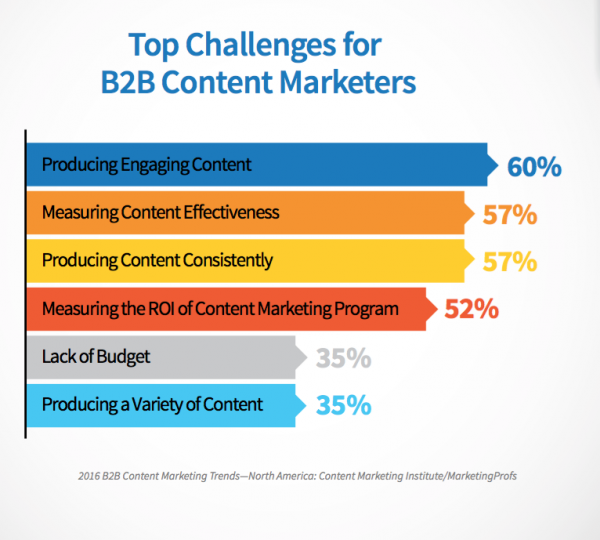 Perhaps further explaining events' primary place in marketing budget allocation is the view of it being a highly effective B2B tactic. In the 2016 B2B Content marketing survey, it was no. 1, with the remaining tactics identified all tracking back to digital marketing: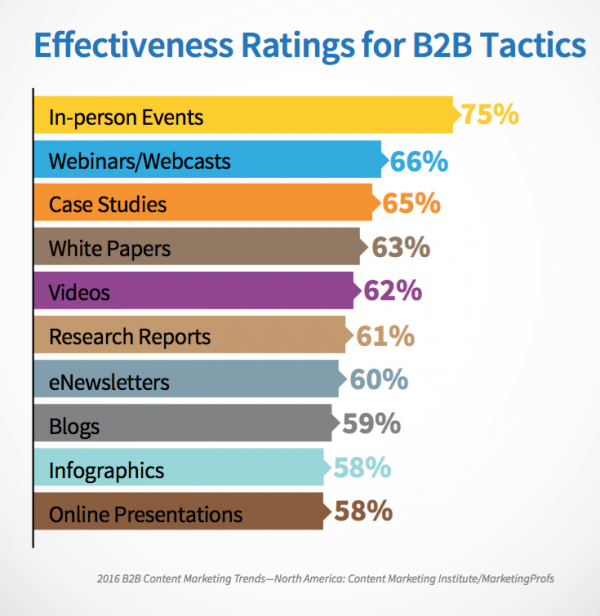 "4 out of 10 B2B marketers don't have an editorial calendar." — Conductor
"The average content marketer uses 13 content marketing tactics." — 2016 B2B Content Marketing Trends
"LinkedIn, Twitter, Facebook and YouTube are the top 4 social media platforms for B2B."
— Content Marketing Institute and Marketing Profs
That said, there remains a worrisome statistic from the CMI and MarketingProfs research. While 44% of B2B marketers say their organization is clear on what content marketing success or effectiveness looks like, 55% are unclear or unsure.
B2B marketing statistics sources:
CMI and MarketingProfs. (2016). B2B content marketing: Benchmarks, Budgets and Trends — North America.
B2B marketing in the U. S. - Statista Dossier. (2015, March). https://www.statista.com/study/26613/b2b-marketing-in-the-us-statista-dossier/
Content Marketing Institute and Marketing Profs. (2016). 2016 B2B Content Marketing Trends—North America: Content Marketing Institute/MarketingProfs. https://contentmarketinginstitute.com/wp-content/uploads/2015/09/2016_B2B_Report_Final.pdf
Ascend2. (2016). 2016 State of Lead Generation Survey Summary Report. https://ascend2.com/home/wp-content/uploads/Ascend2-2016-State-of-Lead-Generation-Survey-Summary-Report-160808.pdf