Banner ads on websites or in apps continue to generate significant revenue. In fact, banner ad revenue is expected to grow at 7% compound annual growth rate (CAGR). The segment, already US $19,554 million in the 2016, is expected to grow to US $27,472 million. These additional banner advertising stats and trends can help drive marketing decision-making.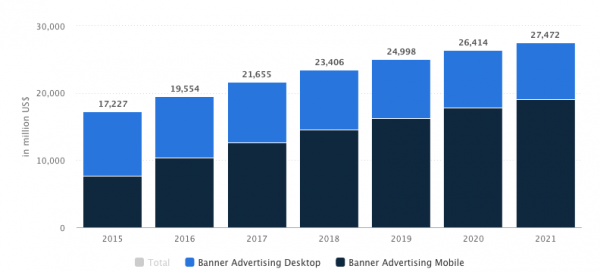 Revenue is predicted to slow from 13.5% for the combined revenue of banner advertising desktop and mobile to 4% by 2021. Desktop advertising is the hardest hit.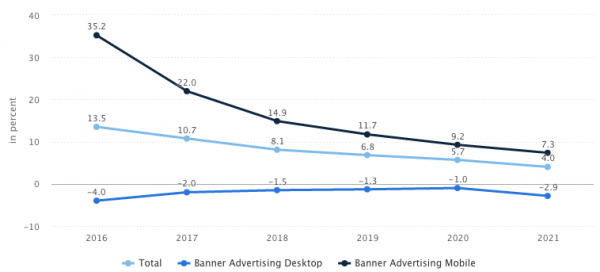 Nevertheless, average revenue per user in the banner advertising segment is increasing. Although desktop revenue is falling, mobile is pulling up the slack with revenue growing from $29.68 in 2015 to $39.27 in 2016 per Internet user.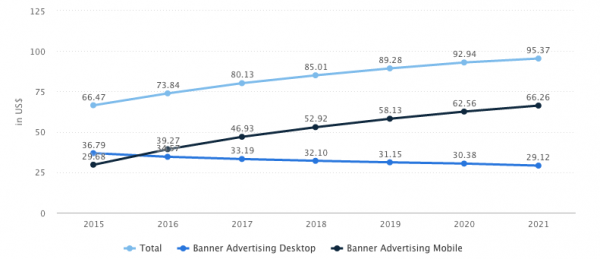 The United States generates the most banner advertising revenue. The next closest, China, is 86% less at $7,778.5 million. China, though, has the highest mobile share of market revenue at 55.8%.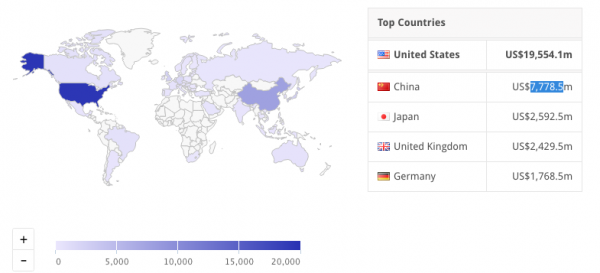 Europe is the fastest growing. The region's 11.5% CAGR to 2021 reflects the fast development of mobile as well as Europe is the only region with positive growth in desktop revenue.
Related Reading: Search Advertising Trends and Stats
Key Factors impacting Banner Advertising Stats
Several factors play a role in the 7% CAGR for banner advertising overall. After all, the population is growing, and Internet penetration increasing. At the same time, smartphone penetration is predicted to see a 5% CAGR. Tablets, too, are becoming more commonplace, with 49.9% penetration in 2015 and reaching 60.8% in 2021.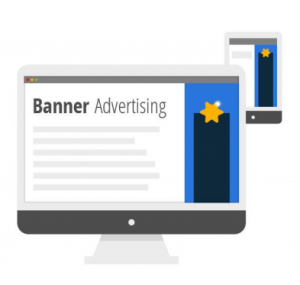 Meanwhile, social media is becoming increasingly prevalent. Particularly, the number of Facebook users is predicted to grow from 191.3 million in 2016 to 211.7 million in 2021.
Mobile Internet penetration also plays a role. Although we were already at 65.7% penetration in 2015, this is expected to reach 80.6% by 2021.
Related reading: The Importance of a Mobile Responsive Website
Further Banner Advertising Stats
Banner ads run the gamut. This segment includes small text-based ads on displayed on a website or in an app accessed via desktop or mobile. Banner advertising can also incorporate rich media ads playing sounds, animations or videos.
Related reading: Using video for B2B marketing
Banner advertising is the second biggest segment in the digital advertising market — behind search advertising. Global banner advertising had a 22% share of this market in 2016, with about $43.5 billion market size.
With user behavior shifting, it's up to display advertisers to adapt too. Higher average revenues per Internet user depend on technological development. As programmatic buying becomes a new norm and Flash gets replaced by HTML5, the ad creation process is likely to change.
Further, advertisers are likely to exploit mobile only and location-targeting while aiming to improve banner ad quality overall and avoid the threat of ad blockers.

Ultimately, the effective inbound marketer recognizes what matters most is the message. Combine this understanding of banner advertising stats and trends with campaign planning that addresses a strong value proposition and a well-targeted audience.
Related Reading: B2B Marketing Statistics and Trends
Sources
Allen, R. (2015, September 30). Do you know the impact of Adblockers today? https://www.smartinsights.com/digital-marketing-strategy/online-business-revenue-models/do-you-know-the-impact-of-adblockers-today/
Buss, S. (2016, July). Digital Advertising: Banner. https://www.statista.com/download/outlook/whiterpaper/Banner_Advertising_Outlook_0716.pdf