As technology trends advance each year, redefining buyers' expectations, so do digital marketing trends for B2B technology companies. So how can tech software, product, and service companies reach buyers with cutting-edge digital marketing trends?
Technology marketing executives in the SaaS, IT, and technology industries should stay up-to-date with digital marketing trends to increase demand generation, lead conversion, and sales opportunities. So here, we cover 15 digital marketing trends used by top-performing technology companies.
1. Gamifying your product or software
By transforming a static content page on your website into an interactive gamification, you can dramatically increase lead generation. Consider turning a high-traffic, but low-conversion, page into an interactive display of your product, software, or service. And, of course, pair it with some form of lead capture.
In this example of interactive content for MyCheck, Ironpaper generated over 600 qualified leads in four months.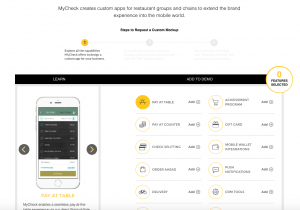 We engaged website visitors to actually "customize" a POS software solution, instead of just reading about customization options. Then, visitors could "save" this version for a sales follow-up call — a form of information capture. Gamification made this product feel tangible, and it clearly displayed benefits... which translated into increased conversions and 4x the sales deals.
2. Redefining your value proposition around value, not features
Value propositions around features are common. I.e., "Climate-controlled and customizable storage solutions." But a statement centered on value is better for converting buyers — "Protect your data with minimum effort," "Spend more time innovating," or "Scale to the next level in IT operations management."
By repositioning a value proposition for the values and benefits to buyers, you increase the chance your message will resonate. This value should be directly influenced by the pain points, goals, and/or challenges of your target demographic — and verbs are more actionable than nouns.
Especially when paired with a content offer or conversion opportunity that expands on this value, you will improve lead generation.
3. Using sales enablement tools
Traditional sales pipelines are less effective than ever, particularly for B2B technology companies, who face longer sales cycles. Now, buyers expect more relevant, helpful touch points that come consistently, and at the right time.
Only 44% of companies are using any kind of lead scoring system. – Decision Tree via the WholeBrain Group
Invest in sales enablement tools — such as the HubSpot Sales suite — to help your sales team work more efficiently and nurture prospects. Tools could include: automating email touch points, scoring high-quality leads to prioritize them, and creating easily customizable template emails to make sales follow-ups highly efficient.
4. Scaling content campaigns via marketing automation software
Marketing automation software – like HubSpot or Marketo — gives you a hyper-connected view of how your campaign elements support each other and generate qualified leads.
For example, you can assess that a content campaign generated 12 qualified leads from organic Twitter posts — then scale that effort. And you could go the extra mile by enrolling your existing leads into an automated email workflow... one related to the Twitter post which originally generated interest.
5.Targeting LinkedIn for secondary markets
Is there a secondary market that you'd like to tap into? Use a paid social media campaign to target very specific leads. For example, we were able to launch a successful acquisition campaign for one client with a LinkedIn targeting strategy.
First, we identified companies and individuals on LinkedIn for potential acquisition targets. Then, we used company- and role-based targeting to send helpful, specific content to these users. Try out this strategy for secondary markets such as: Thought leaders/journalists for PR and media coverage, acquisition buyers, and existing or lost customers.
6. Publishing on third-party industry publications
Get outside the box with your content strategy: Hire freelancers to build relationships with and pitch articles to publishers in the tech world, specific to your industry.
By getting one client's blog syndicated across three different industry publications, we were able to see an uptick of 4200% for overall SEO authority.
7. Blogging around topic clusters for lead generation
3000% –That's the increase in lead generation we achieved for a B2B telecom and internet of things (IoT) solution provider thanks to regular, strategic blogging.
This is not a rare case study, in fact: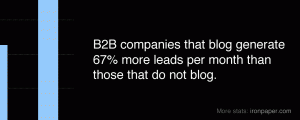 Devote a team and/or resources to publishing blogs consistently. Target keywords your buyers are using, and build up "clusters" of content around technology topics you'd like to rank for — for example, "enterprise mobility management." Make sure to link at least once in each blog post to a conversion landing page, and interlink between your blog posts to others. By using this up-and-coming method, you will show Google you have knowledge in a particular area.
8. Investing in multi-channel marketing
Google's suite of tools is become more connected every day. At the recent IO conference, Google announced even more metric reporting between AdWords, YouTube, Analytics, and other properties. This means that no matter how sporadic a prospect's buying journey becomes, you can utilize analytics to follow (and enhance) a prospect's journey.
In your technology digital marketing strategy, use a range of G Suite channels — AdWords in search, videos published on YouTube, and Analytics on your website — to become more present no matter where a prospect's research occurs. A digital strategy agency can help you master multi-channel marketing.
9. Practicing inbound sales and content sharing
The average sales cycle is increasing by 22% or more for some industries.
So B2B technology companies should share their digital marketing content with sales teams, in order to pad the traditional sales process. Collaborate with sales reps on content that will be useful during the sales process, to keep your company top-of-mind in between demos, meetings, etc.
10. Installing chat bots for lead capture and support
Chat bots can help increase on-page lead conversion, start sales conversions, and improve buyer satisfaction with accessible support. These tools can be installed easily on your website, and depending on the host, can often integrate with Slack, HubSpot, or other marketing tools. For example, one popular chat bot is Drift (which integrates with HubSpot).
11. Practicing front-end as well as back-end SEO best practices
High-ranking technology companies also generate the most, and best, qualified business leads. But a high-performing site is not just obtained by publishing content. Many digital marketing professionals are catching on to back-end SEO: For example, adding microdata in your page metadata descriptions, interlinking between blog posts and important conversion landing pages, and increasing site speed.
These technical factors are just as important as content factors. So run a site report online, and invest in a developer with SEO experience.
12. Segmenting email campaigns for different stakeholders
Relevancy is a high converter. And in B2B technology buying decisions — such as IoT purchases — many stakeholders can play a role.
Some of these positions will be well-versed in technical lingo and descriptions. Still, other executives will lack technical literacy, but require buy-in from an ROI standpoint. You will need buy-in from both in order to close deals. So segment your email campaigns for different stakeholders, using tools found in marketing automation software.
13. Listening socially for greater reach within key online communities
Did you know you can grow your social media reach, engagement, and conversions significantly by using the right hashtags? Therefore, social media marketing should involve much more research than guesswork. Accordingly, you must monitor groups and thought leaders to see which content they are sharing, commenting on, and tagging.
Set up social monitoring lists or streams and follow regularly, keeping a list of high-performing hashtags and content topics. (You can use a tool like RiteTag to identify hashtags of long-term and short-term value.)
14. Researching buyers for content insights throughout the funnel
Effective B2B technology content should be informed by the buyers. But many companies shoot from the hip when brainstorming content ideas. If you're not researching buyers for content insights and ideas, it's time to start.
Tactics for top-performing SMEs to research their target audiences (Cintell):
Qualitative interviews with customers and non-customers – 82.4%
Executive team interviews – 70.6%
Sales people interviews – 58.8%
CRM/MA data – 52.9%
Customer success team interview – 52.9%
15. Spending wisely in AdWords for demand generation
If your organic presence and/or your website's authority are lacking, you can use AdWords to boost traffic and gain traction more quickly. In benchmark reports, paid search is a top tactic, lagging only behind display ads:
However, keep in mind the key terms that your audience is searching for, and which terms correlate to buying intent. For example, keywords like "cloud infrastructure company" probably indicate sales interest, and you should correspondingly advertise a conversion landing page.
However, terms like "What is the IoT stack?" are more for awareness and research — so if you're spending on these terms, advertise appropriately by linking to content offers and blog posts.
By using these digital marketing trends for B2B technology companies, you will stay ahead of competitors and generate leads, sales deals, and customers.
---
Digital Marketing Trends for B2B Technology Companies Sources
The WholeBrain Group https://blog.thewholebraingroup.com/11-sales-enablement-stats-help-you-sell-more