The Bureau of Labor Statistics tells us 216,000 people were employed in marketing in 2012 — and the minimum education requirement was a bachelor's degree. Yet, with the advent of online certifications, MOOCs, and organizations like GeneralAssembly, it is within reach to land a great marketing job without a degree. These tips will help.

The digital marketing industry is thriving right now. There are positions available across the spectrum in this field — for search engine optimization (SEO) or pay per click (PPC) specialists, inbound marketing, lead generation, content marketing, user experience (UX) design, web development, and more.
#1 Experiment for Experience
While a degree in marketing or communications can help you get hired, the primary thing an aspiring digital marketer needs to demonstrate is hands-on experience.
Experience, you say? How are you supposed to get experience without the job first?
It's not as challenging when we're talking digital marketing. After all, you have your own personal brand to work with to start. You might:
develop a blog and install Google Analytics tracking code
SEO optimize your personal website or blog
launch a Twitter profile
start other marketing-focused or thought leadership social media profiles
create a podcast or webinar series
Additionally, it wouldn't be that difficult to find non-profit organizations that rely on volunteer assistance to market their cause. You can prove your passion for search, social media, coding, design or development while making a difference in your community.
#2 Learn the Language
As with any industry, digital marketing has its own vocabulary. For instance, you'll want to know the difference between a CRM and a CMS, SEO or SEM, or inbound and outbound. Of course, simply knowing what the acronyms mean won't take you far. You will need to develop expertise with some of these skill-sets.
Many digital marketers will also need to be agile with analytics as well. When someone asks you to discuss what you would do next if a landing page scores low for conversions, you'll want to be able to look at the available data and make informed suggestions. How can you prepare for that? Keep reading.
#3 Get Certified
Mastering marketing terminology and metrics will be easier if you take some of the many available online courses. Someone aspiring to a marketing job would benefit from gaining some useful marketing certifications. There are many free options on the web from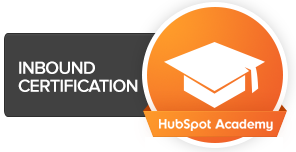 reputable resources, and the certification will give you credibility — degree or not.
#4 Talk to Humans
Yes, digital marketing takes place online, but you can't function successfully in the industry without engaging in the real world. Attending marketing meet-ups and conferences is a good way to learn what's happening in the industry and nurture relationships.
Meetup.com - join and attend some free marketing events
HUGS - HubSpot user groups
Marketing conferences
#5 Immerse Yourself in the Industry
You can also connect to the digital marketing community online by subscribing to relevant blogs, reading and reacting to comments for blogs, and keeping up on the latest news and technology evolutions.
You might:
Create RSS feeds for the industry topics that relate to your career interests.
Participate in free, online educational webinars.
Audit the work of agencies or clients you long to work with and determine what they do best and what suggestions for improvement you might offer.
Read books, magazines, and the business section of the NYTimes
https://www.ironpaper.com/articles/how-to-become-an-inbound-marketer/
#6 Revise Your Resume
This document is an indisputable pain to keep current, but you can never polish a resume enough. A reminder of the basics:
Tweak what you are presenting each and every time to highlight the experience that is relevant to that application.
Be specific about your accomplishments and experience to tell your story in relevant detail.
Revise. Proofread. Revise again. You will not be hired if try to convince an employer you are ever so "smrt."
Depending on what you want to do in digital marketing, it can also make sense to explore other alternatives to the paper CV such as a social or video resume. Don't forget to optimize your LinkedIn profile, too.
#7 Know The Audience
Marketing is all about effective audience targeting. You need to do the same in applying and interviewing for a marketing job. Ultimately, getting a gig in digital marketing — whether you have a marketing degree or not — will be easier if you can demonstrate your passion for the position and enthusiasm for the industry.
Before interviewing get to know the company and what it does:
Review the company website.
Search the company's social media presence.
Look up the firm and its employees on LinkedIn.
Be ready with targeted responses tailored to that agency or client when you get the chance to answer interview questions such as "why do you want to work with us" and "what draws you to digital marketing?"
Ironpaper is a growing agency, and we frequently have to reach out to find candidates to fill new positions as the company grows. Apply online: Inbound marketing job
Related reading
Social hiring a new trend for digital marketing agencies
https://www.ironpaper.com/articles/get-job-digital-marketer/
Sources
Swallow, E. (2010, October 2). 10 Tips for Aspiring Digital Marketers. https://mashable.com/2010/10/02/digital-marketers-job-tips/
Szastok, K. (2014, June 17). Things I Learned from a Year of Recruiting for a Digital Marketing Agency. https://www.stateofdigital.com/get-job-digital-marketing/