Choosing where to host your website? As you know, it's a huge decision, and many decision-makers wonder: HubSpot COS versus WordPress — which is better?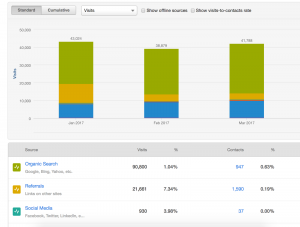 "Users produce about 76.9 million new posts and 41.4 million new comments on WordPress each month." – WordPress
If you don't make the correct decision up front, you could spend countless hours and resources transitioning to a new platform. That's why it's so important to understand the nuances between hosting platforms.
The truth is, it's not a simple answer. And the right choice depends heavily on what matters to your business in terms of lead generation, content creation, resources, and more.
So in this post, we'll show you how the two platforms stack up in major decision areas.
HubSpot COS versus WordPress: Content Creation
If you're investing in content marketing (and you should be!), then you'll want a platform that makes content creation, management, and optimization easy.
"Content marketing leaders experience 7.8 times more site traffic than non-leaders." – Aberdeen via Kapost
As a CMS (content management system) alone, we tend to prefer WordPress for the simplicity it brings to blogging. Originally built for blogging, WordPress has a great interface centered around content writing and planning: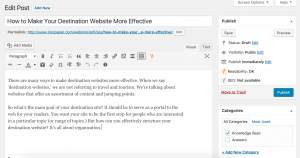 However, a CMS may only be one component of your marketing strategy. And if you want to dig deeper into strategic blogging for lead generation, you might want to consider your options. For example, you may want tools that help you with the following:
On-page and technical SEO
Content ideas
Social promotion
Visitor interactions with your content
Blog-driven visitor-to-lead conversions
While both WordPress and Hubspot offer tools for various content functions, HubSpot's are built into the software. Meanwhile, you must download WordPress plugins and learn how to use and integrate them.
But this may be a pro or a con, depending on your view: Do you like choosing from a constantly updated array of plugins/tools, or do you want a suite that's already built for your success, but that sees updates more slowly?
Additionally, if you're considering HubSpot for marketing/website and WordPress for your blog, you should also consider the benefits of "communicability" between your blog and the marketing platform.
It's helpful, for example, to know the conversion rates on your blog posts. And to see which of your leads engage with certain blog posts or topics — so you can identify opportunities to be relevant and nurturing.
Therefore, if you have a concept of a conversion on your website, and you want the content to be your primary conversion tool, we would recommend HubSpot over WordPress for blog hosting.
HubSpot COS versus WordPress: Search Engine Optimization
Additionally, you might need to consider SEO for your business model.
While WordPress offers great plugins for SEO (like the popular Yoast), you will need to add these plugins manually, and some are not free.
Furthermore, the WordPress built-in plugins often only account for on-page SEO (like keyword density, H1, and H2 keyword usage, and meta description):
Conversely, HubSpot's SEO tool can account for factors like page load time and linking throughout your site to build SEO credibility:
Additionally, HubSpot's keyword tool communicates with your content pages (if they're hosted on/linked to HubSpot). Therefore, you can monitor the ranking of your SEO targets and see which pages are contributing:
But WordPress' SEO plugins are also countless, so it really comes down to the same question: Do you want communicability between your SEO efforts (HubSpot), or plenty of tools to choose from that may perform independently of each other (WordPress)?
In conclusion, if you're interested in growing search engine strategy across your efforts, HubSpot probably offers a more comprehensive toolkit — at least for beginners who aren't interested in "trying on" and learning various SEO tools.
HubSpot COS vers WordPress: Website Creation
Perhaps the most competitive aspect of HubSpot COS versus WordPress comes down to hosting the website itself. And while there are several pros and cons to consider, it ultimately comes down to your:
Skill set
IT team
Preferred level of support
Time available to invest in updates and overcome any education curves
Budget
Desire for extensibility
If you have the skill set available, you can get very granular and achieve the designs that you want with WordPress. WordPress is used by both independent bloggers and large-scale companies like Forbes and Walmart. Therefore, it is a highly adaptable platform that you can use to create new functions and capabilities. While HubSpot does have a development layer, WordPress is extensible.
On the other hand, HubSpot comes with a set of its own pre-existing design conventions. But it is a simpler interface that you can utilize even without much development experience. For non-developers, HubSpot's drag-and-drop interface may be preferred.
Tip: The HubSpot marketplace offers plenty of free and paid templates for your website design. Additionally, many of the designers will offer customization packages.
Additionally, HubSpot is built around the inbound marketing methodology and the concept of lead conversions. This lends it to smart reporting on web metrics that matter to business growth.
You can also partner with a HubSpot agency for a custom design that integrates with your marketing strategy.
HubSpot COS versus WordPress: Marketing
In the marketing contest — at least in terms of full-funnel marketing — HubSpot is the clear winner. If you're interested in generating leads online, then using your website to nurture these leads into customers, HubSpot COS will offer you everything you need.
WordPress does offer plugins for marketers. However, the data between these plugins won't communicate as meaningfully as a fully-fledged marketing automation system like HubSpot.
In terms of marketing effectiveness, HubSpot offers comprehensive reporting panels. And you can easily conduct A/B tests to measure lead engagement on your landing pages:
Additionally, HubSpot will track lead data on an individual basis. Then you can use this data in your segmentation on your website, in drip campaigns, etc.
Tip: HubSpot offers LeadIn, a plug-in for WordPress, if you're currently a WordPress user but want to explore what HubSpot's software is like.
More specifically, the clear advantage of HubSpot is that lead data communicates across all your efforts — email, SEO, content publishing, keyword strategy, social media, and web pages — so you know who's engaging and how to improve their experience.
Conversely, with WordPress, forms, and CTAs must be built separately with plugins.
However, keep in mind that HubSpot does require marketing strategy and experience in order to show results. Remember that it is a tool — a powerful one — but not a magical solution to your marketing problems.
HubSpot COS versus WordPress: Cost
In this article, we've covered some of the major differences between HubSpot and WordPress. But for many marketers, the decision ultimately comes down to one thing: cost.
Commonly, you'll hear that HubSpot is the "premium" option while WordPress is the "low-cost" option. However, that description is not entirely true.
While WordPress is open-source software, and you can download it for free, it also has costs that can add up. For example, you can expect to pay for the following:
Security
Plugins, Themes, and Integrations
Support/IT services
Maintenance
Hosting
Development and customization
There's also the "cost" of learning disparate tools and investing the time to connect tools in a meaningful way.
That's not to say you will spend more with WordPress than with HubSpot... but keep in mind what might add up over time.
In terms of budget, many small businesses or startups consider HubSpot's platform to be costly and out-of-reach. Even if you pay for the marketing platform, you will still need to add on website hosting.
But it's worth considering that you're also investing in tools that help you generate and understand the ROI of both your website and marketing efforts. This may help pay for itself over time, as we see happen with many clients.
"Businesses that use marketing automation to nurture prospects experience as much as a 451% increase in qualified leads." – Annuitas Group
In Conclusion
In conclusion, if you want a platform with flexibility, freedom, and customization — and you have an IT team or the skills to dig in — you might want to opt for WordPress. And if you prefer a comprehensive, intuitive suite that's built for marketing work (and integrates strategy with your website), go with HubSpot.
Related Reading: Is WordPress an Enterprise-Level CMS?
---
Sources
WordPress. "Stats." https://wordpress.com/activity/
Aberdeen, via Kapost; Leas, Christine. (2013 November 21.) "8 More Content Marketing Stats to Knock Your Socks (Back) Off." https://marketeer.kapost.com/content-marketing-stats/
Annuitas Group. (2012 November 27.) "Marketing Automation By The Numbers (Infographic)." https://www.business2community.com/infographics/marketing-automation-by-the-numbers-infographic-0342287