As with any large purchase, it's easy to take the price tag as the most important factor when deciding if the expense is worthwhile. But transitioning from Mailchimp to Hubspot is not just a question of money but also the vision and execution of your overall marketing efforts. Teams that are unprepared to learn and use Hubspot's many features may not get the most value out of their CRM, while those who find their efforts successful can outgrow MailChimp quickly.
In the end, the question of HubSpot vs. MailChimp comes down not only to features but to the ability to fully integrate your email program within your CRM. It's the difference between a simple and sophisticated marketing approach.
While MailChimp may not require as much effort or advanced skill sets, you will lack valuable information in your CRM which can help you nurture, sell to, and generate leads using email analytics.
Features for MailChimp and HubSpot
Both HubSpot and MailChimp can be used for sending mass marketing emails. Beyond basic email functionality like drag-and-drop templates, responsive designs, and in-text editors, both HubSpot and MailChimp can be equipped with more complex tools.
For HubSpot, all of its more advanced email features come out of the box with a mid-tier HubSpot subscription. For example, you'll instantly get the ability to send segmented emails based on user data, run A/B tests, and assess granular analytics. New features are also added automatically without the need to download or maintain them.
For MailChimp, you may need to integrate add-on features to get the related tools. Mastering the integrations that allow for more complex operations can be time-consuming, requiring multiple accounts and logins (Berger, 2018). While many of these integrations are free or low cost, they need time and testing before deployment, which can slow down your speed to launch.
If you want to do more than send and segment emails, and if you want rich data insights to assess the performance of your email campaigns and refine them over time, HubSpot is built for the task.
A Scalable Approach to Lead Nurturing
As many digital marketers know, email is most effective when it's relevant -- the right email, at the right time, to the right person. While theoretically, you could manually segment your lists to target within MailChimp, you will lose your ability to scale up your efforts with lead nurturing.
Since HubSpot integrates your email tool with your wider CRM, you can create "set it and forget it" automated email workflows for a variety of nurturing functions, such as:
Form submission follow-ups,
Triggered nurturing campaigns,
Re-engagement campaigns after periods of inactivity,
Ongoing subscriptions
With HubSpot, you can also easily tailor your emails with lead data from your CRM by using personalization tokens. As new information is gathered on your email recipients, you can simply reference new data points in your automated emails. And list building by different filters is quick and painless. You can create segmented lists in seconds, with no copy and pasting email addresses.
With MailChimp, to send tailored emails, you will first need to build your targeted lists from scratch. This is time-consuming and can quickly become riddled with errors. While there are some basic automation tools, you will lack the ability to scale up email nurturing based on a wide variety of CRM factors and data points.
For organizations who want to scale up their email marketing efforts and send automated nurturing campaigns -- and who are willing to learn the tool or hire an agency to help -- HubSpot is the more advanced solution.
Determining the Stage of Your Marketing Efforts
If you aren't ready to manage it properly, Hubspot can become full of unsegmented information and unmanaged contacts. If you are in the early stage of marketing efforts and only want to launch email campaigns and monitor how they perform, you may find that Hubspot is too robust for you. MailChimp integrations will allow you to create and segment lists, as well as monitor their effectiveness, which may be all you need if you want to keep marketing efforts simple.
But if you're ready to reach more leads with more targeted campaigns, and build a data asset of email analytics, then HubSpot makes sense for you.
How Big Is Your Marketing Team?
Small marketing teams can struggle to use HubSpot to its full potential because creating and deploying new workflows, assessing data, and launching email campaigns take time and skill. While HubSpot is designed to make the process of creating actionable, automated emails easy for anyone, team members with little to no experience may struggle to put these pieces together right away.
HubSpot offers amazing insights into who is visiting your website and how they interact with your content, but only if you know how to set up these features correctly. Novice users may find themselves struggling to set up reports that highlight key information and interpret the data Hubspot gives by default -- and in this case, MailChimp is a simpler option that most teams will understand on day one.
What Does Growth Mean to Your Business?
Success with the inbound method can lead to a steeper price tag, as HubSpot's pricing will rise as your list of contacts grows. With some analysis, you can determine the cost per lead of bringing visitors to your site and determine if the investment you make in the CRM is worth the price increase. Similarly, more complicated campaigns and lead flows will require more management and can end up costing you more if you are paying someone to manage Hubspot for you.
The Basic Hubspot package carries the lowest price tag and allows you to have three user logins with a maximum of 100 contacts. For many enterprises, this simply isn't enough to run a campaign and decide whether it was effective. You can remain on this plan and add to your network for an additional $100 per 1,000 contacts (Jacobson, 2015).
While small teams with simple information sharing goals may decide that the savings offered by MailChimp is worth the extra effort, larger teams with more to accomplish are likely to find that HubSpot is well worth the expense.
HubSpot is ultimately an all-in-one marketing to sales platform. This article primarily focuses on HubSpot versus MailChimp's email capabilities, but for HubSpot, email is just the beginning of the conversation.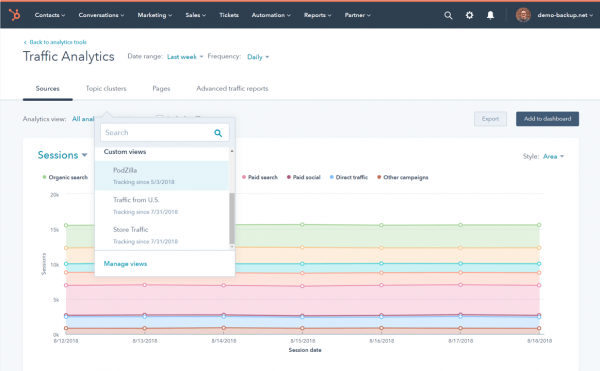 HubSpot provides a wider arsenal of tools for building awareness, attracting and converting leads, and turning those leads into business. Tools such as dashboard analytics, contact timelines, automated segmentation, activity alerts, and inbound source reporting will help modernize a company's approach to marketing.
Stated simply, if your organization is looking to improve lead generation and grow the number and size of sales opportunities, HubSpot is a clear choice.
See related: Does HubSpot Work With WordPress? — Using HubSpot with WordPress. A Quick Guide.
Sources
Berger, B. (2018, February 15). 10 Advanced MailChimp Features You Probably Forgot About. Retrieved from Brittany Berger: https://www.brittanyberger.com/advanced-mailchimp-features/
Jacobson, B. (2015, April 24). How Much Does HubSpot Cost and Is It Worth The Price Tag? Retrieved from Lean Labs: https://www.lean-labs.com/blog/how-much-does-hubspot-cost-and-is-it-worth-the-price-tag