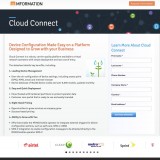 Landing pages are those areas of a website where visitors arrive after clicking an ad, a social post, a referral, or a search listing. There are typically many pages on a website that acts as natural landing pages in that visitors "land" there first--and bypass the homepage. A website will have many natural landing pages, but marketers work hard to create highly effective landing pages to drive leads into a sales funnel. Highly specialized landing pages act as lead capture pages.
The purpose of a website landing page is not just to drive traffic and visibility for a brand. These effective landing pages have a transactional purpose.
55%: Increase in conversion when keeping relevant, focused, important information on single page. (Hubspot)
Purpose of a website landing page
Effective landing pages are transactional landing pages.
Not all landing pages are effective. The effectiveness of a landing page is determined by its conversion rate or engagement rate.
Effective landing pages are free of distractions. They typically have a singular focus or value proposition--a single compelling reason to be a cause for conversion. They provide enough information to attract and convert a prospect but not too much information to cause for a prospect to feel overwhelmed, distracted, or confused.
Effective landing pages also contain lead capture forms. Visitors should not have to click to other pages to understand the value proposition and feel enticed to fill out the form.
Companies with 30 or more landing pages generate 7x more leads than those with fewer than 10. (HubSpot)
How to discover existing landing pages with Google Analytics
Using Google Analytics, marketers can discover existing (natural) landing pages within a website. It's a good practice to continually monitor these first impressions and make refinements to these pages. Using Google Analytics, go to "All Traffic" and select "Land Pages" under "Behavior." This will give you a filtered list of your top landing pages based on total traffic. This does not imply that these pages are effective landing pages. Many of these natural "landing pages" need to be converted and redesigned.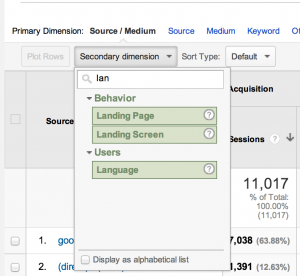 According to Marketing Sherpa, 44% of clicks for B2B organizations are guided to a website homepage, not a landing page. This phenomenon is a problem.
Iteration, testing and ROI
Testing and iteration are critical processes for gaining a return on investment for marketing with landing pages. Many landing page elements can affect a prospect's decision to convert, including title, design, value proposition, supplementary content, the structure of the page, responsiveness, form questions, and the offer.
The following graph is taken from MarketingCharts.com based on an Ascend2 report (in partnership with Research Underwriters) on how testing is employed within successful and unsuccessful landing page strategies. One outcome of the study showed how "very successful" landing pages used more limited to extensive testing than "not successful" landing pages.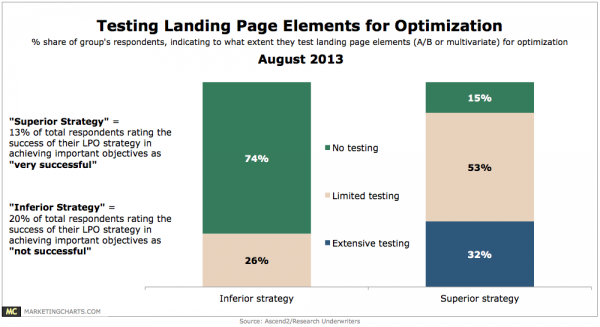 Building an effective landing page
Remove all distractions
Reduce navigation (keep visitors focused)
Align the ad message with the landing page message - make it a singular focus
Include a lead capture form or transaction tool to immediately win new contacts from the page
Ability to measure the conversion rate for the landing page
Ability to capture and record leads and associate them with the landing page
Ability to determine which source leads to a conversion
Test and iterate with landing page messages, content, and design
Further reading: Tips for B2B landing pages and how to improve website conversion rates