Nonprofits need to be careful stewards of their money. A reluctance to take money away from the mission can stand in the way of implementing best marketing practices or embracing marketing automation technology that can help extend reach and win new advocates.
Yet most nonprofits already recognize the direct mail model won't work alone anymore. For instance, the findings in Blackbaud's Generational Giving Report suggest that Generation X gives most frequently. This is a population that is better targeted online.
The web is expanding the opportunities for both large and small donations while also giving advocates more reach than ever before.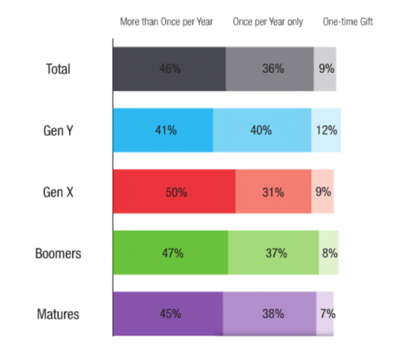 According to the 2016 Global NGO Online Tech report, 92% of the 2,780 NGOs surveyed had a website and 46% regularly published a blog. Among the NGOs surveyed in 133 countries, 75% regularly send email updates to donors and supporters.
What's missing then is an inbound marketing approach. Being an inbound nonprofit means optimizing the website, blogging consistently, optimizing for conversions, producing other high-quality content, maintaining a social presence, and personalizing emails, among other inbound tasks.
The Inbound Methodology
Nonprofits can better accomplish their goals following Inbound's four fundamental stages: Attract, Convert, Close and Delight.
Attract. Today, most nonprofits in North America are already attracting potential partners, donors and volunteers via social media. According to the 2016 Global NGO report, 95% of NGOs worldwide use Facebook, while 83% have twitter and 40% employ Instagram.
Social is only part of a comprehensive digital marketing strategy, though. The attract stage is an opportunity to emphasize the organization's accomplishments, expand mission awareness, and improve fundraising success.
"Nonprofit and inbound fits perfectly together we have great content and great stories and so we just give people what they want and hopefully nurture them into being givers for our organization," Joshua Smith, Digital Experience Coordinator of ShowHope in Tennessee, said in a HubSpot testimonial video.
Convert. Nonprofit conversion is more than simply collecting email addresses. This is about engaging the prospect in an action such as signing a petition, following a social media feed, or volunteering, thus converting the prospect into an active mission community member. Additionally, nonprofits need a conversion strategy for sustainability. Building a solid inbound framework for a nonprofit should also account for increasing donations from inbound sources and nurturing donors into recurring giving. Analytics need to be guiding the communication decisions for inbound nonprofits.
Close. Nonprofits' fundraising drive fits well with Inbound's emphasis on hyper-personalized content and nurturing prospects. Keeping a donor focused on the nonprofit's efforts that align best with their interests is easier through Inbound's lead tracking and customizing of form data. The inbound methodology needs to guide the close rate for potential donors exploring giving opportunities, as well as how engaged donors are affected by nurturing activities.
Delight. In the age of peer-to-peer social fundraising and online giving, nonprofits must think of delighting their supporters such that they want to extend mission awareness and widely share campaign initiatives. This effort includes building an advocacy base, and measuring the effect of advocate activities.
Why Inbound is worth the investment.
Inbound marketing best practices, and customer relationship management (CRM) software such as HubSpot's, can make a major difference for nonprofits. Why?
Inbound methodology is data-driven. With CRM software the nonprofit can gather actionable insights about donors, volunteers or other supporters.
This enables greater personalization of communications demonstrating the impact of the organization's work, a volunteer's contribution or a funder's donation.
Inbound encourages aligning various stakeholders while also streamlining social media and marketing initiatives in automated workflows – which can free people up for other mission critical efforts.
Inbound marketing can move the needle
Whether a nonprofit is seeking more volunteers, board members, donors, partnerships or aims to raise awareness, inbound marketing best practices can help an organization become more self-sustaining. Nonprofit marketing must embrace the digital space, which allows their efforts to be measurable.
Inbound nonprofits need to become more data driven in their decision-making process. Here are a few metrics to begin tracking to help improve and scale inbound efforts monthly/yearly:
Donations from online sources.
Number of monthly acquired subscribers or leads (contacts with gift potential)
Subscriber to donor conversion rate
Donor conversion rate (overall visitors to donations)
Conversion from one time donor to recurring giver
Increase in donations from month to month
Donations attributed or assisted by a source (SEO, social, Facebook, Google Ads, referral partner)
ROI: Investment in marketing communications and the outcome of that investment
Sources:
20 Must Know Fundraising and Social Media Stats. (2015, September 16). https://www.nptechforgood.com/2015/09/16/20-must-know-fundraising-and-social-media-stats/
25 Facts and Stats about NGOs Worldwide (n.d.). https://techreport.ngo/facts-and-stats-about-ngos-worldwide.html
Arriaga, D. (Feb 26, 2015). Inbound Marketing for Nonprofits: Is HubSpot's Model the Right Fit? https://blog.denamico.com/inbound-marketing-for-nonprofits-is-hubspots-model-the-right-fit
Daigneault, S., Davis, M. and Sybrant, M. (2011). Connecting Online Advocacy and Fundraising.
https://www.blackbaud.com/files/resources/downloads/WhitePaper_ConnectingOnlineAdvocacyAndFundraising.pdf
Increase Awareness and Compel Action. (n.d.) https://www.hubspot.com/nonprofits
Taylor, C. (2014, January 30). 14 Inbound Marketing Myths Nonprofits Should Stop Believing. https://blog.hubspot.com/marketing/nonprofit-myths-about-inbound-marketing-list