By Chantel Hall, Marketing Content Specialist
Digital marketing relies heavily on strong writing.
Copywriting and content writing — two critical functions of successful digital marketing — are sometimes talked about as being interchangeable, but they actually achieve different goals for marketers. Used in conjunction and executed by talented writers, they can convey a unified, buyer-focused message that attracts and converts.
In this blog post, we'll teach you the difference between copywriting and content writing and demonstrate how you can use both to achieve your marketing goals.
The average B2B buyer spends about 27% of the buying process researching solutions independently before making contact with a business.2
Copywriting vs. content writing: definitions
The word "copywriting" might bring to mind Mad Men's Don Draper giving a serious-sounding presentation about an ad campaign for hot dogs, but since the 1960's the practice has evolved rapidly alongside digital marketing. Copywriting is essentially any writing done for marketing purposes and is usually focused on getting the reader to take a specific action.
Content writing, on the other hand, is a more specialized form of copywriting specific to content marketing. Content marketing is used to build rapport, engage leads, and maintain customer relationships — not to explicitly sell a product or service — so the content written is distinct from other forms of copywriting. Instead of directly selling your product, it might be used to educate leads on an issue specific to their business or provide insight into the future of the industry.
Content writing is a key component of digital marketing because B2B buyers do so much research online before speaking with a salesperson. The average B2B buyer spends about 27% of the buying process researching solutions independently before making contact with a business.2 Content writers are trained to frame solutions within a buyer-focused context and to clearly write about complex challenges and solutions. The impact of content is growing: about 75% of the most successful marketers expect their content marketing budget to increase in 2022 and beyond.1
It may help to think of copywriting as directly promotional or advertising writing (used to sell your product or prompt a specific action) while content writing is indirectly promotional and used to position your company as a thought leader or educate leads on the pain points you can help them address.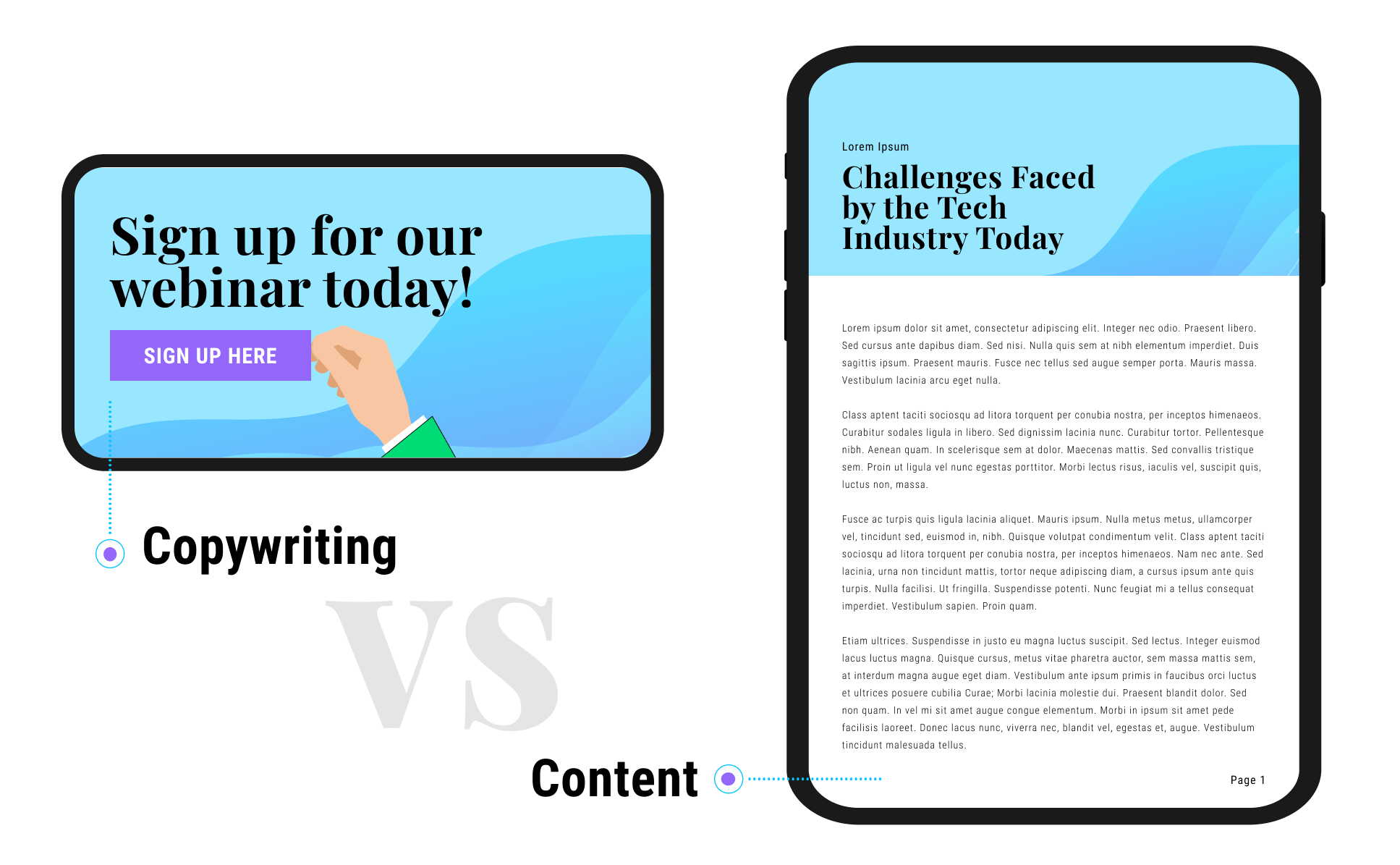 Using copywriting and content writing together
Used together, copywriting and content writing can create a cohesive buyer's journey and customer experience that both educates and engages leads.
On its own, copywriting can encourage readers to fill out a form or visit a website, but without substantive content to educate leads on their pain points and potential solutions, they're unlikely to meaningfully engage with your marketing. On the other hand, strong content writing can educate leads and show them a path to a solution, but without engaging copywriting, they won't be prompted to take the actions that lead to conversion.
Since the distinction between copywriting and content writing may be difficult to image in practice, below are just a few examples of the ways they're used in conjunction.
In a lead nurturing email with links to educational blog posts and

a call to action (CTA)

at the bottom to contact a salesperson, the email copy and CTA are copywriting, while the educational blog posts are content writing.
In an ad campaign promoting a case study, the case study itself is content writing while the ads and social media posts directing people to visit the website are copywriting.
In an education blog post about a specific industry challenge your buyers are facing, the blog post itself is content writing while any CTAs used throughout the blog post are copywriting.
Using copywriting and content writing to create effective content
Copywriting and content writing are distinct types of writing, but they should feel cohesive to the reader and both speak to your buyer's pain points. Understanding the differences between the two types of marketing writing can help you ensure you're utilizing both effectively and blending them together to create a successful buyer's journey.
Sources
1Content Marketing Institute, 12th Annual B2B Content Marketing Benchmarks, Budgets, and Trends, 2021
2Gartner, 5 Ways the Future of B2B Buying Will Rewrite the Rules of Effective Selling, 2020