Social media is, first and foremost, a way to stay in touch with friends and family. Yet, social media also fills spare time and helps people stay current on the news. No wonder, then, that marketers continue to embrace B2B social media as the second most effective channel for distributing content.
In fact, email only squeaked past social media (28% versus 27%), with the website being ranked third (26%) most effective channel for distributing content in a May 2016 Regalix study.
What else should the marketer know about B2B social media marketing platforms and related trends today?
In the U.S., "a relatively modest share of workers say they have incorporated specific social media platforms into their day-to-day work lives," according to the Pew Research Center. Facebook ranked most prevalent used at 19%, with LinkedIn at 14% and Twitter only used for work-related purposes by 3% of workers.
The following statistics offer a further snapshot of global social networking behaviors and attitudes to help guide B2B social media strategy.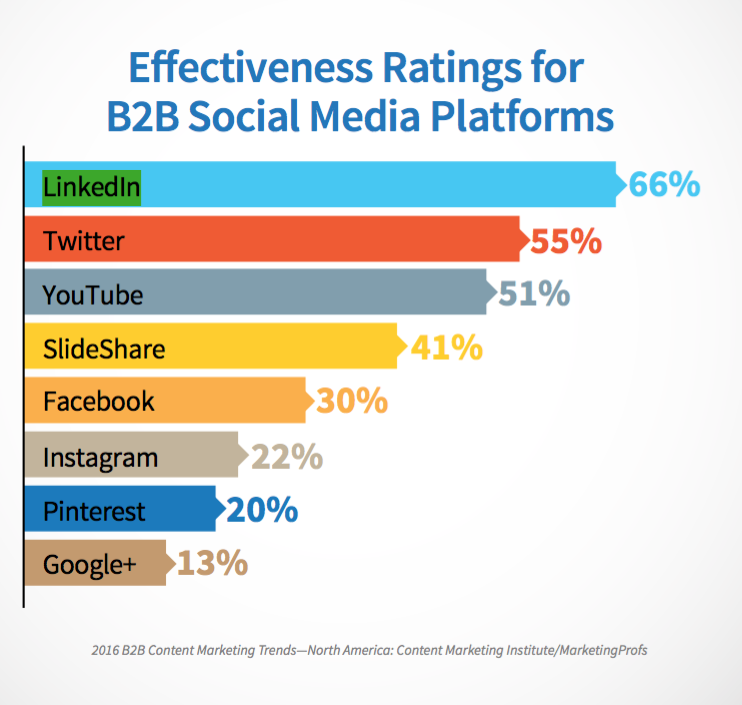 1 in 3 minutes spent online is devoted to social networking and messaging. (3)
97% of online adults globally say they have visited or used a social network within the last month. (3)
Daily average time spent social networking is 1 hour and 51 minutes. (3)
Facebook is the second most-visited digital property in the U.S. at 206,480 unique visitors, behind Google sites (243,601), with LinkedIn (119,192), Twitter (117,545) and Pinterest (86,649) all in the top 25. (7)
LinkedIn, Twitter, Facebook and YouTube are the top 4 social media platforms for B2B. (2)
Facebook posts with images see 2.3X more engagement than those without images. (12)
B2B content marketers employ an average of six social media platforms. (2)
94% B2B organizations use LinkedIn to distribute content. (2)
Instagram is the fastest-growing major social network, yet used by only 29% of B2B marketers. (11, 2)
Typical time spent on Instagram is 5 minutes 54 seconds. (9)
Facebook remains by far the top service globally for membership (82%) but YouTube maintains a lead for visitors/users (85%). (3)
Articles with an image once every 75-100 words got 2X the shares of articles with fewer images, and a minimum of 30 more shares than articles with more. (12)
1 in 3 ad-blockers are worried about data allowances. (1)

40% of internet users are LinkedIn members. (6)
Among the top 25% income segment, close to half of Internet users are LinkedIn members. (13)
LinkedIn had 969 million site visits in May 2016. (10)
LinkedIn was ranked most effective social media platform by B2B marketers, with Pinterest and Google+ decreasing most from 2015 ratings from CMI. (2)
51% of B2B marketers use social media ads in their paid content distribution efforts. (2)
Related reading: Take Control of Your Social Media Marketing Strategy

Sources:
1. Buckle, C. (2016, June 24). 1 in 3 mobile ad-blockers worried about data allowances https://www.globalwebindex.net/blog/1-in-3-mobile-ad-blockers-worried-about-data-allowances
2. Content Marketing Institute and Marketing Profs. (2016). 2016 B2B Content Marketing Trends—North America: Content Marketing Institute/MarketingProfs. https://contentmarketinginstitute.com/wp-content/uploads/2015/09/2016_B2B_Report_Final.pdf
3. Global Web Index. (n.d.). GWI Social Q2 2106: Flagship Report Series. https://insight.globalwebindex.net/social
4. Mander, J. (2016, June 10). 4 in 10 use social media to fill up spare time. https://www.globalwebindex.net/blog/4-in-10-use-social-media-to-fill-up-spare-time
5. McGrath, F. (2016, June 14). 4 in 10 Internet users are LinkedIn members. https://www.globalwebindex.net/blog/4-in-10-internet-users-are-linkedin-members
6. Olmstead, K., Lampe, C. & Ellison, N. B. (2016, June 22). Social media and the workplace. https://www.pewinternet.org/2016/06/22/social-media-and-the-workplace/
7. Pulizzi, J. (2016, June 29). LinkedIn Purchase Will Spark Brands into Buying Media Companies. https://contentmarketinginstitute.com/2016/06/linkedin-buying-media-companies/
8. Regalix. (2016, May). State of B2B Content Marketing 2016. https://www.regalix.com/wp-content/uploads/2016/05/State-of-B2B-Content-Marketing-2016.pdf
9. SimilarWeb (2016, May). Instagram. https://www.similarweb.com/website/instagram.com
10. SimilarWeb (2016, May). LinkedIn. https://www.similarweb.com/website/linkedin.com
11. Young, K. (2016, June 27). Instagram membership continues to rise. https://www.globalwebindex.net/blog/instagram-membership-continues-to-rise
12. Pinaton, A. (2015, May 20). How To Massively Boost Your Blog Traffic With These 5 Awesome Image Stats. https://buzzsumo.com/blog/how-to-massively-boost-your-blog-traffic-with-these-5-awesome-image-stats/