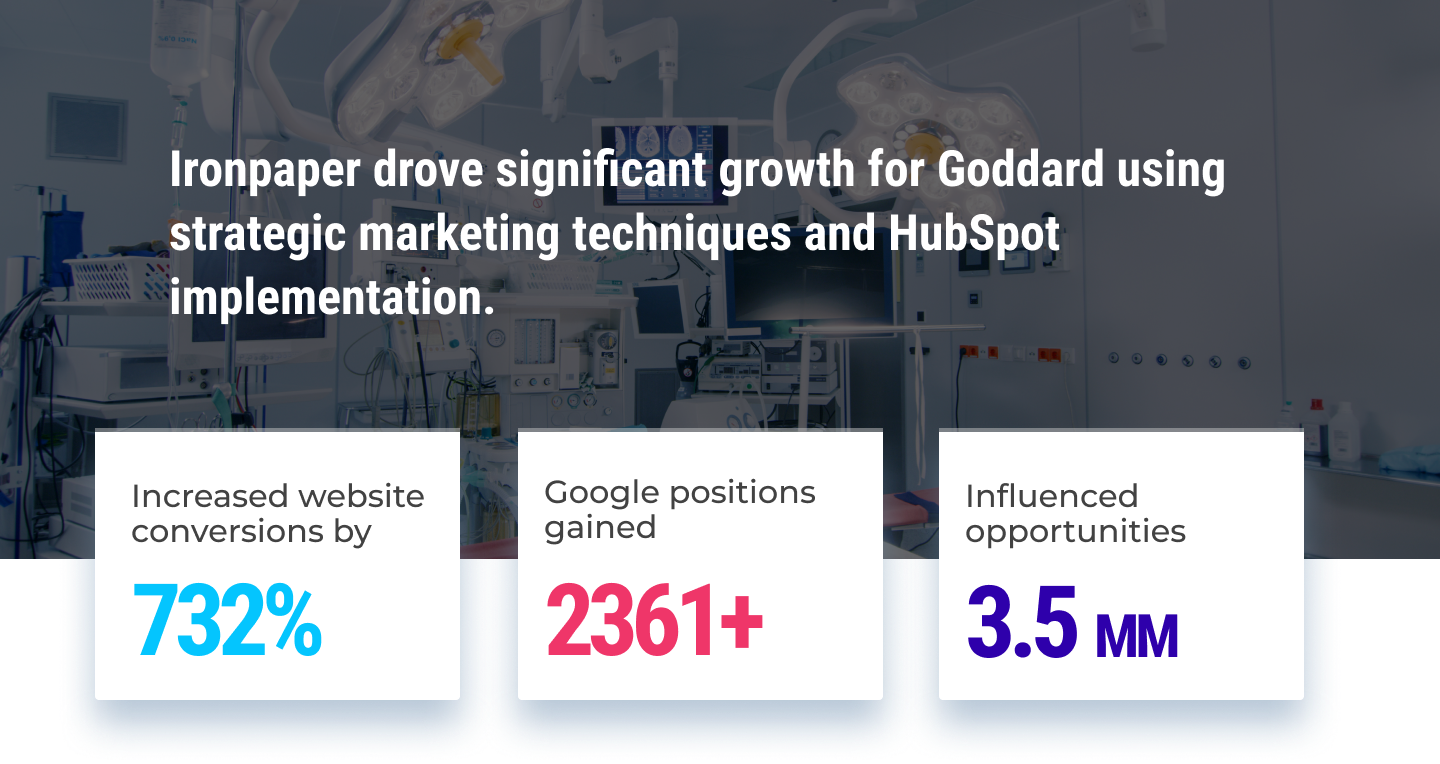 While Goddard fills a real need for their customers by designing medical devices, life sciences technology and industrial robotics, historically they've struggled to find quality leads that could use their services. Instead, their website attracted a lot of spam and unqualified contacts.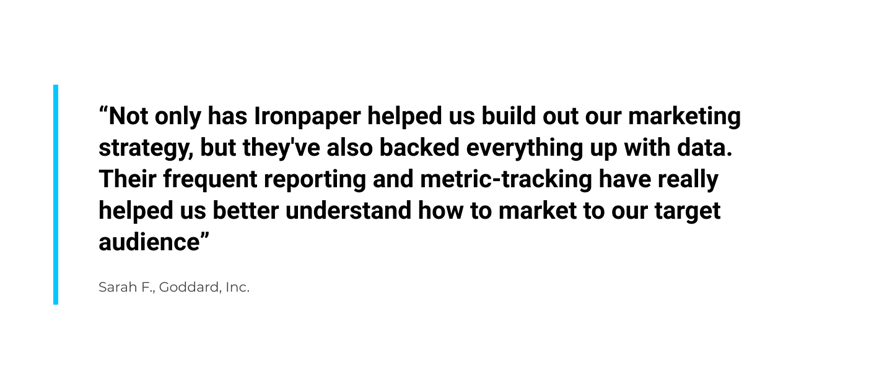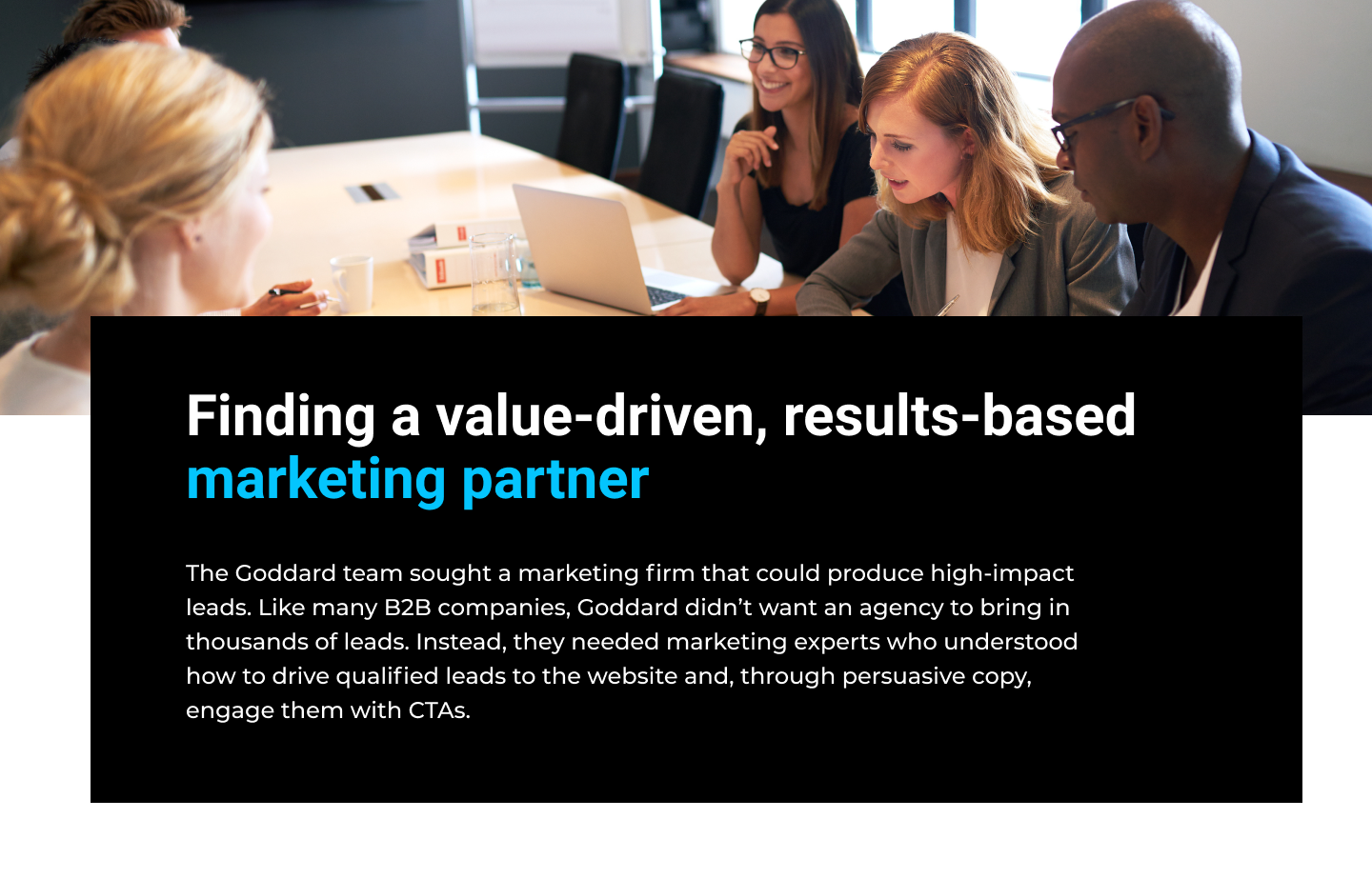 Goddard looked for a partner that understood technical B2B concepts and how to align sales and marketing channels to nurture qualified leads down the funnel. This alignment was a significant challenge for Goddard, who wanted a more cohesive team that could work together.
Goddard struggled with working with agencies in the past, who typically ended up over budget and did not communicate with them effectively. They wanted a team that could produce a clear ROI on all marketing efforts and heighten brand awareness. Furthermore, certain marketing efforts, such as paid advertising, were new to the Goddard team, so they needed a company with expertise that could guide them through the process of an omnichannel experience.
Before working with Ironpaper, Goddard implemented various marketing efforts, but they did not have the team to foster a cohesive, omnichannel strategy. The team's in-house marketer was an excellent writer, but she looked for a partner to offer strategy behind the writing.
SEO Strategy Fuels Qualified Lead Generation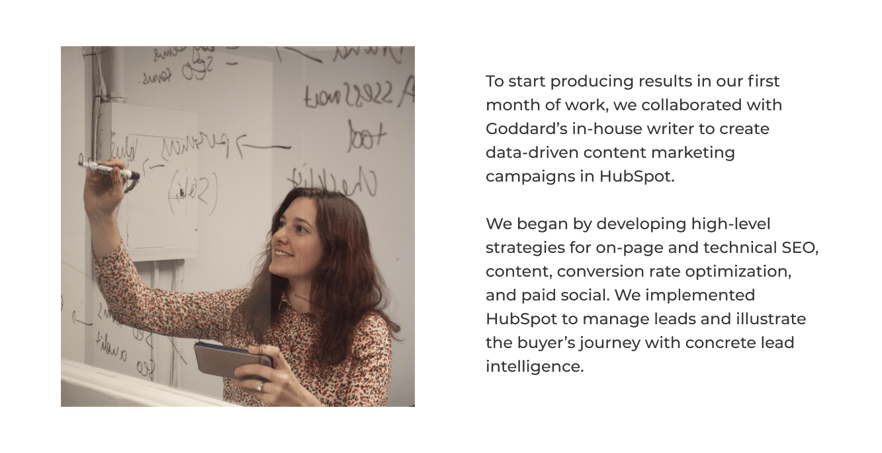 We began with critical SEO updates on the Goddard site. Specific tactics included:
Developed pillar pages around highly relevant terms with good search volume.
Redesigned homepage menu for a better user experience.
Drove Goddard's content strategy through keyword-focused blogs and web pages.
Executed internal linking and optimization strategy.
Fixed technical SEO issues such as broken links, missing meta tags, and more.
Improved website speed.

By deleting irrelevant pages that brought in unqualified prospects, we reduced the amount of spam and unqualified leads that landed on the site. While this impacted organic search traffic in the short-run, we were able to bring those numbers back up the following month with a robust content strategy that targeted the right people.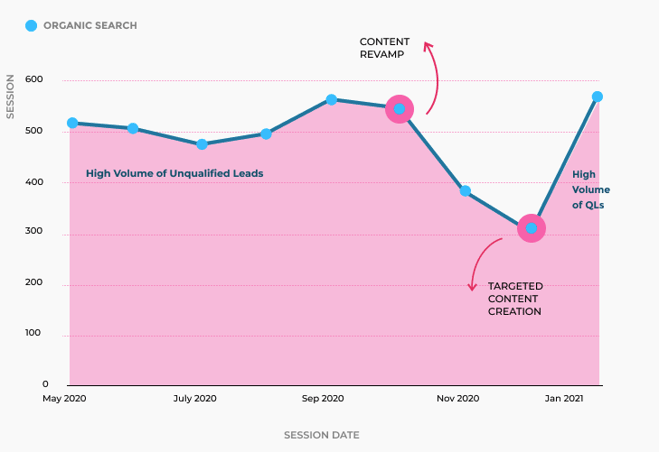 Using HubSpot for Conversion Rate Optimization
Our content team's research efforts took a deep dive into Goddard's buyer definition. By first looking at who the buyer is and building an Ideal Customer Profile (ICP) in a descriptive, defined way, Ironpaper understood exactly whose needs we are addressing. Working with Goddard, we narrowed down the ICP and avoided targeting everyone. Instead, we focused our energy on a niche group of buyers so we could address their needs on a deeper level.
After defining these buyers, we wanted to understand their specific pain points, exploring how these prospects solve their problems, the array of options available, the cost of not solving these pain points, and who exactly experiences them. Another critical purchase-driver we analyzed was market forces. These macro-influencers trigger buyers to take action in key industries and contextualize Goddard's unique value.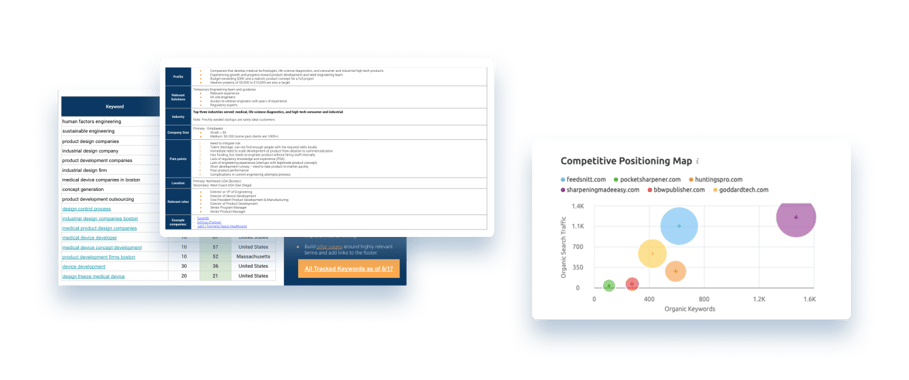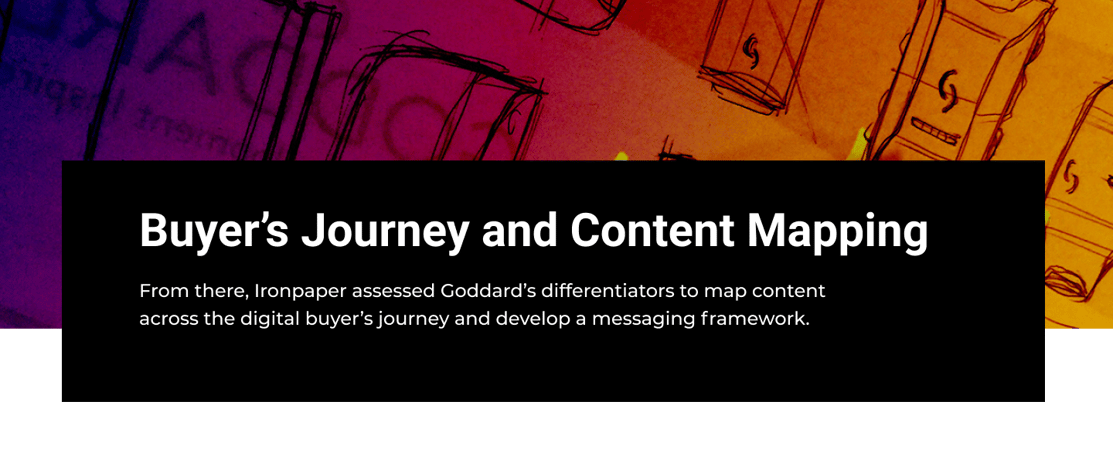 These assets empowered us to create and optimize content in a way that speaks to their audience. We also used several other conversion rate optimization strategies to help Goddard gain 2,361 Google positions in eight months:
Implemented HubSpot CTA's across the website and blog, so users took action when landing on the website. We could then track leads that interacted with landing pages and content.
Replaced Gravity forms with HubSpot forms to better understand customer pain points and challenges and identify industries and job functions.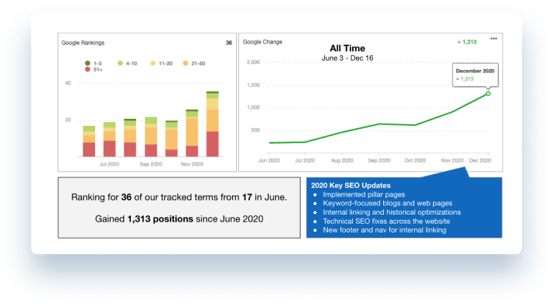 Created Hubspot landing pages with gated content offers to attract customers and gather lead intelligence.
Placed HubSpot pop-ups forms and a CTA button that matched relevant content offers on the key pages to ensure customers had the right information at their stage in the buyer's journey.
Reordered the navigation structure for better UX.
Improved messaging across main pages to speak directly to the buyer and educate them on pain points and opportunities.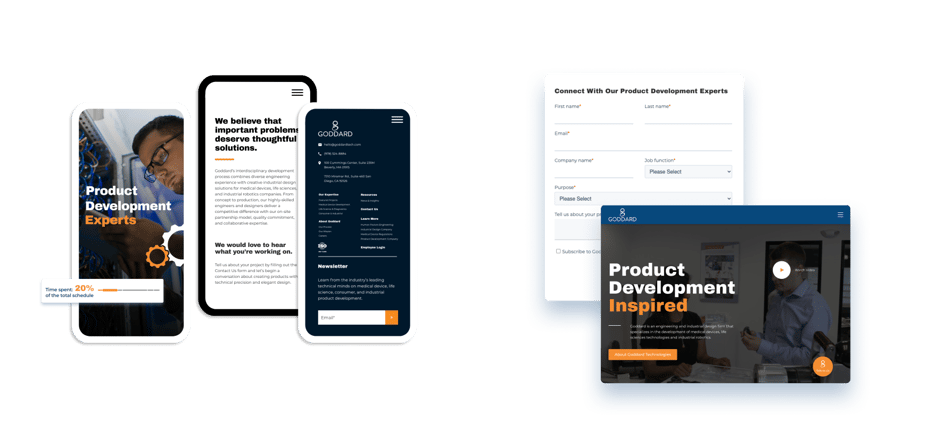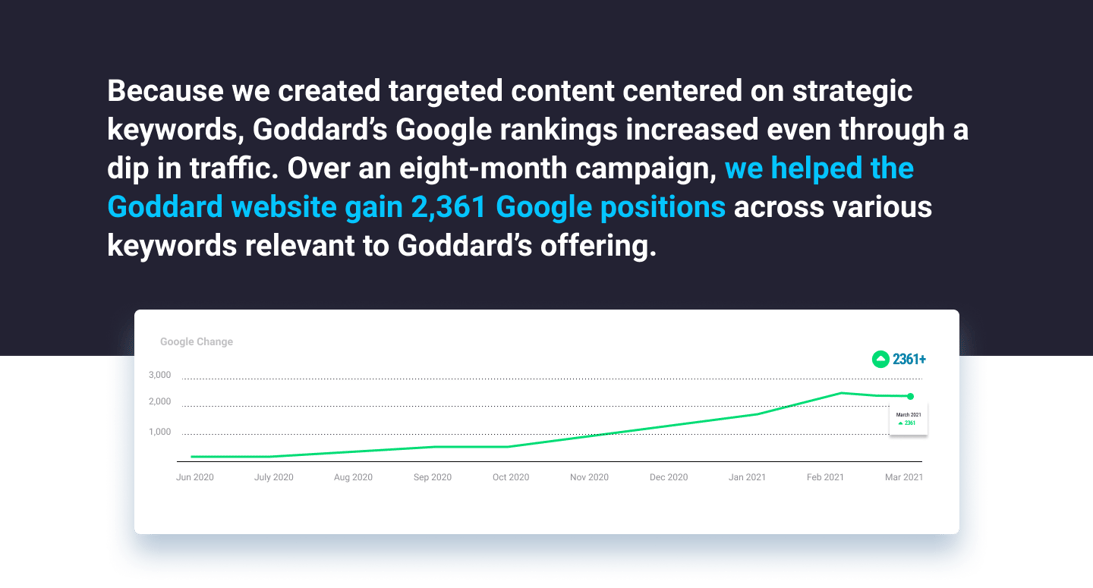 Paid Social
Ironpaper created LinkedIn ads that targeted the awareness and consideration stages in the sales funnel. By matching content offers to where buyers were in the sales funnel, we got in front of the key demographic that would likely use Goddard's services.
We had considerable success with LinkedIn Carousel ads. The industry standard for average cost per lead with LinkedIn ads ranges; most industry sources point to $75 per lead. Our LinkedIn Carousel ads only cost Goddard $42.11 per lead, well below industry benchmarks.
To date, we have a healthy total conversion rate of 12% across all campaigns tested, and the total cost per contact well below the LinkedIn average ($130-$150). Using the HubSpot ads tools, we could aggregate data on the dashboard to identify which ads perform the best.

HubSpot's Lead Management and Intelligence
Goddard had deep insight into who went to their website, what they did while there, and whether they converted thanks to HubSpot Marketing Hub. Before working with Ironpaper, the Goddard team lacked that insight, so they could not make strategic marketing decisions. Using HubSpot, Ironpaper can vet each lead and update their lifecycle stage to see how they convert along the sales funnel.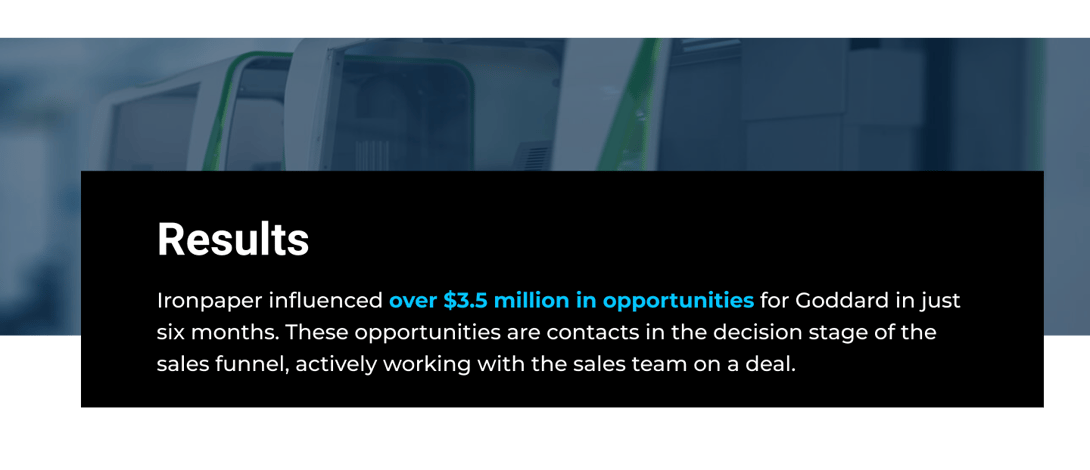 Goddard's visibility has drastically improved. Goddard gained 2,361 positions in Google through our SEO keyword campaign. They now rank in the top 100 for 50 strategically targeted terms.
First page for "medical device development experts"
Second page for "medical device development" (increasing from no ranking at the beginning of our campaign)
These improvements will continue to grow over time and have a positive impact on qualified lead generation.
Ironpaper helped Goddard learn key insights about their buyers. We discovered what content resonated with this audience and used our insights reports and dashboard to monitor progress in HubSpot. Broad themes did not perform as well as specific guide content that addressed channels of specific verticals such as medical. Ironpaper also found that LinkedIn carousel ads performed much better than any other ad type.
As we continue our work with Goddard, we look forward to iterating a strategic campaign full of insights that resonate with their buyers. We will continue to surface insights using the HubSpot reporting tools to understand buyer challenges and inform new content that will best educate buyers.
Client Testimonial