Giving back is growing, much to the delight of nonprofits. It's more important than ever for marketers to keep up with new nonprofit marketing ideas. In fact:
Total giving is expected to increase 3.6% in 2017 and by 3.8% in 2018.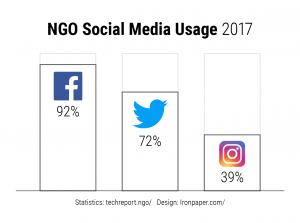 As a way to appeal to a larger audience, nonprofits have turned to online fundraising.
In fact, 92% of NGOs worldwide have a Facebook Page, 72% have a Twitter Profile, and 39% are active on Instagram according to the 2017 Tech Report.
What many nonprofit organizations don't have, however, is time. But, there are effective ways to get more donations online and create recurring donors. Here are nine nonprofit marketing ideas to increase online donations.
Generate Demand for New Donors: Nonprofit Marketing Ideas
The average person has 5.5 social media accounts and is active on 2.8.
Therefore, nonprofits need to utilize social media and digital channels to attract new donors. Here are some easy ways to increase online visibility and donations.
1. Pin Wishlists to Social Media Channels
Are there certain items your nonprofit needs that donors can easily purchase? Create an Amazon Wishlist (if you don't already have one), so prospective givers know what is needed. Then, be sure to pin it to the top of all of your social media channels so that it is always prominent and easy to find. Facebook, Twitter, LinkedIn, and Pinterest all allow a 'pin' function, which helps busy donors see how they can help quickly.

2. Tag Everyone
When posting pictures on social media, be sure to tag volunteers, employees, partner organizations, and anyone involved in the image. That way the image will be seen by many more people who can then click over to your social media page to find out more about your organization (and immediately see your wish list).
3. Use Hashtags
Many organizations will hashtag their organization name, but unless your company is very well-known, it might not get the broad reach you want. Try more general hashtags that potential donors might search for, such as #findacure or #endpoverty. You can then link to your website to bring in more interested people.
Tip: Use RiteTag, a Chrome extension, to see which hashtags you use will get the most views right away and over time.

4. Create a Banner Image on Social/Ask for the Share
Have you ever seen banner images that people put on their social media profile pictures advocating a cause? Those can really help get the word out and get your organization in front of more people. And they're easy to do! Use a free program like Twibbon so donors and fans can quickly load your banner to their profile picture.
Especially when posting big news on social media or when creating a big donation campaign, ask users to share the post and/or change their profile picture.
5. Make it Mobile
18% of all online donations come from mobile device users.
So make sure your nonprofit web design is mobile-friendly! This may take more time, but it's important that potential donors can access the site from a smartphone.
Tip: Run a test in WebsiteGrader.com to see how mobile-optimized your website currently is, and see specific ways to improve it.

6. Improve Website Copy and Add Content Conversion Points
Users typically stay on a website for only 10-20 seconds, but sites that clearly set up a buyer's journey keep users on a clear path forward. It will be beneficial to revise your website copy around actionable next steps (i.e., "Read our impact SlideShare" or "View our video testimonials") and also incorporate more clickable conversion points.
Remember that a "DONATE" button must always be in plain sight. Also, nonprofits should use updated images and make sure there are no bugs or dead-ends on the site that could turn off a potential donor. By studying up on the principles of UX (user experience), you will become more familiar with these opportunities.
You also need somewhere to drive people on your site and capture their information. Therefore, set up a new landing page with a desirable content offer — maybe a unique infographic, a new study, a photo book of your project — something that will catch their attention and encourage them to give up an email address to acquire.
69% of nonprofit content marketers anticipate spending more effort on content creation in the coming year, according to the Content Marketing Institute.
Since the donors are interested in your cause, they probably want more information, especially if it's something not readily available online.
Once you have this contact information, use it to set up a targeted email drip campaign (explained below.)
Tip: If you have a tool installed like Google's Page Analytics extension for Chrome (tied to your Google analytics account), you can quickly see which pages have a high bounce rate. Optimize these pages with calls to action first.

7. Put Presentations on SlideShare
Nonprofits usually have many presentations. From explaining where donations go to the formation of the cause, there are probably many, many PowerPoint presentations floating around the office.
Some of that information can be useful and inspiring for potential donors — so maximize it!
Instead of putting a large PDF on the site, create a SlideShare, so readers have an interesting way to view the content.
Link to your SlideShare on your website and social accounts and embed it on relevant pages. Include interactive slides with links to different site pages and conversion points.
Convert Existing Donors: Nonprofit Marketing Ideas
Unfortunately, 73% of donors give to a nonprofit once and then vanish.
So clearly, nonprofits have their work cut out for them when it comes to converting existing donors.
But since the donor gave to your organization once, they may be interested in your cause and there are tactics to turning them into repeat donors.
8. Email Drip Campaigns
Sometimes people may donate and then forget about your nonprofit, so an email drip campaign can remind them why they donated in the first place. There are services, such as Hubspot, that can help you set up these automated campaigns — so you can focus on the writing, one-and-done.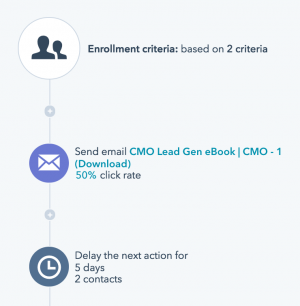 This is especially helpful for cold leads or leads who have not engaged for some time. An e-engagement drip campaign (versus one-off, random emails over time) is a good way to spark interest and encourage a new conversion.
These people already know basic ideas about what your nonprofit does, so target them with material that gives an update on progress. Emails that tell them how far their donation went and what another donation can do can help to convert them into repeat donors.
Use the demand generation techniques above to get the word out about this new landing page, and be sure to include a strong call to action that encourages donations.
9. Retargeting Campaign with Google Ads
Budgets are tight at nonprofits, but a small Google AdWords budget can go a long way. A retargeting campaign allows advertisers to show ads to people who have already visited your website.
So maybe someone left before donating, but then they'll get a reminder about your organization when they browse other websites. While this takes a small financial investment, it makes sure your organization stays in front of your target market.
Make it Easy for the Donor
As people get busier, it's important to make donating a simple task. Users don't want to have to dig around for the 'donate' button or go through a complicated process. Setting up recurring payments is an excellent way to simplify donating and ensure month-after-month donations. Many donors look for an easy-to-use platform when donating, so use these nonprofit marketing ideas to provide a solid digital experience. Then, donation levels should rise.
---
Sources:
https://162.211.248.56/index.php/philanthropy-outlook/total-giving/
https://techreport.ngo/
https://www.globalwebindex.net/blog/internet-users-have-average-of-5-social-media-accounts
https://www.nngroup.com/articles/how-long-do-users-stay-on-web-pages/
https://cowles.yale.edu/sites/default/files/files/pub/d19/d1940.pdf
(https://www.slideshare.net/CMI/2016-nonprofit-content-marketing-benchmarks-budgets-and-trends-north-america/)