By Chantel Hall, Marketing Content Specialist
Landing page forms allow marketing teams to collect data about a lead while also providing tangible value through a content offer, webinar, newsletter, or many other types of offers. While the landing page as a whole is important, the form used to collect data about the lead needs just as much consideration. Well-designed forms allow you to take full advantage of your audience's attention and provide a personalized experience for leads.
Almost half of companies that use forms for lead generation say they're the highest converting lead generation tools.1
This article will show you how to build a landing page form that actually converts.
Learn more about how Ironpaper optimizes landing pages and improves conversion rates for our clients.
Messaging and CTA
Create custom landing page forms for each campaign
Each form should appeal to the leads attracted to the messaging of your offer. When writing the header, deciding what fields to include, and even writing the questions you're asking them to respond to, make sure you're utilizing a value proposition that delivers on the promise that drew the lead to the landing page.
When designing forms, you also need to consider where leads are in the funnel. For a top-of-the-funnel campaign, you should include fewer fields and make the forms less of a barrier. On the other hand, bottom-of-the-funnel landing page forms should build on data you already have about leads and collect new data needed to work towards a deal.
Focus on value for the user
Landing pages typically include a content offer or some other kind of value to visitors that entices them to fill out the form. The copy in the form should also reinforce that value proposition in as many places as possible.
For example, the form header should explicitly state how leads will benefit once they fill out the form. Instead of using copy like, "Download our e-book today" — which doesn't give the viewer any incentive to provide their contact information — use buyer-focused copy that is explicit about the value they'll get, like, "Learn how to improve lead conversions without increasing your marketing budget."
Even your "Submit Form" button can communicate value. Copy like "Start generating leads" provides a slight push that can encourage users to follow through with submitting the form.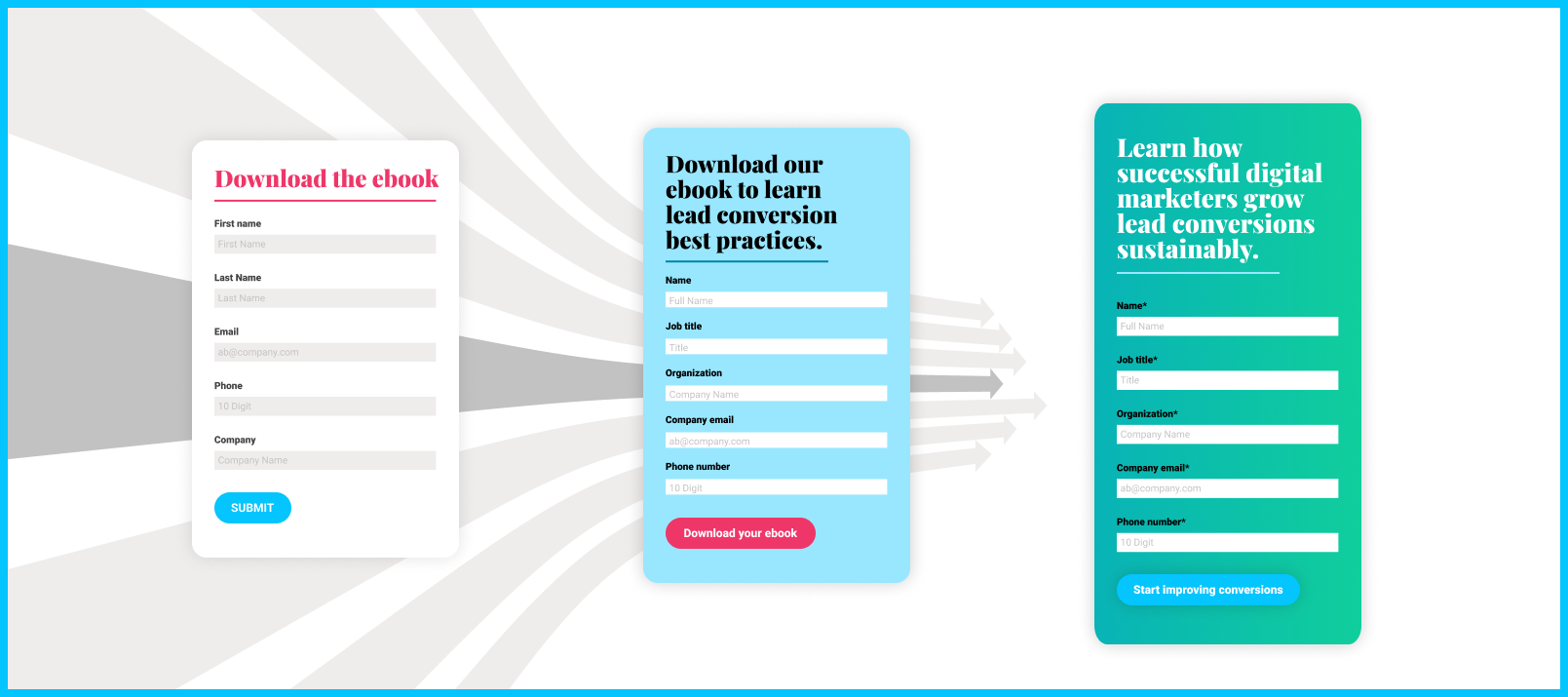 Send an automated "Thank You" email right away
An automated email should go out to the lead immediately after they submit their information. Like the form itself, the email should be customized to the campaign or content offer the lead converted on and provide them with opportunities to continue interacting with your brand. You can include links to relevant blogs, guides, or case studies to keep leads engaged and continue building a relationship.
Form Questions
Ask the right number of questions
Lots of resources will tell you to include as few form fields as possible to increase conversions, but that's not the right call for every form. In certain situations, it makes sense to ask fewer questions and make conversion easy, but focusing solely on asking as few questions as possible — as opposed to asking the right number of questions — will ultimately cause more unqualified leads to convert.
Top-of-the-funnel forms should collect more basic qualifying data and gather information about their interests, so they'll naturally be shorter. But as you move to more involved offers and interactions with leads you have an established relationship with, limiting your forms to just a few fields won't weed out unqualified or uninterested leads. These forms will probably include more questions and collect data more specific to the lead's timeline, budget, and buying group.
So while the number of form fields is important to consider, don't let the goal of making your forms as short as possible limit your ability to learn about your leads.
Learn about their pain points and goals early and often
One of the most valuable pieces of information you can learn from landing page forms is the pain points, goals, or points of interest that drew a visitor to your website. If you're thoughtful about designing this section of the form, you can also use it to guide leads towards products or solutions they might not have otherwise expressed interest in.
The key is to frame this section not as, "What problems are you having," but, "What outcomes are you looking for?" Asking what problems a lead is dealing with limits them to indicating interest in solutions for problems they already know about. It can even cause some otherwise qualified leads to self-select out if they don't think they have any of the issues you're describing.
When you provide outcomes to choose from instead of problems, leads can indicate interest in results they didn't know were possible yet. For example, a website visitor might know that their website isn't converting leads and keeping users on the website, but they might not understand that their website architecture is the root of the problem. Giving them an option like "Create a better user experience" makes it easier for leads to volunteer that information.
| | | |
| --- | --- | --- |
| Pain Point | | Outcome |
| Team not using data enough | vs. | Enable data-driven decision-making |
| Website architecture is ineffective | vs. | Create a better user experience |
| Sales teams not utilizing CRM to its full potential | vs. | Maximize the ROI of your marketing tech |
| Not converting enough website visitors to leads | vs. | Increase website conversion rates quickly and sustainably |
Finally, if a lot of leads are selecting an option like "Other" when they check their pain points/goals, provide a space for them to type out an answer and use that feedback to include new options. Strive to have as few people selecting "Other" as possible.
Test and iterate landing page forms constantly
Testing and iteration are the keys to a high-converting landing page form. When a landing page isn't converting as many leads as you'd like it to, tweak the form fields, messaging surrounding the offer, wording in the pain points section, and design elements. Try to hone in on what keeps people from filling out the form by documenting the changes you make to it and tracking how they affect lead conversion.
Track how the new form performs for a week or two and then continue to build upon the changes that improve the landing page's conversion rate. A/B testing can also give you good data on what methods have higher conversion rates when you're reworking a landing page form.
Layout
Put the form front-and-center
Landing page forms should always be at the top of the page and easy to find. At Ironpaper, we prefer a two-column layout that puts the form and the value proposition at the top of the page, making both easy to see and encouraging visitors to fill out the form.
Make it mobile-friendly
B2C shoppers aren't the only ones using their phones to research purchases — your B2B buyers are too. Make it easy for them to convert regardless of what device they visit your website on by optimizing your forms for mobile.
Forms should stay at the top of the page and be easy to click through and fill out. Test your forms on different devices to ensure they're accessible for mobile users.
Also consider the copy surrounding the form; for example, if you include wording like, "Fill out the form below" when the form is above that copy on mobile, it will create an inconsistent experience for mobile users.
Use a data-based approach to improving conversion rates
Forms are only one piece of a successful landing page, but they need the same attention and data-based approach that the rest of your landing page gets. Implementing the strategies we've discussed here will help you improve lead conversions efficiently and effectively.
Sources
1Hubspot, Forms Aren't Dead: The State of Email Lead Capture in 2020, December 16, 2019
Wordstream, 7 Best Practices for Perfect Landing Page Forms, November 22, 2021
Zapier, 5 tips for creating effective lead generation forms, July 12, 2021
Formjelly, Lead Generation Form Best Practices, May 26, 2021