Buyers today have more power to do their own research and search alternatives before even interacting with a salesperson. This is exactly why inbound marketing matters. With a focus on attracting, informing, converting and nurturing prospects, inbound marketing meets customers where they are, at the right time, and in the right context.
Inbound marketing methodology emphasizes attracting, converting, closing and delighting customers. Rather than relying on cold-calls or buying e-mail lists, this approach adapts to how people are purchasing today. Customer actions dictate the appropriate inbound marketing action to take.
Inbound leads cost 60% less than outbound leads. – Search Engine Journal
https://www.ironpaper.com/articles/outbound-marketing-vs-inbound-marketing-better/
Inbound marketing is improved by optimizing the website, blogging consistently, optimizing for conversions, producing high-quality content, maintaining a social presence, and personalizing emails, among other things.
These can be time and resource-intensive tasks, yet the returns run the gamut. They include:
Attracting more customers
Reducing wasted organizational efforts
Dialoguing with audience
Enhancing brand reputation
Continuing to pay dividends
No wonder that among the nearly 4000 respondents at B2Bs, B2Cs, and nonprofits surveyed by State of Inbound 2015, 75% prioritized inbound marketing. Consider too the respondents' views on the efficacy of specific outbound or inbound tactics: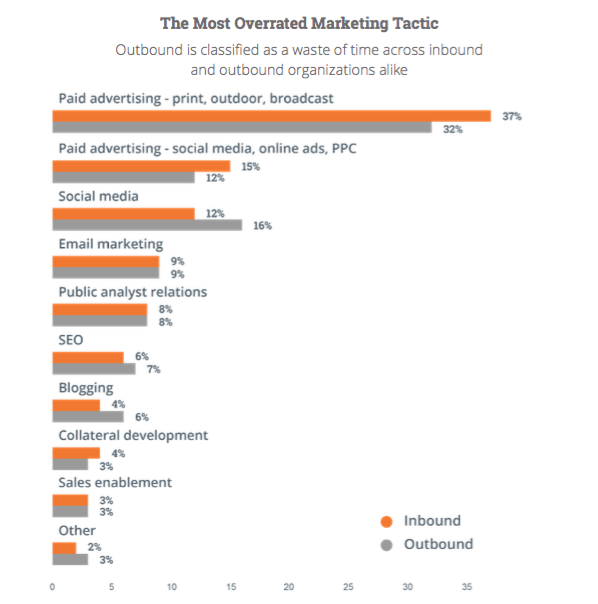 https://www.ironpaper.com/articles/inbound-marketing-statistics/
Across the board and regardless of customer or company type, the study found inbound is the best approach for reaching customers, at a 3:1 ratio.
Solving Problems, Offering Solutions
Inbound marketing addresses the lead from the "what is the pain point?" perspective. This positions communications in terms of "ability to help solve business objectives," the most desired trait buyers were looking for in a Harvard Business Review study. Inbound's content marketing also helps to build authority and credibility which fit well with the HBR's second top vote getter for what buyers want in salespeople — "industry knowledge and expertise."
Much of the buying process is happening before the customer even has contact with sales. Inbound woos this empowered buyer in a way that traditional sales practices can't match.
The probability of selling to an existing customer is 60-70%, while the probability of selling to a new prospect is 5-20%. — eConsultancy
Today's prospective buyers want to do business with companies that understand their needs and can provide real solutions. Inbound makes a connection with audiences while generating leads, nurturing relationships, building user engagement, developing brand visibility, improving sales, improving insights, and strengthening partnerships.
Existing customers are 50% more likely to try new products and spend 31% more when compared to new customers. — eConsultancy
https://www.ironpaper.com/articles/6-inbound-marketing-best-practices/
Sources:
Brudner, E. (2014, November 5) Buyers Have Spoken: The Sales Traits They Value Most [Infographic]. https://blog.hubspot.com/sales/sales-traits-buyers-value-most-infographic#sm.00012g66czam8e61x1p1jlvdtvz6t
Charlton, G. (2013, August 30). Companies more focused on acquisition than retention: Stats. https://econsultancy.com/blog/63321-companies-more-focused-on-acquisition-than-retention-stats/
Snider, A. (2015). State of Inbound: 2015. https://www.stateofinbound.com/